Fig Recipe Index:
Figs are that special fruit ingredients that brings out the best in our cooking creations.  They are full of vitamins and minerals.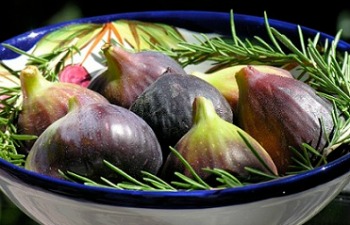 Cornbread Stuffing with Fresh Figs, Morels, and Foie Gras
Recipe courtesy of Executive Chef Anthony Sicignano, The Breakers Palm Beach.
Fig and Walnut Panforte
An Italian confection that is a cross between fruit cake, candy, and honey cakes called Lebkuchen (lasting cakes.  It is a wonderful confection and so easy to make.
Fig Brulee with Balsamic Vinegar
This wonderful recipe highlighting aged balsamic vinegar is courtesy of Michael Natkin and his web site, Herbivoracious.
Fig Caprese Salad
Some really great fresh figs were shared with me today, and I was trying to figure out something fun to make with the figs.  Since cheese is a great compliment to figs, I decided on making a Caprese Salad.  The mozzarella cheese and the balsamic vinegar melded so well with the figs.  I finished off my salad quickly and plan on making this dish again.  Simple to make and elegant enough to serve to guests!
Figgy Bread Pudding
This fantastic Figgy Bread Pudding recipe and photos was shared with me by my sister-in-law, Shirley Roth.  Shirley says, "Joe's favorite dessert is bread pudding.  I found a recipe using croissants that called for prunes.  Since I still have dried figs (from our fig tree) in the freezer, I decided to try them instead.  It was a big hit with Joe!"
Fig Pecan Pie
I first tasted this delightful fig pecan pie on a trip in western Australian.  This pie is absolutely wonderful!  The figs are a delightful addition to the traditional pecan pie.
Fresh Figs with Fleur de Sel, Aged Balsamic, & Hazelnuts
This wonderful fig recipe is courtesy of Amanda Darrach Filippone and her website Figs, Bay & Wine: Diary of a Mediterranean Kitchen.
Goat Cheese and Fig Cucumber Cups – Gluten Free Recipe
These dainty peeled cucumber cups look wonderful, plus they are very-easy-make.  The cucumber rounds provide the perfect base for all manner of tasty fillings to serve your guests as either an appetizer or for an afternoon tea party.
Grilled Fig and Arugula Salad
This is a very easy to make and delicious salad.  The grilled figs make this salad a definite "10."
Grilled Figs with Goat Cheese and Honey
If you love figs, goat cheese and honey, then you will pop these onto your grill immediately.  Just make sure your figs are ripe.
Pinot Noir Poached Figs
This delicious recipe is from Higgins Restaurant in Portland, Oregon.  They are lightly poached, so they do not lose any of their delicious taste.
Portland Fig Cookies
This recipe is from the cookbook called Cookies Unlimited by Nick Malgieri.  Nick says that the recipe is by Lee Posey, pastry chef at the Pearl Bakery in Portland, Oregon.  Nick says, "One of the best cookies I have ever tasted."
Comments and Reviews