Did You Know?  Wild bears will eat nothing except the succulent, juicy blueberries when they are in season.  It has been documented that they will travel, with an empty stomach, from ten to fifteen miles per day to sniff out a blueberry patch.
July was proclaimed National Blueberry Month by the United States Department of Agriculture on May 8th, 1999.  They are grown in 35 states in the US, and the United States produces over 90% of all of the blueberries in the world.
North America is the world's leading blueberry producer, accounting for nearly 90% of world production at the present time.  Cultivated berries are grown in more than 30 states as well as in British Columbia.  During the summer, blueberries ripen from June through August depending on the variety.  July is also known as National Blueberry Month.  Take advantage of this delicious berry by freezing some for the winter.  Pulling out summer blueberries in the winter to make muffins, pancakes, waffles or pie is a real treat.
History:  Native Americans valued the wild blueberries in their diet.  They called them "star berries" because at the blossom end of each berry, the calyx forms a perfect five-pointed star.  Their legends tell of a time when children were dying of hunger during a famine and the Great Spirit sent "star berries" to feed them.  Early settlers also cherished the fruit as a staple ingredient in foods and medicines.  They incorporated the berries into their diets, eating them fresh off the bush and adding them to soups, stews, and many other foods.
Check out Linda's many delicious Blueberry Recipes.  Learn more about the Health Benefits of Blueberries.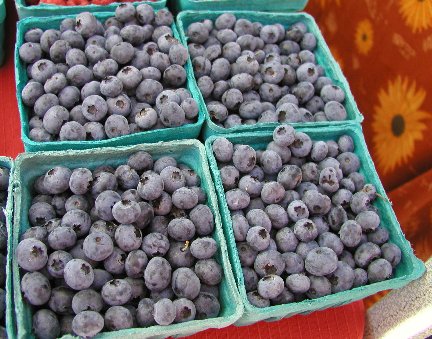 Blueberry Equivalents:
1 pint fresh blueberries = 3/4 pound or  2 1/2 cups blueberries
1 quart = 1-1/2 pounds = 4 cups
1 (10-ounce) package frozen blueberries = 1 1/2 cups blueberries
1 (21-ounce) can of blueberries =  2 1/3 cups
3 pounds fresh blueberries = filling for 1 (9-inch) pie shell
Blueberry Picking Tips:
Blueberries are the easiest fruit to pick and use in your cooking, as there is no peeling, pitting, coring, or cutting needed to use them in your recipes.
Select plump and full blueberries with a light gray-blue color. Blueberries with any hint of red are not fully ripened. Once blueberries are picked, they will not ripen any further.
Once blueberries are picked, do not place the berries, still warm from the sun, in a closed bag or container. Leave your picking container open so moisture doesn't form in the container.
Fresh Blueberry Tips: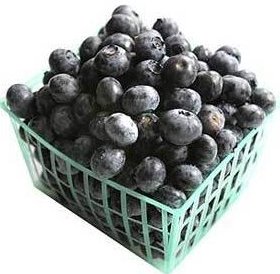 Refrigerate the blueberries soon after picking to increase the shelf life.  If refrigerated, fresh-picked blueberries will keep 10 to 14 days.
Do not wash the blueberries until just before eating or using in your recipes to prevent berries from becoming mushy.  Unwashed blueberries will stay fresh for up to two weeks in the refrigerator if kept dry.
Freezing Blueberries:
Do not wash the blueberries before freezing.
Place dry, unwashed, and unsweetened berries in freezing containers or plastic bags.  Seal and freeze.  The berries will freeze individually and pour out like marbles.
If you buy the berries in a pint box, simply wrap the box tightly in cellophane to make it airtight, or slip it into a resealable plastic bag (squeeze out as much air as possible).  Then freeze.
If you buy the berries in bulk, freeze them on a cookie sheet first and then transfer them into a freezer container.  Keep frozen until ready to use.
When using frozen blueberries in your baking, do not thaw them.  Always add them frozen so they will not "bleed" in your baked goods.
Blueberry Recipe Substituting:
If a recipe calls for a can of blueberries, you may make your own version by using the following:
2 1/2 cups of fresh blueberries
1 tablespoon of corn starch,
1 1/2 teaspoons of lemon juice
1/8 cup of water
Cook until thickened and clear.  Cool before using as a substitute.
Comments and Reviews