An ambrosia is considered a type of fruit salad, usually with mixed fruits.   What make this Grapefruit Ambrosia Recipe unusual is that it is made with grapefruit.  Great for a brunch entree or a light dessert.  Now the quest is – is ambrosia a salad or a dessert?  This ambrosia recipe contains grapefruit, so it may be a salad.  The recipe also contain sugar and a liqueur, so it also sounds like a dessert.  You be the judge!
In the Southern states, ambrosia is often associated with holiday potlucks, especially during the Christmas season.  But what is certain, an ambrosia salad absolutely must include coconut.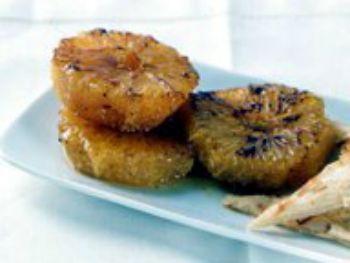 More great Fruit Recipes and Grapefruit Recipes.
Please check out my Make-Ahead Holiday Brunch Menu (with recipes) which includes this delicious Grapefruit Ambrosia.
Grapefruit Ambrosia Recipe:
Keyword:
Grapefruit Ambrosia Recipe
Instructions
Cut peel including all white pith from each fruit with a sharp paring knife. Cut each segment from each fruit free from membranes. Halve grapefruit segments crosswise and transfer pieces to a bowl.

Stir in coconut, Campari, sugar, and just a pinch of salt. Refrigerate, covered, at least 15 minutes or up to 4 hours.

Just before serving, stir in nuts.
Recipe Notes
* Campari is a bitter Italian aperitif made according to a secret recipe originally developed in 1860 by Gaspare Campari in Milan.  It is a bright pale cherry-pink color.
Source:  This Grapefruit Ambrosia Recipe and photo are from Gourmet Magazine, February 2002.
Comments and Reviews