Dresden Stollen, German Christmas bread goes by many different names:  Stollen, Dresden Stollen, Strutzel, Striezel, Stutenbrot, or Christstollen.  The traditional German Christmas cake, is a colorful collection of nuts, raisins, currants, candied orange, lemon peel, plus traditional spices of Christmas such as cinnamon, nutmeg, cardamom, mace or cloves, brandy or rum and lots of butter.  Legend says that the Stollen, in its typical shape with the white layer of icing sugar, symbolized the swaddled Christ Child.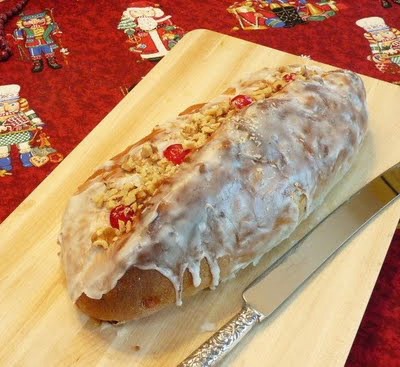 1400s – Stollen is thought to have originated in Dresden in the 1400s. However, at that time the Catholic Church, as part of the fasting rules in preparation for Christmas, forbade the use of butter milk during Advent.  Thus, the stollen of the middle ages was a somewhat tasteless pastry.
1650 – In 1650 Prince Ernst von Sachsen at the request of bakers in Dresden, successfully petitioned Pope Urban VIII to lift the restrictions on the use of butter during Advent.  The restrictions were lifted only in Dresden and thus began a baking tradition that continues to this day.
The following information are from different German websites describing stollens of their area:
Dresden Stollen – Dresden Stollen  –  a masterpiece of baking – treasured around the world, Trade Protection Society, Dresden, Germany, an internet web site:
The tradition of baking Dresden Stollen is a very old one and can be traced back to around 1400 A.D.  Originally baked without butter and milk, the stollen (striezel) was a rather dull pastry.  Elector Lord Ernst of Saxony and his brother Albrecht appealed to the Pope to rescind the so-called "butter ban" in effect at the time.  The Holy father eventually gave in to their entreaties and declared (in what came to be known as the "Bufferbrief") that milk and butter could indeed be used in baking the stollen – this could be done with a "clear conscience and with God's blessing," after making the "appropriate penance".  "Butterbrief"
Around 1500, "Christbrote uff Weihnachten", were being sold at the Dresden "Striezelmarkt", the oldest existing german christmas market.  From 1560 onwards, Stollen-bakers delivered one or two Christmas stollen with a total weight of 36 pounds to the king of Saxony for the holy celebration.  Eight master bakers and eight apprentices carried it to the castle.  In 1730 "August the Strong", elector Lord of Saxony, commanded the bakery gild of Dresden to make a huge Stollen with a weight of 1.8 tons!  To commemorate that event, a similar stollen is baked every year on the Saturday before the second advent the annual Dresden Stollen Festival.
Bakery Krause, About Rochilitz Christmas Stollen:
Here is a bit of the history of stollen baking in the Rochlitz region.  "The Christmas stollen is an age-old tradition for us. In many places, including Rochlitz, " Christbrot" had been available perhaps since the colonization time (The German settlement of the Rochlitz area)."  By the late Middle Ages, Christbrot was already called " Christmas stollen" in the Zschillen monastery, according to Professor Pfau in his article in the Rochlitzer Chronicle, 1927, on the tradition of this popular Christmas bread, without which no Christmas would be complete for the Saxons.  A hundred years ago there were 20 bakeries in Rochlitz. Large commercial bakeries simply cannot replace the master baker and many people still swear by genuine "baker-made" stollen.  Today fewer and fewer housewives bring their own homemade stollen to be baked.  But in the seven Rochlitz bakeries and confectioneries, i.e. Boerner in Dresdner Stra, Goldammer on the Topfmarkt, Krause on the Hauptstra, Meichsner and Wei on Clemens-Pfau Platz, Stoelzel on Bahnhofstra and Thalmann on the Markt, thousands of stollen are baked annually according to time-tested recipes.  These are bought and enjoyed by Rochlitzer over the Christmas holidays.  I am proud to have followed in the footprints of my father in learning the baking profession.  For me this occupation is particularly special, for it is now in the fifth generation in our family.  The most Important recipes are always passed on to the next generation, as well as the tricks of the trade and that certain "something."
Comments and Reviews