Loco Moco (loh-koo moh-koo) is Hawaii's original homemade fast food and can be found at just about any fast food joint, roadside diner, mom and pop restaurant or lunch wagon in the Islands.  This dish is truly unique to Hawaii, and it is a comfort food, or "local grind," of the Hawaiian Islands.  Local food is not the cuisine that is served in upscale hotels and restaurants of Hawaii.  It is a basic structure was established soon after World War II – the best fast food or mixture of cuisines from many Pacific rim countries, with a special Hawaiian twist.
More delicious Hawaiian food to learn about and and make:  Hawaiian Saimin, Shave Ice, and Spam – Spam Musubi.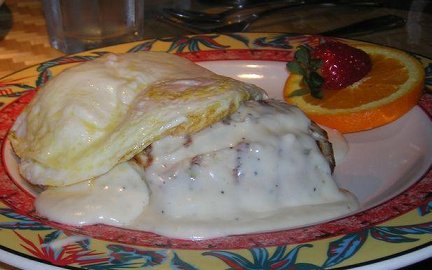 Loco Moco is a mountainous meal consisting of a heap of white rice topped with a hamburger patty and a Sunnyside-up egg, and then smothered in gravy.  This dish is popular for breakfast, lunch, or dinner and is a candidate for the Cholesterol Hall of Fame.  As you eat, break the egg – then blend the burger, egg, rice, and gravy on your fork for each bite for a real taste of paradise.
There are many people who claim to have invented Loco Moco, but it is generally agreed that around 1949, either the Cafe 100 or the Lincoln Grill (both in Hilo, Hawaii) originated the first dish of Loco Moco.  According to the story, the dish was created for teenagers who wanted something different from typical American sandwiches and less time-consuming than Asian food to eat for breakfast.  The nickname of the first boy to eat this concoction was Loco ("crazy" in Portuguese and Hawaiian pidgin).  Moco rhymed with loco and sounded great, so Loco Moco became the name of the dish.

According to John Penisten from his former web site:
Rudy Legaspi, former member and unofficial historian of the Tropi-Ties (also recently retired Executive Assistant to the Mayor of Hawaii County and admitted loco-moco fanatic) says "The loco-moco had its origins with the Lincoln Wreckers Athletic Club, an informal organization for local teenagers, in the late 1940's.  The group used to hang-out at the Lincoln Grill Restaurant across the street from Lincoln Park in downtown Hilo.
The Lincoln Wreckers, who played in the local "bare-foot" football league of the time, had some success on the field, but its main claim to fame was their creation of the loco-moco.  The popular local dish has become a staple on restaurant menus throughout the islands and is a recognized cultural cuisine icon, as much as a taco is to Mexican fare or a pizza to Italian fare.
The loco moco story began in 1949, after Richard and Nancy Inouye opened the Lincoln Grill Restaurant.  The teens used to hang-out at the eatery, playing the pin-ball machines, cards, dropping nickels in the Wurlitzer jukebox and constantly feeding their hungry appetites.  And in those days, when teens didn't have much money in their pockets, the standard fare was a bowl of saimin noodles or a hamburger, things which didn't quite fill the always hungry teens.  So the club devised a plan to ask the Inouyes to create a special dish just for them, something filling and affordable.  For the task, the Wreckers nominated a guy nicknamed "Crazy" for his wild and madcap play on the football field. "Crazy" approached the Inouyes with the club's request and the rest is history."
Hawaiian Loco Moco Recipe:
Keyword:
Hawaiian Loco Moco Recipe, Loco Moco, Loco Moco History
Instructions
Form the ground beef into a patty. In a frying pan over medium-high heat, cook patty until cooked to your liking; remove from heat and set aside.

Fry egg (sunny-side up or over easy) in the grease from the ground beef.

Assemble this dish by putting a bed of cooked rice in a large bowl, top with hamburger patty, fried egg, and 1 to 2 ladles of hot gravy. Add hot pepper sauce, ketchup, or soy sauce according to your preference.

Makes 1 serving for a very hungry person.
Comments and Reviews