Lamb Osso Buco Recipe
Braised Lamb Shanks in Red Wine are worth making If you and your family love lamb.  Once you do, this recipe and method will become a family favorite.  It can be made one day ahead, which will allow you to remove any congealed fat prior to serving.  The combination of red wine and fresh rosemary is delightful!  I like to serve these lamb shanks with Orange Rice Pilaf.
The shanks are the lower section of the animal's leg (the knee down), and they are extremely tough and full of connective tissue.  When they are slow cooked, lamb shanks practically melt off the bone. They are lean on fat and big on flavor!
This wonderful Braised Lamb Shank recipe, comments, and photos were shared with my by Karen Calanchini, Food Stylist and Photographer, of Redding, CA.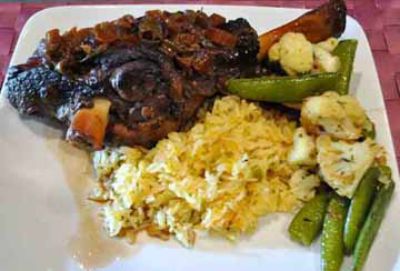 Braised Lamb Shanks in Red Wine Recipe:
Keyword:
Braised Lamb Shanks in Red Wine Recipe, Lamb Osso Buco Recipe, Orange Rosemary Gremolata Recipe
Ingredients
Braised Lamb Shanks in Red Wine:
4

meaty

lamb shanks

(about 4 1/2 pounds total), trimmed of fat

Coarse salt

or sea salt and freshly-ground pepper

3

tablespoons

olive oil

1

large

onion,

peeled and chopped

1

large

leek,

washed and sliced

4

carrots,

peeled and sliced

3

small sprigs

rosemary

2

Ancho Chile Peppers,

dried*

2

bay leaves

4 to 6

garlic

cloves, diced

3

cups big-bodied

red wine
Orange Rosemary Gremolata:
Instructions
Braised Lamb Shanked in Red Wine Instructions:
Preheat oven to 350 degrees F.

Salt and pepper both sides of the lamb shanks; set aside.


In a large Dutch oven, oven-proof baking, or roasting pan large enough to hold the lamb shanks in a single layer, heat the olive oil over medium-high heat. Sear the lamb shanks, two (2) at a time, until the shanks are deeply browned; remove from heat to a plate. Repeat with the remaining two (2) lamb shanks.

Stir in the onion, leek, carrots, rosemary, Ancho chile peppers, bay leaves, and garlic. Stir now and then until the onions are soft and the mixture is very fragrant. Add the wine and deglaze the pan (Using a spoon or spatula, stirring constantly, deglaze the pan by stirring in all the browned bits from the bottom of the pan). Bring just to a boil, reduce heat to low and let simmer until the stock is slightly reduced, about 5 minutes.

Return the lamb shanks to the pan in a single layer. Cover the pot tightly with a lid or aluminum foil and transfer to the bottom rack of the oven. Cook the lamb for 2 1/2 to 3 hours or until meat is meltingly tender. To test, insert a knife or skewer into a thick section (there should be no resistance, juices should run clear, and the meat almost falling off the bones). If not cooked to your liking, add some additional wine and a little water; let cook for another 30 minutes (you want to be sure to have a nice sauce to drizzle over the shanks when serving). The internal temperature of your meat thermometer should register 180 degrees F.

When done, remove from oven, discard the bay leaves, taste and adjust seasonings (if desired).

While the lamb shanks are cooking, make the Orange Rosemary Gremolata.

To serve, place a cooked lamb shank on a serving plate, top with some vegetable sauce, and sprinkle with the Orange Rosemary Gremolata.
Orange Rosemary Gremolata Instructions:
Using a sharp knife, chop together the rosemary leaves, orange zest, and garlic. Cover and refrigerate until ready to serve with the lamb shanks.
Recipe Notes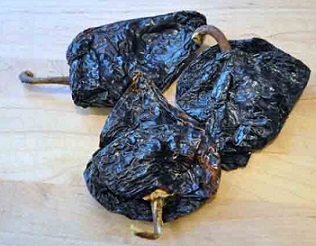 * Ancho Chile Pepper - A dried deep reddish brown chile pepper about 3 inches wide and 4 inches long with a sweet hot flavor.  When fresh they are referred to as Poblanos.  They look like small bell peppers. Anchos are flat, wrinkled, and heart shaped.  They range in color from very dark red to almost black.  Anchos are mild to moderately hot and often soaked and ground for use in sauces.  It is the sweetest of the dried chiles with tones of coffee, licorice, tobacco, dried plum, and raisin.

I get many readers asking what cooking/meat thermometer that I prefer and use in my cooking and baking. I, personally, use the Thermapen Thermometer. Originally designed for professional use, the Super-Fast Thermapen Thermometer is used by chefs all over the world.  I only endorse a few products, on my web site, that I like and use regularly.
You can learn more or buy yours at: Super-Fast Thermapen Thermometer.
Sponsored Content
Comments and Reviews