Cherry Pie Ramekins are basically individual baby or small cherry pies.  These small cherry pies are so delicious and everyone I serve them to seems to love them.  Children, especially grandchildren, love these small cherry pies.  The recipe is so easy to make using frozen cherries and cherry preserves.
Now what is an ramekin?  It is a small baking dish used to serve individual portions of food.  These are the same dishes that you use for creme brulee and custards.
This delicious miniature cherry pie ramekins recipe, comments, and photos were shared with me by Karen Calanchini, Food Stylist and Photographer, of Redding, CA.
More great cherry recipes and pie recipes.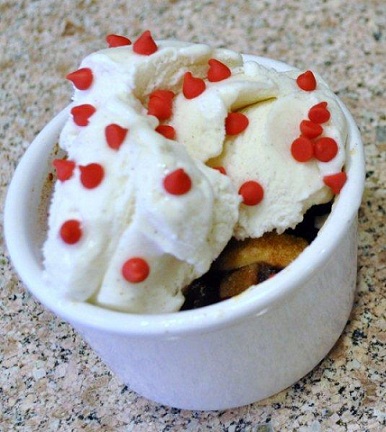 Cherry Pie Ramekins with Ice Cream Recipe:
Keyword:
Cherry Pie Ramekins with Ice Cream Recipe
Ingredients
1

(16-ounce) package of

dark sweet cherries,

frozen

1/4

heaping cup

cherry preserves

(I used Bonne Maman)

2

teaspoons

cornstarch

1/4

teaspoon

almond extract

2

teaspoons

lemon juice,

fresh-squeezed

1/2

(15-ounce) box

pie crust,

refrigerated (1 crust)

4

teaspoons

sugar,

granulated, divided

Vanilla Bean ice cream

(for topping)

Cherry chips

(optional)
Instructions
Preheat oven to 375 degrees F. Spray 4 (8-ounce) oven-safe ramekins with nonstick cooking spray.

In a large bowl, stir together the frozen cherries, cherry preserves, cornstarch, almond extract, and lemon juice; set aside.

On a lightly floured board, unroll the prepared pie crust and roll into a 12-inch circle. Holding a ramekin in your hand, place the top (open end) on top of the pie dough, turning several times to cut a circle in the dough. Using your hands, gently press the pie dough circle down down into the bottom of the ramekin for the bottom crust. Repeat with the remaining ramekins.

Place equal amounts of the cherry filling into each dough-lined ramekin.

Cut strips of dough from the remaining dough to make a lattice crust for the top of each cherry ramekin. Sprinkle 1 teaspoon sugar over the top of each lattice strip.

Bake approximately 40 to 45 minutes or until the crust is lightly browned and the cherry filling is bubbly. Remove from oven and let cool before serving.

To serve, top with Vanilla Bean ice cream and sprinkle cherry chips over the top.
Comments and Reviews