You will love these Cinnamon Lamb Chops with this delicious bold and spicy chile pepper sauce.  The flavors are simple yet just so right.  Not only is the color beautiful, but it has big flavors that will knock your socks off.
Serve this lamb dish with this fantastic Herb Vinaigrette Infused Couscous to add some fresh coolness.  This delicious whole wheat Herb Vinaigrette Infused Couscous recipe is a health yand refreshing pasta dish with bright spring flavors that would enhance any meal you would choose to serve it with.
Cinnamon Lamb Chops recipe, comments, and photos were shared with my by Karen Calanchini, Food Stylist and Photographer, of Redding, CA.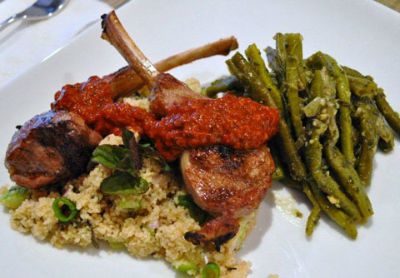 Cinnamon Lamb Chops with Chile Pepper Sauce Recipe:
Keyword:
Cinnamon Lamb Chops with Chile Pepper Sauce Recipe
Instructions
Cinnamon Lamb Chops Instructions:
In a small bowl, combine lemon zest, lemon juice, cinnamon, and salt.

Slice the frenched lamb rack into single chops. Rub the lamb with the lemon/cinnamon mixture on all sides. Let stand at room temperature for 1 hour.


Broil or grill the prepared lamb chops approximately 2 to 3 minutes per side for medium rare and an internal thermometer registers 120 degrees F. (use a meat thermometer to test for doneness).

Medium Rare - 125 degrees F.
Chile Pepper Sauce Instructions:
Place the whole bell pepper either over a flame or under the broiler of your stove until the skin is charred. Place in a bowl, cover with plastic wrap, and let steam for approximately 10 minutes. Peel the charred skin off the pepper, remove stem and seeds, and cut into chunks. Place the prepared bell pepper chunks in your food processor.

Remove stems from the dried chile peppers and shake out the seeds or then scrape out the seeds with a spoon. Place the chile peppers in a bowl of cold water and let stand 45 minutes. Once dehydrated, place chile peppers and 2 tablespoons of water (from the bowl) in the food processor.

Using either a mortar and pestle or a spice grinder, grind the garlic, toasted caraway seeds, coriander seeds, cumin seeds, salt, and smoked paprika until a paste forms. Transfer the prepared paste to the food processor with the bell pepper chunks, and dried chile peppers; puree until smooth.

Sauce can be kept in the refrigerator for 2 weeks.

Makes about 3/4 to 1 cup sauce.
Recipe Notes
* Definition:  Frenched means to cut the meat away from the end of a rib or chop so that part of the bone is exposed.  See photo below.

I get many readers asking what cooking/meat thermometer that I prefer and use in my cooking and baking. I, personally, use the Thermapen Thermometer. Originally designed for professional use, the Super-Fast Thermapen Thermometer is used by chefs all over the world.  I only endorse a few products, on my web site, that I like and use regularly.
You can learn more or buy yours at: Super-Fast Thermapen Thermometer.
Sponsored Content
Comments and Reviews