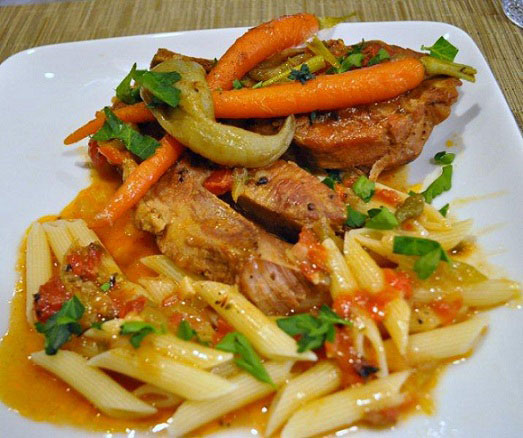 Braised Country-Style Pork Ribs with Vegetables is a family favorite and one of our "go-to" Sunday night dinner recipes.   Once the seasons start to change and summer gives in to the cooler fall evenings, this recipe is a great alternative to replace your summer grilled BBQ ribs.  This is an easy-to-make meal, after prepping and getting everything in the oven, you then get to sit back and let the ribs slow cook to tender perfection.  The smell fills the house with warmth and comfort.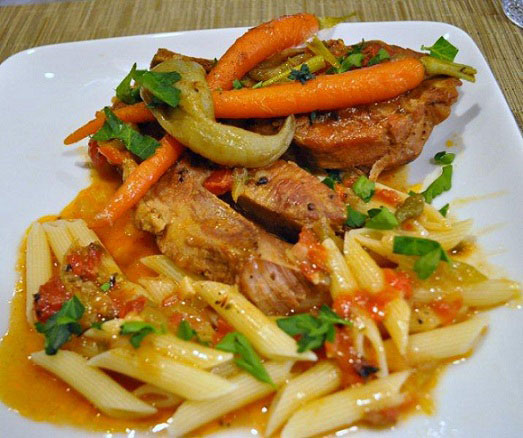 Braised Country-Style Pork Ribs with Vegetables Recipe:
Keyword:
Braised Country-Style Pork Ribs with Vegetables Recipe
Ingredients
3

pounds

pork ribs,

country-style, all visible fat removed*

Coarse salt

and freshly-ground black pepper to taste

1/4

cup

olive oil,

2

cups

onions,

medium dice

1

cup

bell pepper,

medium dice

1

cup

celery,

medium dice

4 to 6

fresh cloves

garlic,

fine dice

1/4

cup

flour,

all-purpose

2

cups

chicken stock

(homemade preferred)**

1

(14 1/2-ounce) can of

diced tomatoes,

fire-roasted with juice

1

tablespoon

sage,

dried***

2

sprigs

thyme

leaves, fresh

2

bay leaves

1

tablespoon

Adobo Seasoning

1

tablespoon

Ancho Chile Seasoning

5 to 8

young organic

carrots,

washed, left whole

5 to 6

small, whole

chile peppers

1/4

cup

parsley

leaves, fresh, chopped****
Instructions
Heat olive oil in a large pot or cast iron Dutch oven over medium heat. Brown the pork ribs in batches (on both sides) to a nice golden brown. Do not crowd the pork ribs in the pan. Remove browned ribs to a plate and continue browning the remaining ribs. When all the pork ribs are browned; set aside on a plate until ready to use.

Add the onions, bell peppers, and celery to the hot pot and saute, scrapping up the browned bits from the bottom of the pan. When vegetables have softened, add garlic and saute approximately 1 minute until fragrant.

Add the flour to the pan, stirring with a wooden spoon or heat resistant spatula, to combine the vegetables and flour. Cook and stir for approximately 2 minutes.

Add and stir in the chicken stock, diced tomatoes, browned pork ribs, sage, thyme, and bay leaves. Simmer 1 1/2 hours, stirring occasionally, and scrapping the bottom of the pan to prevent sticking.

Season with the Adobo Seasoning and Ancho Chile Seasoning. Add the carrots, and chile peppers on top of meat, and continue to cook for an additional 30 minutes, stirring and scrapping the bottom of pan a couple of times. Meat should be tender and beginning to fall away from the bones. Taste and adjust seasonings if desired, and add additional salt and pepper if needed; stir and simmer for approximately an additional 5 minutes.

When removing meat, use a large spatula or spoon, trying to keep the meat and bone fairly intact, if you want to make a pretty presentation. Remove meat and vegetables to individual plates, place the whole carrots and chile peppers on top, and sprinkle with parsley. Be sure to remove bay leaves from the dish, as you find them, and discard.

The resulting juices from this recipe make a wonderful sauce for pasta, mashed potatoes or rice.
Recipe Notes
* Country-style pork ribs are cut from the sirloin or rib end of the pork loin, which are the meatiest variety of ribs.  These ribs are sold either as slabs or in individual servings.
** Learn how easy it is to make homemade chicken stock.
*** Use fresh chopped sage if you have it.
**** Fresh cilantro may be used in place of the parsley
My favorite way to cook in winter is to braise meats which makes an unbelievably savory and delicious meal.   Braising is always comforting, always fun, and very versatile way to prepare your meat. Country-style pork ribs are great for braising, the end product is a very tender meat that not only adds flavor to the vegetables but also absorbs up the liquid and flavors that they are cooked in. Braising is a great way to transform your country-style ribs to a fall-off-the-bone upscale dinner.
I like to use what vegetables that I have available in my refrigerator as the accompaniment to the Braised Country-Style Pork Ribs. Be flexible with the vegetables, instead of green peppers, you can use red or orange bell peppers, various chile peppers, or a combination of all.  Red or yellow onions or even a combination produce excellent results.  Toss In some baby potatoes as well and you can enjoy them whole or mashed.  There are endless options so that this dish can never get boring.
With the seasonings, try Mexican, Cajun, Spanish, or whatever you desire, keeping in mind the type of meat you are using.
Add this meal to your Fall/Winter meal planning rotation to change things up this year.
This delicious recipe, comments, and photos were shared with me by Karen Calanchini, Food Stylist and Photographer, of Redding, CA.
Comments and Reviews