Flank Steak with Jazzy Pinto Beans Taco Bowl is a fun way to serve a taco salad by making your own taco bowls out of flour tortillas.  I have provided instructions for a zesty and spicy marinade for the flank steak that is full of Southwest flavors.  I will also show you how you can jazz up a can of pinto beans to make people think you cooked them from scratch.
This delicious Southwestern-style Flank Steak with Jazzy Pinto Beans Taco Bowl recipe, comments, and photos were shared with me by Karen Calanchini, Food Stylist and Photographer, of Redding, CA.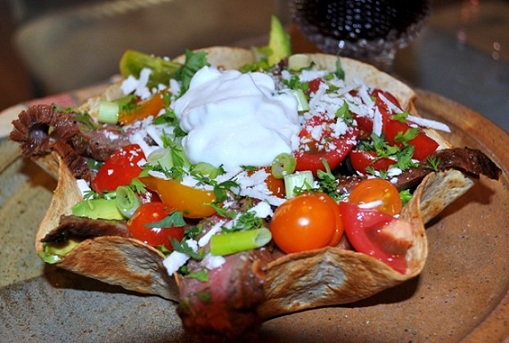 Flank Steak with Jazzy Pinto Beans Taco Bowl Recipe:
Keyword:
Flank Steak with Jazzy Pinto Beans Taco Bowl Recipe
Servings
:
2
to 3 servings
Ingredients
Taco Bowl:
Burrito-size

Flour Tortillas

Head lettuce

or Romaine lettuce, sliced

Red onion,

chopped

1

avocado,

peeled, seeded, and cut into chunks

Cherry tomatoes,

cut in half

Large

black olives,

sliced

Green onions

(white and green parts), sliced

Cilantro

leaves, chopped

Cotija cheese,

grated

Salsa

(homemade or your favorite brand) or taco sauce

Sour Cream
Marinated Flank Steak:
2 to 2 1/2

pound

flank steak

1/8

cup (2 tablespoons) of

olive oil,

extra-virgin

1/2

cup

soy sauce

1/3

cup

apple cider vinegar

1 1/2

teaspoons

Mexican Oregano,

crushed between your palms

1

teaspoon

onion powder

1

teaspoon

Ancho chile powder

1

teaspoon

black pepper,

freshly-ground

1

teaspoon

salt

1

teaspoon

cumin seeds,

powdered

Juice

from 2 fresh limes

4 to 5

cloves

garlic,

minced
Instructions
Flank Steak Taco Bowl Instructions:
Prepare Marinated Flank Steak either the night before or at least 8 to 10 hours before ready to use.

Prepare Jazzy Pinto Beans the night before or at least 30 minutes before ready to prepare the Taco Bowl.

Have all your ingredients measured and ready to go - Mise en Place.

How To Make Tortilla Bowls:

Place flour tortillas into Tortilla Bowl Makers or oven-safe bowls (that will hold the tortillas), sprayed with non-stick spray. Lightly spray the exposed side of the flour tortilla. Bake in preheated 325 degrees F. oven for 10 minutes or until the tortilla starts to puff and turn golden. Remove from oven, let cool slightly, and place on individual serving plates.

Layer taco bowls with lettuce, warmed Jazzy Pinto Beans, Marinated Flank steak slices, red onion, avocado, cherry tomatoes, olives, green onions, cilantro leaves, and Cotija cheese.

Serve with sour cream and salsa or taco sauce on the side.
Marinated Flank Steak Instructions:
This wonderful marinated flank steak is perfect for making taco bowls, tacos, burritos, or just served thinly sliced. Leftovers are also great in sandwiches.

In a medium-size bowl, combine all the above ingredients; whisking to blend.

Place flank steak in a 9-x 12-inch dish or a large zip-lock plastic bag; cover with the prepared marinade. Cover, refrigerate, and let marinate overnight or at least 8 to 10 hours, turning several times.

When ready to cook, remove from refrigerator 30 minutes prior to grilling. Prepare and preheat your grill for cooking. Grill the marinated steak 5 to 7 minutes per side, iis medium rare or until the internal temperature reaches desired temperature on your meat thermometer (see below). NOTE: This steak is best cooked rare to medium rare. If overcooked, the meat can by dry and chewy.

Medium Rare - 125 degrees F.

Remove from heat and let steak rest 5 minutes before slicing. With a sharp knife, slice steak thinly against (diagonal) the grain.
Jazzy Pinto Beans Instructions:
In a large frying pan over medium-high heat, add a small amount of bacon grease or olive oil; sautthe onion, garlic, and chile peppers until just soft

Reduce heat to low. Add pinto beans, cumin, and salt (if necessary), stirring well. Let simmer for approximately 30 minutes. NOTE: Watch beans carefully so they do not stick to the pan. Add a little chicken broth, if necessary.

May be prepared the day before, stored in the refrigerator, and warmed up before serving.
Recipe Notes
* I purchased and used organic pinto beans.  You may use any type of chile peppers available to you or that you have in your garden.  Red and green bell peppers may also be used if you like less heat.  My peppers were very small, so adjust the amount you use depending on the size of your peppers and how spicy hot you want the beans to be.
** If you have the time, dried pinto beans may also be used.  Prepare them as directed on the package and proceed with this recipe.  Dried beans have a firmer texture and taste entirely different than canned beans.

I get many readers asking what cooking/meat thermometer that I prefer and use in my cooking and baking. I, personally, use the Thermapen Thermometer. Originally designed for professional use, the Super-Fast Thermapen Thermometer is used by chefs all over the world.  I only endorse a few products, on my web site, that I like and use regularly.
You can learn more or buy yours at: Super-Fast Thermapen Thermometer.
Sponsored Content
sponsored content
Comments and Reviews