https://whatscookingamerica.net/Appetizers/Baked-BeetChips.htm
Beets are abundant in the Farmer's Markets right now, and these beautiful baby golden beets grabbed my eye.  In the bunch was one white beet.  I love golden beets for their sweetness and milder flavor, more than the purple variety.  The white beet did not disappoint either with it's nutty sweetness.
This wonderful Golden Beets and Red Onion and Feta recipe, comments and photos were shared with me by Karen Calanchini, Food Stylist and Photographer, of Redding, CA.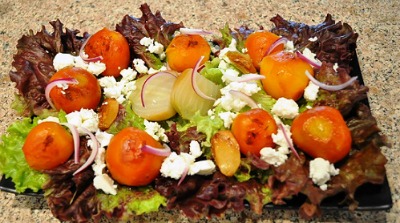 Check out more delicious Beet Recipes.
Golden Beets with Red Onion and Feta Recipe:
Keyword:
Golden Beets with Red Onion and Feta Recipe, Orange Muscat Vinaigrette Recipe
Ingredients
Golden Beets with Red Onion:
8 to 10

baby golden

beets

Whole

garlic

cloves (as many as you desire)

4 to 6

thyme

stalks

1

tablespoon

olive oil

Feta cheese,

crumbled"*

Purple-edged

lettuce leaves

Red onion,

thinly-sliced (for garnish)
Orange Muscat Vinaigrette:
Instructions
Golden Beets with Red Onion Instructions:
Preheat oven to 375 degrees F. Line a small sheet pan with non-stick aluminum foil.

Prepare Beets: Wash, rinse and drain until all traces of garden soil are removed. Use a small vegetable brush if needed. Cut off leaves and stems, leaving about 1 inch of the root end.

Prepare Garlic Cloves: Do not peel the cloves, but do rub off any flaky or papery skin. Use a paring knife to cut off the stem end of each clove. You basically want the peel to stay on, but it is fine if a little does come off.

Place the prepared beets, garlic cloves, thyme, and olive oil on the prepared sheet pan; toss the ingredients with your clean hands.

Place in oven and roast approximately 20 to 30 minutes.

After approximately 20 minutes, check the garlic. Roast just until the garlic becomes very soft (don't let them burn). When done, remove garlic from the roasting pan. Allow the roasted garlic to cool enough so you can touch them without burning yourself. Use a small small knife and cut the skin slightly around each clove. Use a cocktail fork or your fingers to pull or squeeze the roasted garlic cloves out of their skins; set aside.

Pierce the beets with a small, sharp paring knife. Knife should enter beet easily with very little resistance. When beets are finished cooking, remove from oven, cover loosely with aluminum foil, and let rest for approximately 20 minutes. Discard the thyme stalks.

Once the beets have cooled enough to handle, you can peel them. The skin of a cooked beet will slip right off using your fingers. First cut off the stem and root ends from the beets.

Line a small platter with the purple-edge lettuce. Arrange the cooled beets, red onion slices, and garlic cloves on the lettuce bed. Sprinkle a generous amount of crumble feta cheese over the top.

Prepare the Orange Muscat Vinaigrette. Drizzle the prepared vinaigrette over the vegetables and cheese to taste. Reserve remaining vinaigrette for another use.
Orange Muscat Vinaigrette Instructions:
In a jar or bowl, combine the olive oil, vinegar, lemon juice, salt, and pepper. Adjust seasonings to your taste.
Comments and Reviews