These Sweet Pickled Banana Chile Peppers are great on sandwiches, hamburgers, in potato salad, and as an appetizer.  Try in omelets, and scrambled eggs – just use your imagination.  You can also use Cubanelle, Carmen, or try other sweet peppers.  I like to add a jalapeno chile pepper to some of my jars.  This recipe does not require a water bath.
This Sweet Pickled Banana Chile Peppers recipe, comments, and photos were shared with my by Karen Calanchini, Food Stylist and Photographer, of Redding, CA.
More delicious Pickle Recipes for great cooking ideas.
Sweet Pickled Banana Chile Peppers Recipe:
Keyword:
Sweet Pickled Banana Chile Peppers Recipe
Servings
:
2
(1/2 pint) jars
Ingredients
1/2

pound

banana chile peppers* 

2

cups

white distilled vinegar

2/3

cup

sugar,

granulated

1/2

teaspoon

celery seeds

1/2

teaspoon

yellow mustard seed
Instructions
Wash the banana chile peppers well and remove stem end; remove seeds and slice crossways into 1/4-inch thick rings (about 2 cups depending on the size of your peppers).

Try putting whole peppers into a jar or two to see how you like them whole. You may have to play with the amounts of peppers versus the amount of pickling liquid. This all depends on the size peppers you use. I used pint jars, so I doubled the pickling juice and used 4 cups of peppers.

Sterilize 2 (1/2 pint) wide mouth jars with hot, soapy water. Rinse well and then put very hot water into them; let sit and keep hot until ready to use.

In a large saucepan, add the vinegar, sugar, celery seeds, and mustard seeds; bring to a rolling boil.

Meanwhile, drain water from the jars. Place the prepared peppers in the jars as tightly as possible.

Pour the hot pickling juice into the jars with the peppers; bring the liquid to within 1/2-inch of the top.

Wipe the edges of the jar tops clean with a clean damp towel. Place lids and screw on bands, finger-tip tight. Wipe jars clean and let sit on counter until cool. Jar lids will ping and depress in the center when sealed. Make sure the jars seal properly. If one does not seal, put it into the refrigerator. It will still pickle within two weeks.

Put in a cool dark place for at least two (2) weeks before opening. Use within two months.
Recipe Notes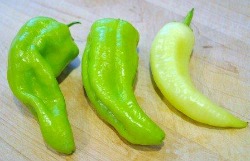 * Also known as yellow wax pepper and banana chili pepper.  The name comes from the fact that its shape and color resemble a banana.  Most banana chile peppers are typically yellow, but they can also be orange or red.  The flavor can vary from mild to moderately hot depending on the maturity of the pepper, with the most ripe being sweeter than younger chiles.  Yellow peppers are generally served pickled.
Comments and Reviews