I saw this recipe in Penzey's Spice Catalog by Randy Benham, and I was intrigued by the unusual addition of cinnamon, ginger, and honey.  Not only was it colorful, but filled with so many layers of flavor!  This is my version of this interesting chili.
Randy's Chili recipe and photos are shared with my by Karen Calanchini, Food Stylist and Photographer, of Redding, CA.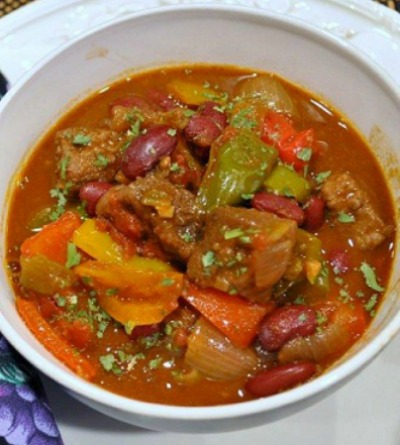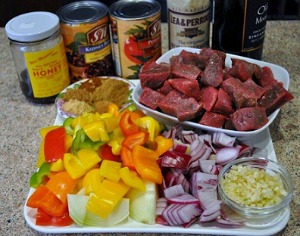 Randy's Chili Recipe:
Keyword:
Randy's Chili Recipe
Servings
:
6
to 8 Servings
Ingredients
1

cup unbleached all-purpose

flour

2

pounds

lean stew meat,

cut into bite-size pieces

1

tablespoon of a good-quality

olive oil

1

tablespoon

butter

1

tablespoon

coarse salt

or sea salt

1

red

onion,

large chop (a little less than bite size)

1

sweet yellow

onion,

large chop

6 to 8

cloves

garlic,

chopped fine

1

(15-ounce) can

tomatoes,

diced and in juice

3

bell peppers

(I used green, yellow and red peppers)

2

15-ounce cans red kidney beans, drained

1/2

cup

red wine

(be sure it is a wine you would drink)

1/4

cup

honey

1

tablespoon

Worcestershire sauce

1

teaspoon ground

cumin

1

teaspoon

Cajun seasoning

1/2

teaspoon

ginger,

ground

1/2

teaspoon ground

cinnamon

2

Hatch chile pepper

(or any chile peppers of your choice), skin blackened and removed*

Black pepper,

freshly ground to taste

Fresh

parsley

(optional, for garnish)
Instructions
Pat the stew meat dry with paper towels; set aside. Make sure that you dry the meat thoroughly on paper towels before browning, as damp meat will not brown.

Browning Flour: In a non-stick pan over medium-low heat, add the 1 cup of flour. Stir constantly until a light golden brown is achieved. Remove from heat and set aside to cool before using. If the flour starts to brown too quickly, remove the pan from the heat source, lower the heat a bit, and then return the pan to the heat.

Place the stew meat into a large paper bag and add the browned flour; shake well.

In a large Dutch oven over medium heat, heat the olive oil and butter. Add half the floured stew meat, in a single layer, and brown on two sides. Add salt at this time (to taste). Remove from heat and drain on paper towels. Add the remaining floured stew meat and proceed as above.

Add onions and bell peppers to the Dutch oven; cook until they just start to brown. Add garlic and stir. Add the tomatoes (with juices) and stir. In a few minutes, the browned bits will begin to release from the bottom of the pan. Scrap them up with a wooden spoon and mix them into the vegetables.

Add the drained kidney beans, wine, Worcestershire sauce, cumin, Cajun seasoning, ginger, cinnamon, chile peppers, and black pepper; stir well. At this point, taste the mixture and adjust any seasonings to your taste. Cook for at least 60 minutes on a low simmer. This will be great after 60 minutes but even better if allowed to simmer for a couple of hours.

Serve in soup bowls and garnish with parsley (if desired). This spicy stew is excellent served with a warm round of Rosemary Olive bread. Slice and butter your bread, and dip into the delicious juices if you desire.
Comments and Reviews