Roasted Beets with Sauteed Greens is a definite winner!  The dish turned out very impressive, the beets were so sweet, caramelized, and absolutely delicious.  It is easy to love fresh beets, and not just for their outstanding nutritional advantages.  Roasting them seems to enhance their sweet nature.  Roasting is the easiest way to cook beets.  The skins will slip right off after cooking.
Fall is a lovely time to be in the kitchen.  At our local Farmer's Market this weekend, I came home with a lovely bunch of red beets which had long and very fresh greens.  I had previously seen a Lara Calder, French Food at Home episode, in which she used a cooking method I had never seen done with beets. This was a great side dish for Pork Chops with Rice Burgundy.
Beets are available in bunches (tops and leaves attached), or roots only.  Pick small to medium bulbs that are smooth, round, and devoid of any soft spots. There should be a slight stub of stem left; if not, they may have been trimmed to remove spoilage on the stem.  Avoid beets with rough spots, which may indicate toughness.
This wonderful Roasted Beets with Sauteed Greens recipe, comments, and photos were shared with me by Karen Calanchini, Food Stylist and Photographer, of Redding, CA.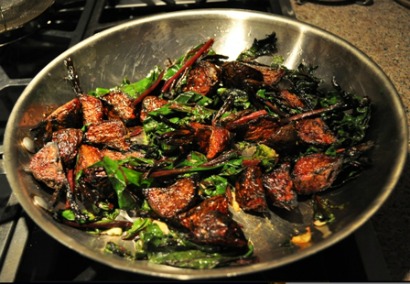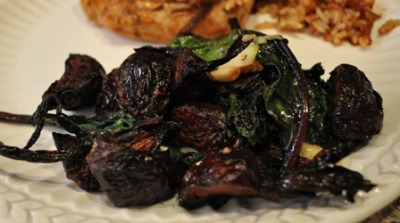 Check out more delicious Beet Recipes.
Roasted Beets with Sauteed Greens Recipe
Keyword:
Roasted Beets with Sauteed Greens Recipe
Servings
:
3
to 4 servings
Instructions
Preheat oven to 426 degrees F. Line a small sheet pan with non-stick aluminum foil (this saves on clean-up).

Wash, rinse, and drain until all traces of garden soil are removed from the beets and their leaves (use a small vegetable brush if needed), leaving the skin intact.

Cut off the leaves, leaving about 1 inch of green on each beet (the red stems can be cut up and used if one desires - I discard them when I use beet greens because they need to be cooked longer than the greens). Set the prepared beet greens aside to use later in the recipe.

Cut each beet in half and then cut the two halves in half, leaving a little green on the top of each wedge. Place the beets on the prepared baking pan. Drizzle olive oil over the beets and toss to coat well. Dot each beet with a little butter and then sprinkle some salt and pepper over them. Place in the oven and roast until the beets are soft and well caramelized, approximately 1 hour, depending on the size of the beets.

Just before the beets are done cooking, heat a little olive oil in a saute pan. Roughly chop the set aside beet leaves (greens) and saute until tender, about 5 minutes. Season to taste with salt and pepper.

Serve the roasted beets and the sauteed beet greens tossed together.
Comments and Reviews