The flavors of these Salmon Cakes with the Creme Fraiche Sauce go together perfectly.  The cakes are very crispy on the outside, flakey and moist inside. They are pretty and company worthy!  I served these with Jasmine Rice seasoned with browned butter, shallots and peas.  Also baby zucchini cut in half and sautd in butter until caramelized on each side. It was a lovely dinner.
This delicious Salmon Cakes recipe, comments, and photos were shared with my by Karen Calanchini, Food Stylist and Photographer, of Redding, CA.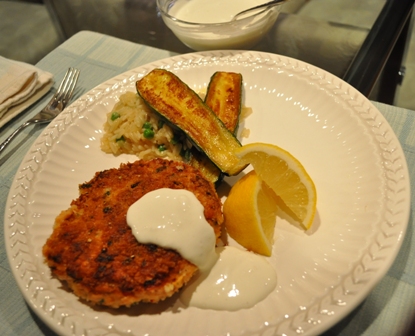 More of Linda's great Salmon Recipes and also How To Select, Buy, and Cook Fish.
Salmon Cakes with Creme Fraiche Sauce Recipe:
Keyword:
Salmon Cakes with Creme Fraiche Sauce Recipe
Ingredients
1

pound

salmon filet,

fresh, wild-caught

1

bay leaf

2 to 3

thin

lemon

slices, fresh

1/2

cup

creme fraiche*

1

tablespoon

horseradish,

prepared

1

teaspoon

lemon juice

2

tablespoons

red bell pepper,

finely-chopped

2

tablespoons Italian

parsley

leaves, finely-chopped

2

tablespoons

red onion,

finely-chopped

1/2

teaspoon

salt

1

teaspoon

horseradish,

prepared

1

teaspoon

Dijon mustard

1/4

cup

mayonnaise

1

cup

white Panko

bread crumbs, divided**

Coarse salt

or sea salt and freshly-ground pepper

1

tablespoon

black pepper,

freshly-ground

Olive oil

for frying

Lemon

wedges
Instructions
Preheat oven to 350 degree F. Wash salmon filet and pat dry with paper towels.



Place salmon, bay leaf, and lemon slices in an oven-proof dish with 1/2-inch of water. Bake (poach) approximately 20 to 25 minutes or until a meat thermometer registers an internal temperature of 145 degrees F. (salmon will be slightly opaque in thickest part). NOTE: During this time the salmon continues to cook (meat temperature will rise 5 to 10 degrees after it is removed from the oven) and the juices redistribute.

When cooked, remove pan from oven and allow salmon to cool. Once salmon has cooled, blot salmon dry with paper towels and remove the skin and discard.

In a small bowl, combine creme fraiche, horseradish, and lemon juice; cover and refrigerate.

In a large bowl, combine the cooked salmon (with skin removed), bell pepper, parsley, red onion, mustard, mayonnaise, horseradish, 1/2 cup Panko breadcrumbs, salt, and pepper. Stir with a fork, breaking up and fluffing the salmon. You want the mixture to hold together when you make the salmon cakes. The mixture should be slightly sticky and wet and form into cakes easily. Add additional mayonnaise, if necessary.

Using your hands, shape the salmon mixture into six (6) equal-size patties. Place the prepared salmon patties on a wax paper lined baking sheet and refrigerate for at least 30 minutes (the cold will firm up the cakes so that they will not break up when fried). I made mine in the morning, covered lightly, and cooked them in the evening.

On a large plate, combine the remaining 1/2 cup of Panko breadcrumbs with the cracked black pepper. Place each salmon cake in the mix and coat evenly with the Panko mixture.

Heat a splash of olive oil in a large frying pan, and fry the salmon cakes, about 3 to 4 minutes on each side, until golden brown.

Serve with the prepared Creme Fraiche Sauce and fresh lemon wedges.
Comments and Reviews