If you already own a cooking Himalayan Salt Block, you will know how to do this.  For me, it was a beautiful gift from our youngest son that lead me into a whole new cooking method.  I can see so many possibilities for this.  Mine is a pink Himalayan Salt block designed for cooking (cookware grade).
The cooking blocks must be at least 1 1/2-inch thick with 2-inches thick being preferred.  The Himalayan salt block will impart savory salt flavor when used to cook foods.  The blocks can be used for hot or cold/room temperature dishes.  The amount of salt imparted to the food seems to depend on the moisture of the food; the more moisture, the more saltiness absorbed.
This delicious Sea Bass recipe, comments, and photos were shared with my by Karen Calanchini, Food Stylist and Photographer, of Redding, CA.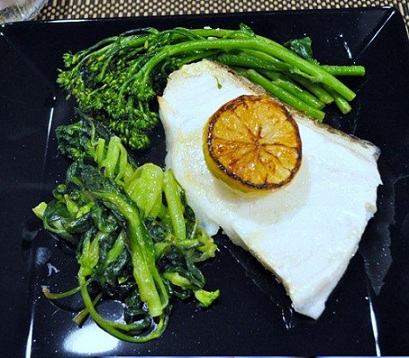 Sea Bass with Broccolini on Himalayan Salt Block Recipe:
Keyword:
Sea Bass with Broccolini on Himalayan Salt Block Recipe
Ingredients
2

Chilean Sea Bass

Fillets

Almond oil

(olive oil may also be used)

1

bunch

broccolini

Lemon

halves (for garnish)
Instructions
Blanch the broccolini in a large pot of boiling salted water for 1 minute. Remove from heat; drain immediately and dry on paper towels.

Brush a small amount of almond oil on both sides of the sea bass fillets.

Be sure the salt block is completely dry before using.Heat your salt block to your preferred method. It will take at least 35 minutes to heat. If your block is large, it will take a longer time to heat up. Smaller blocks will heat faster. The more gently you heat your salt block, the better. You want it hot enough to sizzle when the fish is place on it, as it is best to cook sea bass quickly.

Gas Stove: I did mine on two gas burners on my cook top over low heat for about 15 minutes, then I increased the heat to medium low heat for about 30 minutes.

Electric Stove: If you have an electric stove top, use a metal ring (such as a tart pan with a pop-off bottom, or wok ring) to lift the block off the burners.

When your salt block has heated, place the sea bass fillets on the heated salt block along with the broccolini. Brown the sea bass lightly on both sides. Turn the broccolini over a few times as it is cooking to a desired brilliant green; test for doneness with a sharp knife point. Fish will be done when it just flakes with a fork in the middle. Do not overcook - the fish cooks in just minutes.

This sea bass is also delicious served with garden fresh spinach and/or Baby Pak Choi drizzled with a little balsamic vinegar.
Comments and Reviews