This interesting Spinach Salad with Pickled Eggs and Blue Cheese recipe contains two very delicious and interesting ingredients – pickled eggs and blue cheese.
According to Karen, this is an old Portuguese recipe that her grandparents and mother used to make when fresh beets were in the garden.  They took fresh beets from the garden and whatever amount they gathered they processed.  There really is no actual recipe, as you use how many beets you have harvested.
This refreshing and delicious Spinach Salad recipe, comments, and photo were shared with my by Karen Calanchini, Food Stylist and Photographer, of Redding, CA.
More wonderful Salads and Salad Dressing Recipes.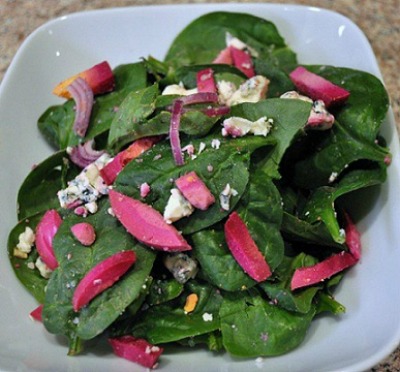 Spinach Salad with Pickled Eggs and Blue Cheese Recipe:
Keyword:
Poppy Seed Salad Dressing Recipe, Spinach Salad with Pickled Eggs and Blue Cheese Recipe
Instructions
Spinach Salad Instructions:
Prepare Poppy Seed Dressing. Store in refrigerator until ready to use. Serve at room temperature.

Soak the spinach leaves in cold water to remove all dirt and then drain and spin-dry in a salad spinner. Remove stems from spinach leaves and tear into bite-sized pieces; place into a large salad bowl.

Using an egg slicer or a sharp knife, thinly slice the pickled eggs. Then turn the eggs and slice in the other direction. Sprinkle the sliced eggs over the spinach leaves.

Add crumbled blue cheese, diced onion, salt, and pepper.

Gently toss the salad with Poppy Seed Dressing.

DO NOT OVERDRESS YOUR SALADS - Too much salad dressing will weight down the salad ingredients and mask their flavors. The dressing's role is to highlight not to overpower the salad ingredients. A general rule is 1/4 cup of dressing for 6 cups of greens. As soon as your salad is mixed, taste a leaf to see if there is sufficient dressing. If not, drizzle some more over the salad, a tablespoon at a time; toss and taste again.
Poppy Seed Dressing Instructions:
In a blender or food processor, combine sugar, vinegar, salt, mustard and onion; process for 20 seconds. With blender or food processor on high, gradually add the oil in a slow, steady stream. Stir in the poppy seeds.

Store, covered, in the refrigerator. Dressing will keep approximately 7 to 10 days. Serve at room temperature.
Recipe Notes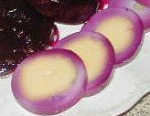 * What are Pickled Eggs:  Pickled eggs are hard boiled eggs that are cured in a vinegar or a brine.  Pickled Eggs must be stored in the refrigerator for safety. Be sure that the eggs are covered with the pickling solution during storage.  To learn how to pickle eggs, check out Karen's Pickled Beets and Eggs recipe.
Comments and Reviews