When the different squash and chile peppers are in season, I like cooking them simply to bring out their distinct flavors and sweetness.  The fresh lemon juice compliments the squash and the browning gives it a complexity that enhances the banana peppers sweetness.  Feel free to add any herbs you prefer.  Squash season begs for new recipes to enjoy this bountiful vegetable.  Round Zucchini Squash seems to be the most popular vegetable to grow in everyone's garden.  This recipe will have you asking for a care package of zucchini.
Round Zucchini Squash with banana peppers is an easy-to make recipe that was shared with me by Karen Calanchini, Food Stylist and Photographer, of Redding, CA.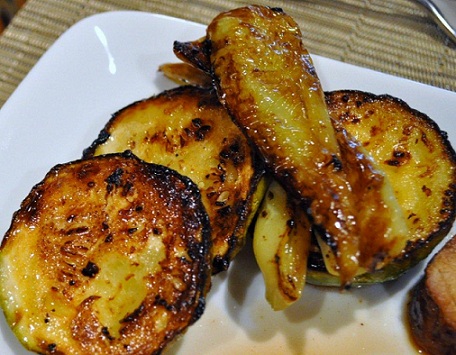 Learn about Squash Hints, Tips, and Information, and more delicious Squash Recipes.
Round Zucchini Squash with Banana Peppers Recipe:
Keyword:
Round Zucchini Squash with Banana Peppers Recipe
Servings
:
2
large servings
Instructions
In a large bowl, place the prepared zucchini squash, banana pepper, lemon juice, salt, and pepper. Set aside and let marinade for a couple of hours until ready to cook.

When ready to cook, drain the vegetable mixture and reserve the juice.

In a large frying pan or sautpan over medium heat, add olive oil and butter; heat until butter just melts.

Add zucchini squash and banana pepper slices; sautuntil browned and cooked to your liking. Add the reserved juice from the bowl and pour over the cooked vegetables; cook a few more minutes to thicken and caramelize the juice (it develops a nice lemony flavor with all the browned vegetables). Taste and adjust any seasonings to taste.

Remove from heat and serve.
Recipe Notes
* The banana pepper (also known as the yellow wax pepper) is a member of the chile pepper family.  This pepper come in several different varieties ranging from mild and sweet to hot and pungent.  The peppers are about 4 to 6 inches long and resemble a banana in shape and are pale yellow-green to yellow in color becoming bright red when mature.
** Mignonette Pepper is a combination of Tellicherry black pepper, Muntok white pepper, and Canadian coriander.  It is a product of Penzeys' Spices. Freshly-ground black pepper may be used as a substitute.
Comments and Reviews