A very easy and delicious grilled rack of lamb that is sure to please everyone you serve it to.  This lamb dish would be great for your next dinner party as it makes an elegant presentation, plus the taste is fantastic.  The Pinot Noir wine tenderizes the lamb.
Learn How To Cook Perfect Boneless Leg of Lamb.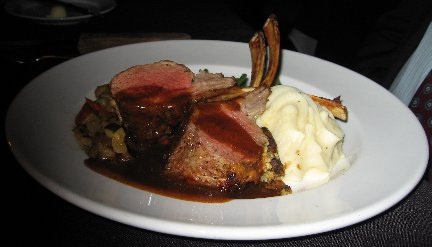 Please check out my Rack of Lamb with Pinot Noir Marinade dinner menu and my Rack of Lamb (Easter Dinner) Menu using this wonderful Rack of Lamb with Pinot Noir Marinade.
Grilled Rack of Lamb with Pinot Noir Marinade Recipe:
Keyword:
Grilled Rack of Lamb with Pinot Noir Marinade Recipe
Ingredients
Grilled Rack of Lamb:
3

racks of

lamb

(6 to 8 chops per rack), fat removed and frenched*

2

tablespoons

honey
Instructions
Grilled Rack of Lamb Instructions:
Prepare Pinot Noir Marinade; set aside.

Arrange racks of lamb in a single layer in a large baking dish. Pour Pinot Noir Marinade over the lamb; turning lamb to coat. Cover and refrigerate at least 2 hours, turning and basting often. NOTE: I like to use large resealable plastic bags for the marinating. One (1) lamb rack fits nicely into a large plastic bag. Divide the marinade between your bags of lamb racks. I also like to marinate in the refrigerator overnight.

When ready to cook, remove from refrigerator 1 hour before grilling to bring to room temperature. Remove lamb rack from marinade; reserving the marinade. Mix honey into marinade and set aside to use when serving the lamb.

When ready to grill, preheat barbecue grill to medium-high heat (350 degrees F.). Sear the lamb racks on the hot grill, fat side down for 1 minute. Turn and sear the other side for 1 minute. Turn back onto fat side and cook for approximately 6 to 8 minutes, basting occasionally with the Pinot Noir Marinade. Turn and cook another 6 to 8 minutes, basting occasionally, or until a meat thermometer registers desired temperature (see below).

Medium Rare - degrees 125.F. 

In a small saucepan, bring the reserved honey/marinade mixture to a boil; let boil until mixture is reduced by 1/2. Additional pinot noir wine may be needed - use your best judgment. Keep warm until ready to serve.

Remove from grill and transfer onto a cutting board; let stand 15 minutes before carving. During this time the meat continues to cook (meat temperature will rise 5 to 10 degrees after it is removed from the oven).

When ready to serve, slice between racks into single-rib portions (hold the rack by the bones and in one slice, run the knife between the ribs) and serve on individual serving plates. Top the lamb with the reserved honey/marinade mixture.
Pinot Noir Marinade Instructions:
In a large bowl, combine pinot noir wine, olive oil, rosemary, garlic, balsamic vinegar, salt, and pepper.
Recipe Notes
* Trim fat from roast to expose 1 to 1 1/2-inches of bones and about 1/8-inch of fat on meat.   An easier way is to ask your butcher to dress rack and trim all fat from the ribs.

I get many readers asking what cooking/meat thermometer that I prefer and use in my cooking and baking. I, personally, use the Thermapen Thermometer. Originally designed for professional use, the Super-Fast Thermapen Thermometer is used by chefs all over the world.  I only endorse a few products, on my web site, that I like and use regularly.
You can learn more or buy yours at: Super-Fast Thermapen Thermometer.
Sponsored Content
Comments and Reviews