To those people who love oysters, there is little that can compare with a cold, plum, raw oyster that is sipped from its shell.  Served with a homemade Mignonette sauce or cocktail sauce and it is perfect!
This outstanding Valentine Evening dinner menu was generously shared with my by Linda Sandberg of Newberg, OR. Linda belongs to a Gourmet Dinner Group that delights in making wonderful foods that they share together.  Check out An Evening for Valentines which includes this recipe.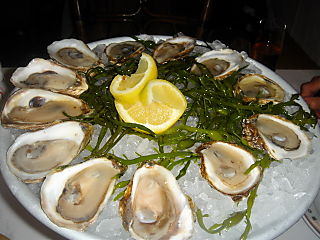 Oysters On The Half Shell Recipe:
Oyster On The Half Shell Recipe
Ingredients
Small-size

fresh live oysters

Sauces of your choice

(see recipe ideas below)

Lemon wedges
How To Purchase Oysters:
When choosing oysters at the market, make sure that they be fresh.  If one is open which it shouldn't be, it should snap shut emphatically once tapped.  If an oyster does not close immediately, do not buy or use it.
Oysters should feel heavy and full in your hand.  They lose moisture once they are removed from the sea.  The heaviness suggests that they are freshly harvested.  Tap two oysters together or one to the other.  If there is a hollow sound, the oyster is dead.  If the sound is solid, the oyster is alive.  Fresh oysters should smell sweet and briny like the sea.
How To Store Fresh Oysters:
Keep the unopened oysters cold but do not store in water!  Remember, oysters are alive and need to breathe, so never seal them tightly in a plastic bag.
Sandwich a layer of live oysters between two (2) beds of ice.  Place them deep side down (to retain their juices).  I do this in a portable (picnic-type) chest cooler.  Never immerse live oysters in fresh water or melted ice – it will kill them.  Oysters stored this way will keep for 2 days.  This is the method to use if you plan on using the fresh oysters soon.
Store live oysters in the refrigerator at 40 degrees F.  if they are not to be used immediately.  Place them deep side down (to retain their juices) in an open container.  Cover the oysters with a damp towel or layers of damp newspaper.  Oyster stored this way will keep up to 5 to 7 days.
Open (shuck) shortly before serving – not more than 2 hours.  The colder the oyster, the easier it is to shuck.  Keep oysters cold at all times, partly for safety and very much to enhance flavor and texture.
Learn How To Shuck Oysters (with photo tutorial).
How To Eat Oysters On The Half Shell:  
You can either use a little fork to pick the oyster out, or you can do like most people do and slurp them out of their shell into your mouth.  Cradle the shell in a hand, grasping it with your thumb and first two fingers.
Some people look for what they call the "sipping lip" part of the shell before planting their lips on it.  When ready, slurp up the oyster, savoring the taste in your mouth.  Drink up the salt-watery juice in the shell, too.  It is part of the treat!  Eat the entire oyster in a single slurp.
Remember, you don't want to see what is inside an oyster.  You just want to taste it!
Cocktail Sauce Recipe:

Recipe by Dave Bucholz of West Linn, OR.
Ingredients:
1/2 cup chili sauce or catsup
2 tablespoons hot cream-style horseradish
1/4 teaspoon granulated sugar
1/2 teaspoon coarse salt
1/2 teaspoon freshly-cracked black pepper
2 teaspoons fresh-squeezed lemon juice
4 drops Tabasco or your favorite hot sauce
1/2 teaspoon Worcestershire Sauce
2 garlic cloves, minced
Instructions:
In a small bowl, mix all the ingredients together to taste, cover and chill until ready to serve and to develop flavor.
Makes 2/3 cup.
Fresh Tomato Cocktail Sauce Recipe:
Recipe from the Wildwood: Cooking from the source in the Pacific Northwest by Cory Schreiber.
Ingredients:
3 small very ripe tomatoes, peeled*
2 ribs celery, chopped
1/2 yellow onion, chopped
1 tablespoon fresh-squeezed lemon juice
2 teaspoon extra-virgin olive oil
1 teaspoon grated fresh or prepared horseradish
1 teaspoon cayenne pepper
1 teaspoon salt
* Learn How To Peel Fresh Tomatoes.
Instructions:
Cut the peeled tomatoes in half crosswise and squeeze the juice into a sieve place over a bowl.  Reserve the juice and pulp separately and discard the seeds.
In a blender or food processor, puree the celery, onion, and tomato juice.  Pour the mixture into a bowl; set aside.
Puree the tomato pulp and then add to the celery/onion mixture.  Mix in the lemon juice, olive oil, horseradish, cayenne pepper, and salt.  Let stand for 30 minutes.  Taste and adjust the seasonings, if desired.
May be stored in the refrigerator up to 3 days.
Makes 1 cup.
Mignonette Sauce Recipe:

This recipe is by Thomas Keller and his cookbook, Bouchon.
Ingredients:
2 teaspoons black peppercorns
1 cup cabernet vinegar*
2 tablespoons minced shallots
* You could substitute a wine vinegar of your choice or even some dry wine.
Instructions:
In a coffee or spice grinder, grind up the peppercorns.  Sift through a strainer to remove the finer particles and then transfer 1 1/2 teaspoons of the remaining pepper to a small bowl.
Add the vinegar and shallots and whisk together.
Refrigerate for at least 1 day to allow the flavors to develop.
May be stored in the refrigerate for up to 1 month.
Makes 1 cup.
Comments and Reviews