Inside-Out German Chocolate Cake is definitely a showstopper cake.  Beautiful, delicious, rich, and perfect for chocolate lovers.  This was, by far, the best version of the traditional German chocolate cake I have ever made.  Very rich, chocolatey, and so good!  This Inside-Out German Chocolate Cake is so unbelievably rich that a small sliver is plenty.  Learn about the history of the traditional German Chocolate Cake.
This cake recipe and dinner menu were generously shared with me by Linda Sandberg of Newberg, OR. Linda belongs to a Gourmet Dinner Group that delights in making wonderful foods that they share together.  Check out Prime Rib (Standing Rib Roast) Christmas Dinner which includes this recipe.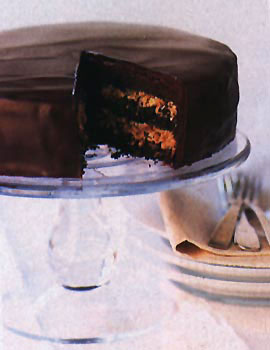 Check out Basic Rules For Baking or here for Secrets Of A Successful Cake.  Also check out more great Cake Recipes and Chocolate Recipes.
Inside-Out German Chocolate Cake Recipe:
Keyword:
Inside-Out German Chocolate Cake Recipe
Ingredients
Inside-Out German Chocolate Cake:
1 1/2

cups granulated

sugar

1 1/2

cups all-purpose

flour

1/2

cup plus 1 tablespoon unsweetened Dutch-process

cocoa powder

3/4

teaspoon

baking powder

3/4

teaspoon

baking soda

3/4

teaspoon

salt

3/4

cup

whole milk

6

tablespoons

unsalted butter,

melted

1

large

egg

1

large

egg yolk

3/4

teaspoon

pure vanilla extract

1/8

teaspoon

almond extract

3/4

cup

boiling-hot water

Coconut Filling

see recipe below

Chocolate Glaze

see recipe below
Coconut Filling - Dulce De Leche:
7

ounces

coconut

flakes, sweetened

4

ounces (1 cup)

pecans,

coarsely chopped

1

(14-ounce) can

sweetened condensed milk

1

tablespoon

pure vanilla extract
Chocolate Glaze:
1 1/4

cups

unsalted butter

10

ounces fine-quality semisweet

chocolate,

broken into small pieces

3

tablespoons

light corn syrup
Instructions
Inside-Out German Chocolate Cake Instructions:
Preheat oven to 350 degrees F. Lightly oil three (9-inch) round cake pans. Line bottoms of the pans with rounds of parchment or wax paper.

In a large bowl, sift together sugar, flour, cocoa powder, baking powder, baking soda, and salt; set aside.

In another large bowl, whisk together the milk, melted butter, whole egg, egg yolk, vanilla extract, and almond extract until just combined. Using an electric mixer on low speed, beat the egg mixture into the flour mixture. Then increase speed to high and beat or 1 additional minute. Reduce speed to low and slowly beat in the boiling hot water until just combined. NOTE: Cake batter will be thin.

Divide the prepared batter among the three (3) prepared cake pans (about 1 1/2 cups batter per cake pan).

Bake in upper and lower thirds of the oven until a tester comes out clean, approximately 20 to 25 minutes.  Switch positions of the pans and rotating them 180 degrees halfway through baking time.  Cake is done when the internal temperature registers approximately 205 to 209 degrees F. on your cooking thermometer.

Remove from oven and place on wire racks to cool about 15 minutes. After 15 minutes, run a thin knife around edges of the pans and invert the cake layer onto racks. Carefully remove parchment or wax paper and then let the cake layers cool completely.

Make the Coconut Filling. Make the Chocolate Glaze while the Coconut Filling is being baked.

Place one (1) cake layer on a rack set over a baking pan (to catch excess chocolate glaze). For easier handling when assembling the cake, place the bottom layer on a cardboard round or the removable bottom of a tart or cake pan. Drop half of the Coconut Filling by spoonfuls evenly over the layer and gently spread with a wet spatula.

Top with another cake layer and spread with the remaining Coconut Filling in the same manner.

Top with the remaining cake layer and spread the chilled Chocolate Glaze evenly over the top and sides of the cake.

In the same saucepan over low heat, heat the reserved Chocolate Glaze, stirring, until glossy and pourable, approximately 1 minute. Pour the warm Chocolate Glaze evenly over the top of the cake, making sure it also coats the sides of the cake. Shake the rack gently to smooth the glaze.

Refrigerate cake until firm, approximately 1 hour. Cake will keep 3 days, covered, and refrigerated. Bring to room temperature before serving.

Transfer to a cake pan and serve.
Coconut Filling - Dulce De Leche Instructions:
Preheat oven to 325 degrees F.

In a large shallow baking pan, spread the coconut. In another large baking pan, spread the pecans. Bake pecans in upper 1/3 of oven and the coconut in the lower 1/3 of the over, stirring occasionally, approximately 12 to 18 minutes or until golden. Remove from oven and set aside.

Increase oven temperature to 425 degrees F.

Into a 9-inch deep-dish pie plate, pour the condensed milk. Cover tightly with aluminum foil.

Prepare a water bath for baking by placing your filled pan with condensed milk in a larger pan (such as a roasting pan).

Bring the water for the water bath to a light simmer on top of the stove; carefully pour hot water into the roasting pan to come half-way up the sides of the smaller pan.

Place on the middle rack of the oven and bake the condensed milk in the water bath for 45 minutes. After 45 minutes, refill the outer pan with additional boiling-hot water to again reach halfway up the sides of the smaller pan. Continue baking the the mixture is thick and brown, approximately 45 minutes more. When done, remove the condensed milk pan from the water bath and set on a wire rack.

Stir in coconuts/pecan mixture and vanilla extract. Cover with aluminum foil and keep warm. This pudding/custard mixture is called a Dulce de Leche.
Chocolate Glaze Instructions:
In a 3-quart saucepan, melt the butter. Remove from heat and add the chocolate piece and the corn syrup, whisking until the chocolate is completely melted.

Transfer 1 cup of the Chocolate Glaze to a bowl, reserving the remaining Chocolate Glaze at room temperature in the saucepan.  Refrigerate the 1 cup of Chocolate Glaze, stirring occasionally, until thickened and spreadable, approximately 1 hour.

I get many readers asking what cooking/meat thermometer that I prefer and use in my cooking and baking. I, personally, use the Thermapen Thermometer. Originally designed for professional use, the Super-Fast Thermapen Thermometer is used by chefs all over the world.  I only endorse a few products, on my web site, that I like and use regularly.
You can learn more or buy yours at: Super-Fast Thermapen Thermometer.
Sponsored Content
Sources:  Recipe originally by Mary Laulis of the Bridge Street Bakery, Waitsfield, VT.   Recipe adapted from the Gourmet magazine, March 2002 and the Epicurious.com website.  Photo by Romulo Yanes.
Comments and Reviews