This fantastic standing rib roast (prime rib roast) recipe and dinner menu were generously shared with my by Linda Sandberg of Newberg, OR. Linda belongs to a Gourmet Dinner Group that delights in making wonderful foods that they share together. Check out
Prime Rib (Standing Rib Roast) Christmas Dinner
which includes this recipe.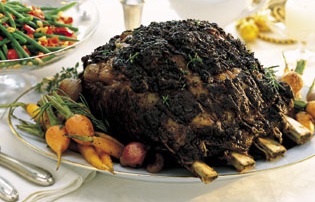 Check out more great Beef Recipes using various cuts of beef.  Also check out how to cook the perfect Classic Prime Rib (Standing Rib Roast).
Standing Rib Roast with Rosemary-Thyme Crust Recipe:
Keyword:
Standing Rib Roast with Rosemary-Thyme Crust Recipe
Ingredients
Standing Rib Roast:
1

(9 to 9 1/2 pound)

standing rib roast

(Prime Rib Roast with 4 ribs, all but thin layer of fat trimmed*
Black pepper,

coarsely ground

1/4

cup

Dijon mustard

2

tablespoons fresh

rosemary

leaves, chopped

2

tablespoons fresh

thyme

leaves, chopped

32

fresh

baby carrots

(green tops trimmed to 1 inch), peeled

16

large

shallots,

peeled

3

tablespoons

butter

3

tablespoons all-purpose

flour
Zinfandel Beef Stock:
2

tablespoons

vegetable oil

3 1/2 to 4

pounds

meaty beef bones

(such as neck bones, beef back ribs, or crosscut beef shank)

Salt

and black pepper

2

cups

onions,

chopped

2/3

cup

carrots,

chopped

2/3

cup

celery,

chopped

3

quarts

cold water

1

cup

Zinfandel wine

or other hearty red wine

4

large fresh

thyme

sprigs

3

large fresh

parsley

sprigs

1/4

teaspoon whole

black peppercorns
Instructions
Standing Rib Roast Instructions:
Important: Before beginning this recipe, please read my web page on purchasing, preparing, and cooking perfect Classic Prime Rib.

Place beef, ribs down or fat side up, in a large shallow roasting pan. NOTE: Select a roasting pan that has sides at least 3-inches deep.

Sprinkle beef all over with pepper. Spread mustard over the beef. Do NOT salt the outside of your prime rib roast, as salt draws out moisture from the meat while cooking. You can use other seasonings, if desired, but I find it is not necessary. I know that some people do salt their prime rib roast before cooking, but trust me and don't salt - the result will be a juicy, delicious roast to serve your family and guests!

In a small bowl, mix together the rosemary and thyme leaves; sprinkle over the beef and press lightly with your hand to adhere. Can be prepared to this point 1 day ahead. Cover and refrigerate until ready to cook.When ready to cook, remove roast from the refrigerator.

To cook evenly, the roast must not be COLD - let it stand at room temperature, loosely covered, for about 2 to 4 hours. This time can vary depending on how big or small your roast is. I can't give you an exact time on this. If you don't let the roast come to room temperature, if will take longer to cook your roast, your roast won't cook evenly, and you'll end up with well-done slices on the end and raw meat in the center. Use your best judgment on room temperature times!

Preheat oven to 450 degrees F. Position oven rack just below the center of the oven. Roast the roast, uncovered, 15 minutes. Reduce oven temperature to 325 degrees F. and continue to roast an additional 1 hour 30 minutes; remove from oven.

Spoon off all but 2 tablespoons drippings and discard. Add carrots and shallots to pan, turning vegetables to coat with the drippings. Sprinkle with additional pepper, if desired. Return the roast (with the vegetables) to the oven continue to roast until the internal temperature reaches desired temperature on a meat thermometer (see below).

Medium Rare - 125 degrees F

What constitutes rare and medium-rare cooked meat? To satisfy government home economists, the Beef Council says rare beef means an internal temperature of 140 degrees F. Well, that is ok if you like well-done and dry meat. If you like moist, rosy meat (like I do), rare begins when the internal temperature registers 120 degrees F. and starts to become medium rare at 125 or 130 degrees F. To cook your meat properly, you must purchase and use a good instant-read digital meat thermometer.

About 45 minutes before the estimated end of the roasting time, begin checking the internal temperature. NOTE: Play it safe and start checking early, as you don't want anything to go wrong. This is even more important if you are adjusting for High Altitude Baking. When checking the temperature of your prime rib roast, insert meat thermometer so tip is in thickest part of beef, not resting in fat or touching bone. Cook until rib roast reaches an internal temperature of 120 degrees F. (or your desired temperature). Remove from oven, transfer roast and vegetables to a large platter and cover with aluminum foil, and let sit approximately 15 to 20 minutes. NOTE: Cutting into the meat too early will cause a significant loss of juice. Do not skip the resting stage.

While the roast is resting, discard the remaining drippings from the pan. Place pan over two (2) burners on stove top over medium heat. Add butter and let melt. Add flour, whisking until smooth and just beginning to color, approximately 5 minutes. Whisk in prepared Zinfandel Beef Stock. Boil just until the sauce thickens slightly, whisking often, approximately 10 minutes. Remove from heat and season with salt and pepper to taste.

After slicing the roast, add any accumulated meat juices to the prepared sauce. Serve the meat slices with the cooked vegetables and the sauce
Zinfandel Beef Stock Instructions:
It's worth the extra effort to make this rich stock, as this slow-simmered taste produces a sauce that far exceeds any made with canned beef broth.

In a large pot over medium-high heat, heat the vegetable oil.  Add beef bones and sprinkle with salt and pepper; saute until deep brown, turning occasionally, approximately 15 minutes.  Using tongs, transfer the beef bones to a large bowl and set aside.

Add onion, carrots, and celery to the pot and sautuntil the vegetables are a deep brown, approximately 10 minutes.  Return the beef bones with any juices accumulated back to the pot.  Add 3 quarts cold water, wine, thyme sprigs, parsley sprigs, and black peppercorns.  Bring just to a boil, reduce heat to medium-low and let simmer until the liquid is reduced to 3 1/2 cups, approximately 3 hours.

Once liquid is reduced, remove from heat, and strain stock into a large bowl; discard bones and vegetables.  Refrigerate, uncovered, approximately 4 hours or until cold.  NOTE: Can be made 3 days ahead.  Cover the refrigerate.  After refrigerating the stock, remove the congealed fat off the top of the stock and discard.

Stock is now ready to use.

I get many readers asking what cooking/meat thermometer that I prefer and use in my cooking and baking. I, personally, use the Thermapen Thermometer. Originally designed for professional use, the Super-Fast Thermapen Thermometer is used by chefs all over the world.  I only endorse a few products, on my web site, that I like and use regularly.
You can learn more or buy yours at: Super-Fast Thermapen Thermometer.
Sponsored Content
Source:  Recipe adapted from Bon Appetit magazine, December 2003 and the Epicurious.com website.  Photo by Mark Thomas.
Comments and Reviews