Fresh Green Casserole dish is made from scratch with fresh garden green beans and mushrooms.  This is not your mother's Green Bean Casserole recipe using canned beans.  This is a delightful updated version of the traditional green bean casserole and the use of fresh green beans is wonderful!  Fresh green beans absolutely beat out using the canned green beans.
Now, if you still want to make the traditional Green Bean Casserole with canned beans, here is the recipe for Green Beans Supreme.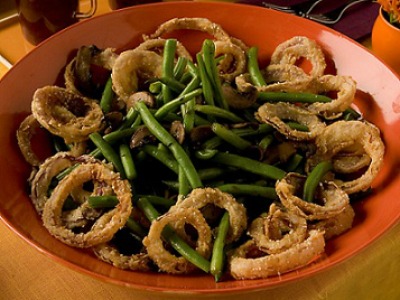 This green bean casserole recipe and dinner menu were generously shared with my by Linda Sandberg of Newberg, OR.  Linda belongs to a Gourmet Dinner Group that delights in making wonderful foods that they share together.  Check out A Night of Comfort (Updated Comfort Food Dinner) which includes this recipe.
More great Bean Recipes, and learn about Green Bean Hints, Tips, and Information.
Fresh Green Bean Casserole Recipe:
Keyword:
Fresh Green Bean Casserole Recipe
Servings
:
6
to 8 servings
Ingredients
Fried Onions:
2

quarts

peanut oil

(for frying)

2

large

red onions,

thinly sliced and separated into rings

1/2

cup

buttermilk

2

cups

Arborio Rice Coating

(see recipe above)
Instructions
Green Bean Casserole Instructions:
Prepare Arborio Rice Coating in advance (see below).

Prepare Fried Onions before cooking the green beans and set aside.

Bring the water to boil in a large pot or Dutch oven. Fill a large bowl with ice water and set aside.

Add the green beans and salt to the boiling water. Cover and cook for 4 to 6 minutes or until crisp-tender and still bright green. NOTE: Be sure to cook the beans to your desired level of doneness (taste one to see if it is cook properly - the beans should still be very crunchy). Remove from heat and drain beans well in a colander, then plunge into the ice water to stop the cooking. Again drain the partially-cooked green beans well and set aside.

In a large frying pan over medium heat, heat olive oil. Add mushroom and cook until browned, approximately 4 to 5 minutes (do not stir the mushrooms so that they can properly caramelize). After the onions are caramelized, add the garlic and thyme. Season with salt and pepper to taste. Cook until the garlic is fragrant, about 1 minute. Add the brandy, red wine, and chicken broth and bring to a boil. Simmer to blend the flavors and reduce the sauce, approximately 2 to 3 minutes.

Add the cooked green beans to the mushroom sauce and toss to coat. Plate on a large serving dish, and season again with salt and pepper, to taste. Top with prepared fried onions before serving.
Arborio Rice Coating Instructions:
Grind the rice to a very fine powder in a blender or spice grinder. Place in a bowl and add the flour, semolina, salt, and pepper. Toss until well blended.

Can be stored in a air-tight container in the freezer for maximum freshness.
Fried Onions Instructions:
In a deep fryer or a deep pot, heat peanut oil to 375 degrees F.

Place onion rings in a large bowl. Pour buttermilk over the onions and toss to coat. Shake off the excess buttermilk and dip the onions into the Arborio Rice coating, covering thoroughly.

In small batches, fry the onions until crispy, approximately 2 minutes per batch. Scoop out the onions with a slotted spoon and drain on paper towels; set aside and season with salt to taste.
Sources:  Recipe and photo by Michael Chiarello of the Food Network and his cookbook called Easy Entertaining with Michael Chiarello.
Comments and Reviews