Baked Lobster Tails – Nothing is as elegant and delicious! This is usually a special occasion meal, but whether you are planning a luxurious evening at home or a casual dinner date, impress your family and friends with a delicious lobster tail dinner. There is always a reason to celebrate when serving lobster tails.
Serving lobster tails to your dinner guests or loved ones is always a special treat, so you want them to taste great! Lobster tails are easier to obtain than whole lobsters and easier to prepare. Buying a whole lobster is very expensive, and because most of the meat is found in the claws and in the tail. It is more economical to just buy a quantity of frozen lobster tails rather than the whole lobster itself and make these wonderful cooked Lobster Tails. Saying this, be careful and buy the best product you can afford and buy from a reputable source.
Please check out my five-course Baked Lobster Tail dinner menu which includes this fabulous Baked Lobster Tails.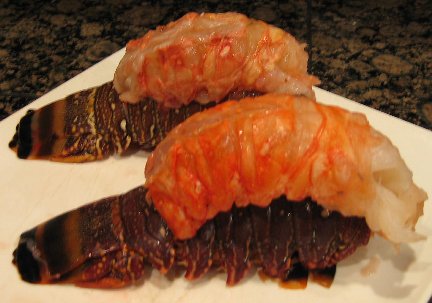 Check out my article How To Buy Frozen Lobster Tails and How To Butter-Poached Lobster Tails.
Perfect Baked Lobster Tails Recipe:
Keyword:
Perfect Baked Lobster Tails Recipe
Instructions
How To Defrost Lobster Tails:
Defrost (thaw) lobster tails overnight in the refrigerator.

The lobster tails may be cooked frozen, but for the best results, defrosted them before cooking. To defrost lobster tails, place them in the refrigerator for a period of approximately 8 to 10 hours or alternatively place them in a bowl of cold water. Check out my article How To Buy Frozen Lobster Tails.
How To Cut Lobster Tails or How To Butterfly Lobster Tails:
When the lobster tails are defrosted, insert point of kitchen shears between the meat and the hard shell.

Cut the shell down the center of the back with scissors, leaving tail fan intact. NOTE: Do not remove the under shell. I run my little finger between the meat and the shell to loosen from each other.

Lift uncooked tail through the slit to rest on the top of the shell (this is called a piggyback lobster tail). At this stage, the lobster tails may be refrigerated until ready to bake. Cover with plastic wrap to prevent drying out.




Preheat oven to 350 degrees F.
How To Bake Lobster Tail:
Place prepared lobster tails on a baking sheet, brush each lobster tail with melted butter, and bake approximately 15 minutes or until an instant-read meat thermometer register and internal temperature of 140 to 145 degrees F. (do not overcook, as the lobster will become tough and rubbery). While cooking, lobster shells will turn their characteristic bright red color well before the meat is thoroughly cooked inside.

Remove the perfectly cooked lobster tails from the oven when done. Serve immediately with melted butter and lemon slices.

If the lobster tails will not be eaten right away, they must be cooled quickly in ice-water. You can keep cooked lobsters in your refrigerator for 1 to 2 days.
Recipe Notes
* Figure one (1) lobster tail per person.
Things to avoid when buying frozen lobster tails:  If you see any discoloration, like black spots, in the flesh of the lobster meat, do not purchase, as they were probably not handled properly.  Also, if the tail has a grayish color, it is a sign the lobster was not alive during the processing.

I get many readers asking what cooking/meat thermometer that I prefer and use in my cooking and baking. I, personally, use the Thermapen Thermometer. Originally designed for professional use, the Super-Fast Thermapen Thermometer is used by chefs all over the world. I only endorse a few products, on my web site, that I like and use regularly.
You can learn more or buy yours at: Super-Fast Thermapen Thermometer.
Sponsored Content
Additional Outstanding Recipes Using Lobsters:
Butter-Poached Lobster with Caviar Mousse & Dijon Mustard Sauce
In the fall of 1999, after five years serving an inventive butter-poached lobster dish at the French Laundry, his celebrated restaurant in Yountville, Calif., chef Thomas Keller published this recipe in his cookbook called The French Laundry. Thomas Keller said "I wanted to find a way to cook lobster gently, so it wouldn't be tough. I don't remember seeing it done anywhere else, and this made perfect sense to me. Who in America hasn't had lobster with melted butter?"
Lobster Bisque Dewey
The outstanding lobster bisque recipe is from the 1965 cookbook A Treasury of Great Recipes by Mary and Vincent Price. The original recipe came from the Gage and Tollner Restaurant in Brooklyn, New York. This delicious soup is the result of cooking lobster meat in butter and then adding cream. Rich, delicious, and tasting of pure essence of lobster.
Lobster Cakes with Papaya Mayonnaise
The lobster meat shines in these wonderful hand-made lobster cakes. Can be served as an appetizer or an entree. I adapted this recipe from Chef Gregory Cornelius of the Crescent Club in Memphis, Tennessee.
Lobster Macaroni and Cheese
This is a very decadent macaroni and cheese. Makes a great company dish. Your guests will be blown away! Don't worry about the calories, as they just slide easily down your stomach!
Lobster Newberg
This classic dish has been popular since the mid 1870's. Also learn about the interesting history and lore of Lobster Newberg.
Paella – Chef Brandon Frohne's Paella
Recipe by Chef Brandon Frohne, an award winning 4th generation Chef and Winery Chef at the acclaimed Chateau an Winery and Resort in Braselton, Ga.
Comments and Reviews