Butter Poached Lobster Tail is my absolute favorite way to prepare and eat lobster tails.  This technique takes a little more time than baking your lobster tails, but the flavor and texture are outstanding!  Adding caviar puts this dish to even better heights of pleasure.  My theory is that everything tastes better with butter!
The original Butter Poached Lobster Tail recipe is by Chef Thomas Keller.  The recipe below is my adaptation of a combination of several recipes from different sources, with my minor changes.
In the fall of 1999, after five years serving an inventive butter-poached lobster dish at the French Laundry, his celebrated restaurant in Yountville, CA, chef Thomas Keller published this recipe in his cookbook called The French Laundry.  Thomas Keller said  "I wanted to find a way to cook lobster gently, so it wouldn't be tough. I don't remember seeing it done anywhere else, and this made perfect sense to me.  Who in America hasn't had lobster with melted butter?"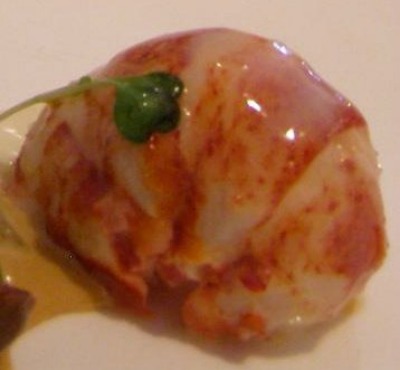 Butter Poached Lobster Tails with Caviar Mousse Recipe:
Keyword:
Butter Poached Lobster Tails with Caviar Mousse Recipe
Ingredients
Butter-Poached Lobster Tails:
1

lobster tail,

per person, shells removed and tails on

Butter,

unsalted, cut into small chunks

1

tablespoon

water
Beurre Monte:
Butter,

cut into chunks

1

tablespoon

water
Instructions
Butter-Poached Lobster Tails with Caviar Mousse Instructions:
Prepare Caviar Mousse and Dijon Mustard Sauce ahead of time (see below).

Prepare Beurre Monte (see below).

When you are about an hour from serving the lobster tails, take them out of the refrigerator and bring them to room temperature.

When ready to poach the lobster tails, in a pan large enough to hold the lobster tails and using a cooking thermometer, bring the prepared Beurre Monte up to at least 160 degrees F., but not over 190 degrees F.

Depending on how large and how many lobster tails you are preparing, will determine how long to poach them. It usually takes from 5 to 7 minutes or until an instant-read meat thermometer register an internal temperature of 140 to 145 degrees F. Do not overcook - the lobster should not be rubbery but of a soft consistency - almost as if not completely cooked. The lobster should be white and not very opaque in color. When done, remove them from the Beurre Monte and serve.

To Serve: Place a cookie ring on individual serving plate. Fill the ring with the Caviar Mousse (carefully remove the ring, lifting upward). Place prepared lobster tail on the Caviar Mousse. Drizzle some Dijon Mustard Sauce around the food and sprinkle a few caviar eggs on sauce . Drizzle a little of the Beurre Monte over the lobster tail. Repeat with remaining portions.
Beurre Monte Instructions:
Definition of Beurre Monte: Butter is an emulsification of 80% milk fat, 18% water, and 2% milk solids. Heating butter above 160 degrees will cause it to "break" or separate into its different composition parts. A Beuree Monte is a techniques of keeping melted butter in an emulsified state between 180 degrees and 190 degrees, which is sufficient to poach meats or vegetables.

Using just a little bit of water helps the emulsion process in preparing Beurre Monte. Whether you emulsify 4 tablespoons (2 ounces) or 1 pound of butter, just one (1) tablespoon of water will do.

Determine how much butter you will need for the Beurre Mont by placing the lobster tails in a large enough pan, side by side; add just enough water to cover. Immediately remove the lobster tails, drain them, set aside; and measure the water in the pan. You will need this amount of butter to cover and poach the tails.

In a saucepan, bring the 1 tablespoon of water to a boil over high heat; reduce the heat to low and begin adding the chunks of butter (a little at a time) whisking constantly to emulsify.

Once the emulsion is started, more butter may be whisked in.

Hold the temperature of the Beurre Monte to between 160 and 190 degrees F. for poaching. DO NOT BOIL OR THE MIXTURE WILL BREAK! The mixture should have the consistency of a very thick butter sauce.

Make the Beurre Monte close to the time it will be used and maintain it in a warm place. If you have extra Beurre Monte it can be refrigerated and reheated to use as melted butter or it can be clarified. The prepared Beurre Monte can be frozen and used anytime on vegetables or seafood.
Caviar Mousse Instructions:
I adapted these recipes for Caviar Mousse and Dijon Mustard Sauce originally by Guy Martin, Le Grand Vefour, France - Food Network Television, Episode #FW1A12

In a medium-size bowl, gently combine the Dijon mustard and whipped cream until smooth. Add the finely chopped shallots and season with salt and pepper. Gently fold in the caviar without breaking the eggs.

May be made 1 hour in advance of being served.
Dijon Mustard Sauce Instructions:
In a small bowl, combine creme fraiche with Dijon mustard and white wine until it thins out a little. Season with salt and pepper.

This sauce may be prepared several days in advance.

I get many readers asking what cooking/meat thermometer that I prefer and use in my cooking and baking. I, personally, use the Thermapen Thermometer. Originally designed for professional use, the Super-Fast Thermapen Thermometer is used by chefs all over the world.  I only endorse a few products, on my web site, that I like and use regularly.
You can learn more or buy yours at: Super-Fast Thermapen Thermometer.
Sponsored Content
Comments and Reviews