Maui, Hawaii – Food Travels
This culinary journey collided with our 30th wedding anniversary. My husband and I decided to go tropical, someplace warm and we have always heard that Maui was a really great place. Maui is the second largest island in the Hawaiian island chain. According to legend, Hawaiʻiloa named the island of Maui after his son, who in turn was named for the demigod Māui.
The legend of the demigod Māui, in brief, is that he, with the help of his brothers, hauled up the Hawaiian Islands from the sea with is fishing hook called Manaiakalani.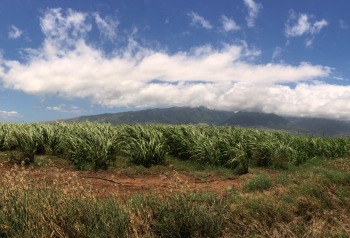 The Island of Maui is also called the "Valley Isle" for the large valley between the island's volcanoes. In this valley the main crop is grown, sugar cane. Maui's other food crops include macadamia nuts, pineapples, papayas and coffee.
Maui has taken on a self-sustaining stance when it comes to its food sources. The islands import over 80% of their food. Recently young farmers have returned to the original farming land, known as the "Up Country" with the goal of reclaiming the land and crops to reduce the import reliability and offer fresh local foods. The result is that the culinary experience on Maui is returning to its roots to reflect the people and agriculture of the island in many restaurants and on some resort menus. Avoid the commercial chain restaurants and give the local food a try. Enjoy some traditional dishes and check out the locally owned establishments because it is a great time to truly taste Hawaii when visiting Maui.
By observation the Island of Maui is also very food aware. Organic healthful food is very much a part of the current culture. Smoothies, kombucha, greens and homemade products were popular in many places we visited. Although we ate a lot, we ate pretty healthy the whole time we were there.
Our culinary tour
First you need to decide where to stay when visiting the Island of Maui. There are several popular areas, some very expensive. If you are like me and enjoy cooking some of your own meals, opt for a condo. If you are truly on vacation and have no thought to cook, many choose a resort.
We chose a condo on Ma'alaea Bay because;
Ma'alaea is centrally located to most points of interest that we intended to visit.
It was important to cook some of our meals to save money
An ocean view and accessibility to the water is part of going on a beach vacation.
Saving money on accommodations is always a goal when I travel.
I had read and heard that it was pretty windy in Ma'alaea but considered that the wind would be what would keep us cool in the evenings and at night when we were sleeping. Fortunately, that decision worked out great. The condo was situation such that you could open the bedroom window, crack the front door and open the Lanai door and the wind would gently blow through the entire condo keeping it a nice cool and comfortable temperature. Warning – Ma'alaea Bay can experience high surf and flooding during the winter months. It is also common to experience smoke from burning of the nearby sugar cane fields.
Where and What to Eat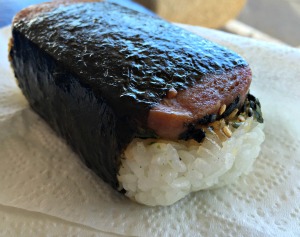 There is no better way to learn then to ask people their opinions who live in the area or who have already visited. Putting together our culinary itinerary, I asked our readers their favorite places and foods to try. Thanks to many of your suggestions, we had a great variety of places and foods to choose from ranging from restaurant meals to 7-11 snacks such as Spam Musubi. Spam musubi is a popular snack and lunch food in Hawaii composed of a slice of grilled Spam on top of a block of rice, wrapped together with nori.
Day 1
Ma'alaea Bay
We arrived in the late evening and woke the next morning to a beautiful view of Ma'alaea Bay from the ocean front 1st floor lanai. The wind was whipping through the palm trees and white caps floated briskly on the water. We were hungry for breakfast but the refrigerator was bare since we didn't have time to stop at the store for any food. The condo owner suggested we walk down to the Ma'alaea harbor just a few blocks away and have breakfast at the Beach Bum restaurant. It was a short walk along the bay front and there I found a $3 Bloody Mary and a decent breakfast to get us started on our first day on Maui. Being so close to the harbor was good as it was the central point of departure for many water activities, snorkeling, whale watching and sunset sail excursions. We returned to our condo and prepared for the day. We found two snorkel sets and a Boogie Board in the closet loaded them in the car with some beach towels and set off for our day.
Kihei
From breakfast we decided our first destination would be the town of Kihei just south of Ma'alaea. Kihei is along the south shore of Maui. Kihei is a very popular destination as it is somewhat protected from the winds of the valley which makes it a hotter spot on the island during the winter months. Kihei is a bit spread out and has many shops, condos, restaurants and beaches that require a little walking to get around to. It isn't a compact town but you could get around without a car there.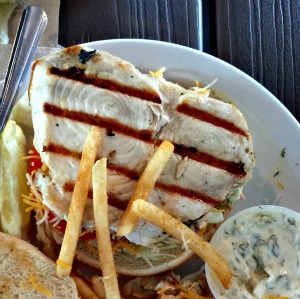 In Kihei is the . The original one is located in the town of Paia on the North shore. The restaurant was started in 1989 and they are legendary for a reasonably priced, excellent quality, large portioned plates of seafood. They also serve chicken as well as beef from the Maui Cattle Company. The Paia fish market was on our list of suggested places to eat, we stood in line reading the chalkboard menu and I went back and forth on what to get. I hate deciding as I always worry that something would be better than what I ordered. The burger choices were Mahi, , "any other fish", chicken or beef. During my contemplation a man leaned forward from behind me in line, like a little birdie whispering in my ear, and suggested the Ono fish burger. He stated he was local and always came there just to eat that and it was the best.
Ono/Wahoo – "Good to Eat" Fish
So what is an ono fish? Well, Ono means "good to eat" and is a fish also known as Wahoo. This fish is a lean, flaky delicate yet firm white fish that has a mild flavor and is great when grilled. When my Ono Burger arrived, I found it to be very tasty and firm, almost the same firmness as a chicken breast. It was really good and was dressed with coleslaw and tartar sauce. While I enjoyed my burger, I did check over at the next table to be sure that my little birdie also ordered the ono burger as he said. And he did, he wasn't just trying to hurry me along through my indecision. Thank you little birdie!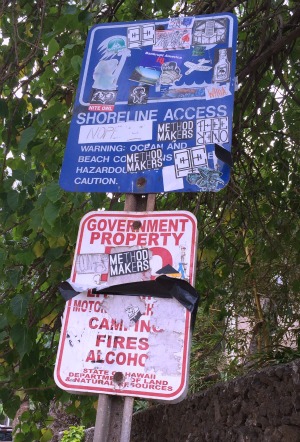 Shoreline Access – The Beach is Yours
We didn't stay long in Kihei, but continued south along the coast to check out the other towns and beaches along the coast. We drove through Keawakapu, Wailea and Makena which were mostly resort areas of the island with beautifully landscaped grounds. That is when we first noticed that Shoreline access signs. I did an internet search and found that in Hawaii, The public has a right of access along the beaches and shorelines in the State situated below the "upper reaches of the wash of the waves." Which means that even in private home and resort areas, the public can access the beaches. You don't have to stay in a resort to use the lovely beach in front of it. This really makes the shoreline accessible to everyone, although at first sight you might think you couldn't access unless you were staying at the resort. Not true, drive on in and take a look around, you will find there is a designated parking area for public access, even within the resort grounds designated only for public access, not resort parking. From the public beach you can walk up into the resort and order yourself a nice umbrella drink too!
Big Beach/Little Beach – Naked Beach!
We were in search of Makena Beach also known as Oneloa (Big Beach). It is one of the longest beaches on Maui. The north end is bordered by Pu'u Ola'i, a large cinder cone. On the other side of this Pu'u Ola'i is Little Beach. Little Beach is a beautiful beaches that requires a small climb over a volcanic rock path to a beach of nude sunbathers, or so I heard. Along the way to Big Beach there were many road side vendors selling fruits and fresh coconut. Arriving at Big Beach the parking lot was large, and full of cars and the JAWZ food truck. JAWZ was A popular suggestion that we had for food to try. They served wonderful pink snapper fish tacos and a variety of other Mexican dishes. Unfortunately we had already eaten and were still way to full to try to eat. Big Beach was nice, but very crowded, the waves looked large and we discovered the Boogie Board from the closet was broken. We didn't stay long until we decided this wasn't the beach for us. Fortunately there were many more beaches to explore.
Coconut Shark Warning – Beware
After big
beach we kept heading south, and stopped at a coconut vendor to sample some fresh coconut water. There were many roadside vendors with various coconut huts and displays. We stopped at one that was just setting up. They had a wagon full of young green coconuts with curly vines still attached.
The family was setting up and we were thirsty for some nice cold coconut juice. The son handed the mother a coconut and she proceeded to butcher it with a large machete. Quite skillfully and quickly she had the water ready to drink. She spent the next few minutes trying to open
a box of straws, and not as adeptly as she opened the coconut. Although the water was good, the price was a bit outrageous. I would suggest checking with a few vendors along Makena beach road, as there is only one way in, and out. You will find that $20 is not the going rate. Having ordered up, machete and videoed the process, I didn't feel like I could refuse to pay. Next time, I will ask first.
Coconut Water – Hydrate or Hype?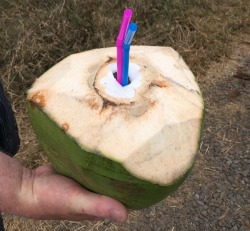 Coconut water is a liquid that is inside of the young green coconut. The liquid is part of the development process of a coconut and is absorbed into the rind upon maturity of the coconut. As of late coconut water has become a health food craze. The benefits of drinking coconut water are said to be healthful and hydrating. Claims state that coconut water is a healthy alternative to sports drinks and more hydrating than water. Coconut water is lower fat, carbohydrates, and calories while having high electrolyte content. However, the contents of primary electrolytes per 100 ml serving, sodium, potassium, magnesium and calcium, are negligible in the natural coconut. Coconut water isn't a miracle cure but in general it is a refreshing drink on a really hot day and a good way to stay hydrated without all the sugar. Enjoying it naturally right from the coconut from a roadside vendor is a really fun way to try coconut water.
Secret Beach – Found!
Continuing south we slowly began to run out of road, it had narrowed considerably and we found ourselves driving amongst gated homes toward the southernmost tip of Maui. Our fresh coconut in hand we sipped on our, "his and hers" straws and debated on whether we should turn around and head back. We were approaching the area on the rental car map that stated it was beyond the area where we could drive our rental car. We came to a wide spot and noticed one of the Shoreline access signs covered with stickers near a lava rock wall. There was enough widening in the road for a few cars to park. We squeezed the car in close the lava rock wall and grabbed some bottled water and headed to the narrow walk way. From there it opened up into a beautiful small beach with two inlets. Lava rock dotted the beach toward the water and large waves took their turns with smaller ones, crashing high up on the lava rock outcropping that led to the sea. It was lovely and we later found out the name of the beach was Paako Cove, also known as the secret beach. And we found it on our first day!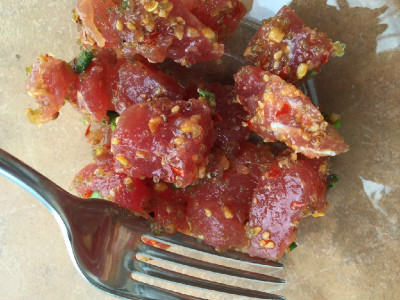 We finished off our day at Costco, where we purchased a new Boogie Board to contribute to the Condo's closet of fun. I also found that Costco had a fresh Poke (pronounced PO-KEE, or PO-KAY) bar with some 20 different kinds of Poke. Hello sample line! If you think waiting for a paper cup of some warmed burrito is bad at your local Costco, imagine the sample like at the fresh Poke bar! So what is Poke? Poke (pronounced POH-kay) is served in most Hawaiian homes and restaurants as a side dish, and no gathering in Hawaii would be complete without a few bowls of poke. In Hawaiian, poke means "cut piece" or "small piece." Poke is bite-size pieces of raw fish doused in seasonings. Poke is actually the Hawaiian version of the elegant Japanese sashimi (a combining of the Hawaiian and Japanese taste for raw fish). The fish for poke is sometimes even lightly seared or fried.
On the Costco Poke bar the main featured fish was Ahi, but there were other fish as well as shrimp Poke available. Each variety of Poke was seasoned with various local ingredients and you could order it by the pound to-go or over a bowl of hot rice, which is known as "island style". Needless to say I had to sample a few different kinds before settling on my favorite; Ahi, Seasoned with sesame seeds, soy, red pepper flakes and wasabi. YUM!
Matt was the taste tester for our trip and here is his review of poke.
Day 2
Road to Hana
Should we or shouldn't we, should we or shouldn't we. We went back and forth on the journey to Hana. It really is a split opinion when you ask someone about the drive. Some people say YES, you can't miss the Road to Hana. Others say it is a long drive and there is nothing there to see in Hana. So what do we do? Well, I spent a good amount of time studying and reading on the Trip. There were multiple warnings about having enough gas, bringing bug spray, stocking up on water, and getting a picnic lunch before hitting the road. It sounds so desolate and isolated and so much to think about. In the end our decision was YES, let's drive it.
Provisions
Against my husband's better judgement he topped off the gas tank. He hates to get gas until the gauge hovers just below the red line. I said if he wanted to take the drive we would need to fill the tank. So he did. Thank you Matt!
Next we stopped at K-mart for cheap hats, (we found souvenir baseball caps for $5), bug spray, and bottled water. We headed north from Ma'alaea to the town of Paia on the north shore of Maui. The "Last stop" on the Road to Hana. There I had read you can pick up a decent picnic lunch before the journey. Paia is a very cute little town filled with great shops that have unique art, jewelry and foods made by local people with local products. I also discovered that Paia is a little bit of an "alternative" town. There seemed to be a lot of homeless people, and we witnessed quite a few drug deals go down in our short time there. I'll talk more on Paia later as we returned to shop later in the week. On to Hana, all supplies in hand we headed east toward. Now I am not going to spend too much time talking about the sites along the way as there are many articles discussing the hikes and waterfalls on the road to Hana. I just want to talk about the food. First point I want to make is, you WILL NOT starve on the Road to Hana. All along the way there are honor fruit stands, where you can pick up fresh fruit, papayas, mangoes, pineapple, bananas, Lili koi and more.
It Is All About the Banana Bread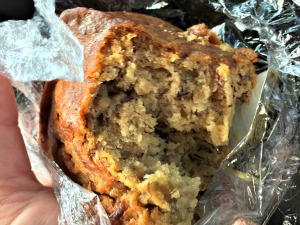 Not only are there fruit stands, but Halfway to Hana, at mile mark 17, you will reach the "Halfway to Hana" Refreshments, Fruits and Shaved Ice Store. Here you will find burgers, hot dogs, ice cream, shaved Ice and of course the famous Banana bread. Halfway to Hana owned by Doug and Nita Chong, started as a simple lean-to on the side of the road in 1983. They were selling shaved ice and since have grown into a north shore favorite for snacks, refreshments, friendly directions and other services including an ATM. For many years, the only pay phone in the area was at Halfway to Hana. One of the popular items for sale is the famous Banana Bread. The bread is cooked daily using home grown bananas and other ingredients supplied by the local agriculture community. My loaf was still hot when I purchased it. It is delicately sweet and melts in your mouth
.
Wait there is more…. Meet Coconut Glen
If you didn't get enough to eat at the Halfway to Hana shop, you don't have to go too much further before you will run into Coconut Glen's Ice Cream Stand. In the middle of no-where at mile post 27.5 on The Road to Hana you will come across a most colorful and inviting Ice Cream Stand serving up all natural, organic, gluten free, and vegan ice cream. Glen is a trained chef who left Boston to find the meaning of his work. He ended up in Maui, working his own sustainable farm and his final product is your happiness through his coconut ice cream.
We entered the open bamboo stand and found a selection of flavors to choose from, for today, written on the chalkboard. Original coconut, chili-chocolate, coffee toffee, liliko, taro, to name a few. The chili-chocolate caught my eye and I was offered a sample. It was just a bit hot for me but I was perfectly happy trying a scoop of the original coconut which contained coconut candy pieces. My husband tried the coffee toffee, which had coffee beans and toffee layered in the ice cream. The treat was sweet, smooth and creamy. It truly was some of the best ice cream that I have had. The bad news, it melted fast in the tropical heat, so the treat was gone before I knew it.
Coconut Glen's ice cream is made from laughter, sweetness, magic coconuts and love. The more scientific ingredients include coconut milk, local fruits and ingredients. I overheard Glen telling a customer that, the secret in the flavor is to let the ingredients infuse into the coconut milk before making the ice cream. It is worth the drive, delicious!
Black Beach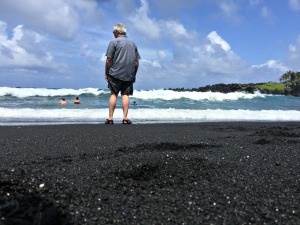 Driving The Road to Hana, offers up some really beautiful, "Breathtaking" views as you navigate the narrow hairpin turns and one-way bridges. Waterfalls, bamboo forests, unique hiking trails and toward journeys end, we found the Black Beach at Waianapanapa State Park. It was a very unique beach, as the sand consisted of tiny black pebbles ground by the waves almost as fine as sand. It is a short hike to the beach where you will find many other people marveling at the beautiful beach as the white froth of the sea waves laps against the black shoreline.
Day 3
Happy 30th Anniversary
Today is our 30th anniversary and we decided to spend it at the Halekawa Crater. We also decided that we didn't' need to get up at 3am to see it at sunrise, or ride a bike down the volcano. Now I understand it is a spiritual moment for those that like to get up early, but not me, I am on vacation and want to sleep in.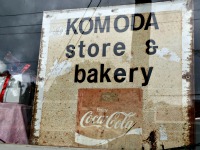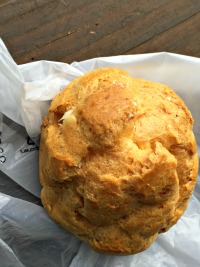 We headed out around 10am and made our first stop at Komoda Store and Bakery in Makawao, Maui. What a cute town located about half-way up the slopes of Halekawa. Makawao is officially a cowboy town where the paniolo (Hawaiian Cowboys) have wrangled cattle since the late 19th century. It is also home to The Makawao rodeo for the past 50 years. But that is not all; Makawao has a really great art scene happening there. In each of the western store fronts we found a fantastic variety of work from local artists. We spent a short time walking up and down the main street and bought a replacement

wedding ring for my husband in one of the stores.
I digress as the bakery was the reason we came to Makawao. Officially the T. Komoda Store was established in 1916 by Takezo Komoda, a Japanese plantation worker. The bakery is famous for their cream puffs and the line queues up early in the morning to buy them. The cream puffs and pastries are the draw to come to the Komoda Store and Bakery, but as you start to look around you realize you have walked into a time machine. The shelves are stacked with old sundries from a time gone by. The antique brill cream, razors, and vapor powders are now behind glass but almost as if frozen in time. It is not like any other bakery as it really doesn't look like a bakery. It is very dark and a bit disorganized inside but it adds to the charm of the sweet treats that they make.
Halekawa Crater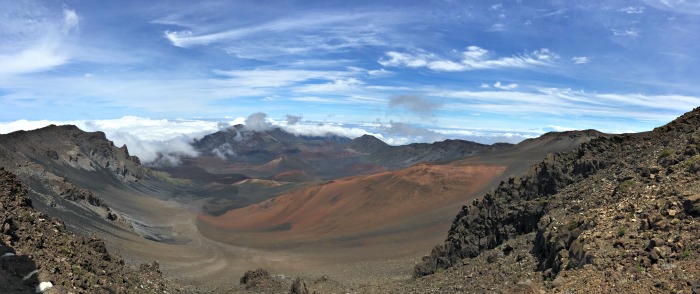 Thoroughly stuffed with cream puffs we returned to the road and the journey continued "Up Country" as we headed to the top of the volcano to peer into the crater. All I could think about all the way up was this stupid crater better be worth looking at. The road was similar to the drive to Hana as it was continuous hairpin turns, except we were heading up hill the whole time. Once we reached the Haleakalā National Park, we had to pay $3 or $5 to enter. Then it was another 15 minute or so drive upwards to reach the staggering 10,023 ft. summit where the crater is. My husband did some research and the Haleakalā Crater is actually the highest peak in the world, measured from sea level as, over 17,000 feet of the peak is under water, to the peak it stand a whopping 33,000 feet tall, that is 4,000 feet higher than Everest.
We arrived midafternoon and it was a balmy 55 degrees and sunny! We drove to the summit and looked down on the vast crater. It was truly marvelous! I didn't expect that it would be so beautiful, so unbelievably marvelous. The colors, the shadows, and the sheer size of the seven mile across, two mile wide and 2,600 feet deep crater was spectacular. The crater actually looks like another world. Not a part of the one you are standing on as you view into it.
I immediately started snapping photos, wishing I could get closer. It took, about a half hour for us to realize that just down the road a quarter of a mile was the visitor center which seemed to sit on the rim of the crater. You could stand on the railing and look down into it, and capture amazing photos. That is when I also realized there is a trail that goes into the crater. If we go back to Maui, I plan to be prepared to either hike in or find me a horse to ride in. It is worth the drive, possibly maybe even getting up at 3am to catch it at sunrise. Skip the beach one day and wander Up Country, you will not regret it.
Mama's Fish House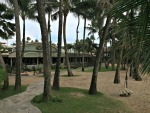 We stayed too long at the crater and had to haul donkeys to get back down the mountain to make our 3:30 reservation at Mama's Fish House. It was a Monday and I used their online reservations system which would only let me book a table until 3:30 then again after 8:30. Everyone we talked to said this was the place to go on Maui for the best food. So this is where we went for our Anniversary dinner. Unfortunately we were so long on the crater, we didn't' have time to go back to the condo and change. I had bought a pretty white dress for our anniversary dinner. Instead we pulled into the parking lot of Mama's Fish House in our crater clothes, with our crater hair, with just minutes to spare.
Mama's Fish House is a really nice place reminding me of "Old Hawaii" something out of the 60's. It actually opened in 1973, but it had that tiki lounge look and feel. There was a small beach out front and it was nestled into a little cove of its own surrounded by coconut palms. Valet parking was free! Nice. We had a table in the front hut area of the restaurant. Our table was partially outdoors and looked out to the ocean in their hut portion of the restaurant. I want to mention that, the tables were not full. They were busy setting up for the dinner crowd, so we had exceptional services. Actually too good of service. Our meal arrived within 10 minutes of ordering it. We really wanted to feel casual and linger over our anniversary dinner but it all happened so fast.
Mama's Fish House is highly recommended and popular because, every day their fishermen go out in small boats to catch a variety of fish for just for them: multi-colored Mahi-mahi and tropical Ono, caught near our buoys 30 miles offshore. Reef-feeding bottom fish like Opakapaka, Onaga, Lehi and Uku, caught at depths of 2000 feet and slowly brought to the surface; fighting Ahi caught far out at sea with fast boats trolling lures; Papio from the lagoons near shore; Moi from the fish ponds.
The fishermen bring the fish directly to them. They process and serve it within 24 hours. Their daily menu even lists the name of the fisherman and where they caught their fish. It sounds so Portland too me! It was just missing the pedigree of the fish. I loved it!
As suggested by our waitstaff, I ordered the signature dish, the Mahimahi stuffed with lobster and crab that was caught by Mike Fisher near their deep-ocean buoys. Matt ordered the Short-ribs, which was slow cooked "Pulehu" and the ribs were soft and tender. The dinner was delicious with only one complaint. It came to the table too fast.
Wind Skimmers
Just up the road from Mama's fish house is the Ho'okipa Beach one of the most popular windsurfing sites in the World. Wind surfers, and kite boarders travel at high speeds, skimming the tops of the waves and flying through the air as the sails and kites catch the strong winds that rush along the north shore or Maui. We live in Oregon and often see wind sports in the Columbia Gorge but they just seemed to be cruising so fast out on the open ocean. It is a great way to cap off your dinner, sitting on the sandy berm watching the frantic pace of the boards carving through the waves.
Day 4
Maui's West Shore
Up and out, breakfast on the lanai at our condo was Greek yogurt, yummy granola, fresh Maui Gold Pineapple and a bagel. I fancied myself sipping a mimosa every morning, but found it really made the rest of my day a bit slow. So this morning I enjoyed my favorite Moroccan mint tea with my meal. We set off to the West, passing the Kaheawa Wind Power turbines. One of the largest wind farms in Hawaii. It is located on above the town of Maalaea in the West Maui Mountains, and they spend a lot of time spinning in Maui's trade winds.
Our first stop for the day was Lahaina. Situated along the west shore of Maui, Lahaina has Front Street shopping and dining. Front Street is a great walking area for tourists to fulfill their shopping needs. Lahaina also has many festivals throughout the year, the most interesting of which is the Banyan Tree Birthday. The Banyan Tree was planted in 1873 by the Sheriff to commemorate the 50th anniversary of the first Missionaries. The tree was brought from India, and was only 8 feet high at the time of planting. It now has a dozen main trunks, and spreads over two-thirds of an acre. The Banyan is huge and has grown by dropping roots from its branches that then become additional trunks.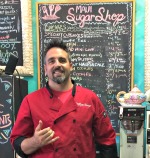 Lahaina is the place to go for all you 'up-scale' souvenir shopping. Front Street is more than dotted with jewelry stores, art galleries and boutique clothing. We parked in the city parking area and spotted a small bakery behind the front street shops called the Maui Sugar Shop. Not really in an obvious place, small and set on the back side of a little strip mall. The Maui Sugar Shop is owned by Zane Monteleone and wife Cynthia. They make wonderful organic gourmet bakery treats. Their creations use all local ingredients and they use a variety of over 40 different flours. The bakery treats are able to accommodate almost any dietary need, gluten-free, egg –free, vegan and paleo. We met Zane he was sporting his cookie monster pants and he served up some yummy treats and conversation. Matt enjoyed a vegan gluten-free cinnamon roll with lush cream cheese frosting. I spotted the macaroons, my favorite! Dark toasted with moist white coconut centers and dredged trough a deep puddle of dark chocolate. They had two options, large or small. I really wanted to large macaroon, but opted for the small one. They just looked so rich; I didn't think I would be able to get through the large.
Our goal for today was to find a nice beach to enjoy along the west coast, so we drove up as far as the town of Napili. There were many resorts that were a bit deterring to enter in order to get to the beach. But remember the shoreline access law. Watch for the signs and you will find some really nice beaches in front of the resorts. Mostly mild surf and sandy bottom beaches. Not the best snorkeling, but sufficient if you are edgy about snorkeling like I am. We snorkeled in front of the Westin Resort in Kaanapali. The beach was great because just 3 feet out from the shore line there was a deep drop off where you could snorkel above the coral easily and still be close to shore. There were quite a few colorful fish and other ocean life to see.
Aloha Mixed Plate – Grind Time

Our journey home from the west shore was a stop for dinner at the Aloha Mixed Plate. One of my goals was to have a true Hawaiian mixed plate dinner in an Oceanside café. The restaurant, the Aloha Mixed Plate fit the bill. A rustic looking "beach shack" type of establishment surrounded by tiki torches and a bamboo bar hut. All the tables were outside with an ocean view
So what is a mixed plate? The mix plate is a collaboration of meals from the early days of the sugar plantations. Sugar plantations imported their workforce from all over the world. This melting post of cultures resulted in a variety of dishes at meal time. Japanese laborers would eat teriyaki beef and rice, Filipino ate adobo and pork or chicken stew. Koreans ate kalbi, marinated ribs and Chinese rice and noodle dishes called chow fun. Hawaiians Kalua pig, roasted in an underground oven. It wasn't long before the food cultures collided and the mixed plate was born
The now traditional Hawaiian plate lunch is always served up with two scoops of white rice and one scoop of macaroni salad. Rice is served as the base of the meal enhancing the savory flavors of the main course. Macaroni salad is the cool sweet flavor that offsets the main course. Finished off with a vegetable portion. And there you have it the mixed plate lunch. Another favorite meat for the mixed plate is the Shoyu Chicken.
Before our Iunch arrived I also ordered the coconut shrimp. Delicious jumbo shrimp dredged in tempura batter that has fresh coconut shavings mixed in. They were delicious and rich and left me wanting more. It was a good choice to wait for the main course as I ordered the Mochiko chicken mixed plate and Matt sampled the traditional kalua pig mixed plate. Huge servings arrived that we enjoyed every last bite of. It was fun to try each other's plate as well.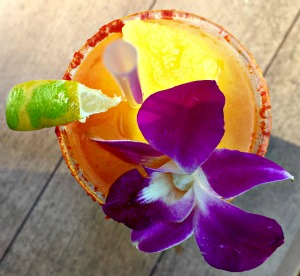 Another delightful surprise was the vibrant purple orchid that garnished my ice tea and mango margarita. Mango margaritas are one of my favorite Hawaiian libations. The margarita glass is rimmed with li hing mui (plum powder) which adds a sweet and tart taste when sipping the margarita from the glass. I crave the flavor of the li hing mui powder and mango after having one of these. They are the best margaritas, in my opinion of course.
Day 5
Off the Beaten Path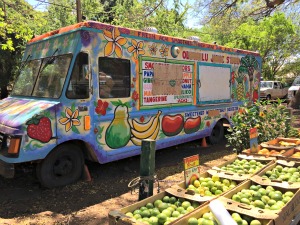 We headed back to West Maui today with the intention of finding the wilds of upper west Maui. We found our way to where the road starts climbing and winding around the point before we turned around and headed back down to sea level and the Marine Life Conservation District, of Honolua Bay and Mokule'ia Beach, aka Slaughterhouse Beach. Honolua Bay had a rocky shoreline but the bay was filled with reefs and fabulous snorkeling opportunites. We opted to settle at Mokule'ia Beach since it had a sandy vs. rocky beach access. There was still plenty of reef and rocks framed around the bay. We also found turtles surfing on the crashing waves near the rocky outcroppings.
On our way home we stopped at the Olouwau fruit stand and learned a little about the produce of Maui. Maui is an agriculture island with more then half of the land devoted to farming including the following crops and produce:
Maui Sweet Onions (Kula) only grow on the upper slopes of Maui's Haleakala volcano, and are sweet enough to eat raw. There is even a Maui onion festival held in the Whaler's Village in Lahaina, Maui celebrating the many ways of eating the Maui Sweet Onion.
Ginger grows in Hawaii is the only U.S. State that has commercial production of ginger root. Although the Hawaiian produced ginger root is unable to meet all the ginger needs of the U.S. The Ginger root is harvested late in the season, when the greens of the plant have died. The roots are dug up and washed, and dried on racks in warehoused for three to five days.
Apple (Latundan) Bananas grow wild on the island. Believe they are the secret ingredient that makes the banana bread so yummy on Maui. Apple bananas are smaller in size then the bananas you find in the grocery store. They are stout and plump with a tight thick peel. They have a firmer texture when young and have a both a tangy and sweet taste. When they mature they are tender and creamy and taste more tropical with hints of pineapple and strawberry in the flavor. Either way the apple banana has a strong tart-apple scent. Apple bananas are not grown for commercial purpose, and are usually only found in their native environment. Some specialty store may carry them.
Sweet Potatoes, there are two kind, the Hawaiian Purple Sweet Potatoes – ʻUala (also known as Okinawan potato or purple yam). They are both high in nutrients, fat-free and low in calories, high in fiber, and loaded with antioxidants. This purple sweet potato is considered the "Real" sweet potato. The second type is the orange flesh, or yam style potato that most of us are used to. Commercial production of sweet potatoes in the islands began in 1849, in Moloka'i
Taro Root (kalo) is used to make Poi. Poi is a traditional Hawaiian, staple. The root (kalo) of the taro plant is what is used when making poi. The root is cooked by either baking or steaming until it is broken down into a viscous fluid then mashed. The consistency of the poi is determined by how much water is added to the kalo mash. It can be a thin or thick consistency and is known as a "one-finger", "two-finger", or "Three-finger" consistency which refers to how many fingers it takes to scoop it out to eat.
Coconuts believe it or not are not indigenous to Hawaii, but they grow there now! The coconut is a great food source. Fresh off the tree they can weigh up to 10 pounds and they have a thick green woody like husk that has to be whacked off to get to the brown nut inside. Inside the brown nut is another treat the coconut water or juice. You can drink the juice then crack the nut and enjoy the white firm flesh of the coconut.
Papaya fruits from Hawaii are a smooth skinned pear shaped fruit. ,Papayas have lots of seeds surrounded by a smooth yellow to orange-red flesh that is sweet in good varieties. Ripe papaya is usually eaten fresh but can be used to make jams, fruit juices, and ice cream or dried.
Mango season is from December through August on Maui. There are over 400 varieties of mangoes so you can't always tell the ripeness just by the color. You should gently squeeze the 'nose' of the mango and look for a slight give. The give will tell you that the mango is ripe. Mangoes taste good in everything from smoothies to ice cream, to margaritas!
Pineapple is still grown on Maui, but the pineapple industry has been significantly reduced due to the cost of commercial growing in Hawaii. During the 1960's commercial pineapple production was at it's peak, supplying 80% of the world's pineapple crop. Today Hawaii only grows about 2%.
Maui Gold® Pineapple grows on the slopes of Haleakala. Although it takes a full 18 months to grow a Maui Gold® pineapple, the fruit is perfectly ripe in the field for only 48-72 hours. Once picked, pineapples will not ripen further. Maui Gold® pineapple is famous for its extra sweet flavor and low acidity. These characteristics were developed over several years by traditional horticulturalists who crossed hundreds of natural pineapple varieties in the search for the best tasting fruit.
Passionfruit (Lilikoi) grows on vines grow vines and have purple, orange and yellow varieties. They can be used as a substitute for lemon in almost any recipe. The flavor of passionfruit is definitely different, it is tart like a lemon with also a sweet tang depending on it's ripeness.
Sugar Cane fields cover approximately 37,000 acres on the island of Maui where Hawaii's last sugar plant still produces sugar today. While on Maui we made a trip to the Alexander & Baldwin Sugar Museum and took in enough facts about sugar to fill more than this paragraph. Sugar was introduced in Hawaii over 1000 years ago. The first sugar plantations and mills for commercial production sprang up in the early 1800's. Basically sugar has been an economic force in Hawaii for a long time. Sugar production was largely responsible for the diverse population of Hawaii. Plantations recruited workers from China, Japan, Korea, Portugal, Puerto Rico, Russia, Germany and the Philippines. The immigrants were brought over on contract and worked as indentured servants until Hawaii became a U.S. Annexed territory in 1900.
Sugar production was Hawaii's economic base until the 1960's when tourism and the military surpassed sugar as the number one economic force. During the sugar productions peak, Maui had eleven operational plantations and mills. Today there is only one left, Hawaiian Commercial & Sugar Company which operates the state's last working sugar mill, in Puunene, Maui, across the way from the Alexander & Baldwin Sugar Museum
Macadamia Nut trees were brought to Hawaii from Australia in 1882. They are currently one of the most popular crops to come out of the Hawaiian Islands. The first macadamia nut plantation was set up in 1921. Today, Hawaii supplies 90 percent of the world's macadamia nuts through its 700 farms and eight processing plants. It is one of the most popular souvenir treats from the islands.
Coffee was introduced to Hawaii through King Kamehameha the First's Spanish advisor in 1813. In 1828, the first coffee tree was planted in Kona on the Big Island of Hawaii by a missionary. Maui has many small coffee farms spanning from Kaanapali, the slopes of Haleakala, and an organic farm in Hana. Maui has over 500 acres of coffee planted in valleys, the slopes of Haleakala and converted sugar cane lands.
Be sure to watch a few of the videos about some of the local produce.
Day 6
Brunch to Die For and Return of the Secret Beach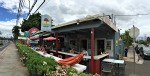 Today we headed back to Kihei where we enjoyed a great brunch at the Kihei café. Right on the main road running through Kihei, we found the small café with outdoor tables. To order you walk inside and through the small line to the cashier and choose your delight. The breakfast options included many traditional brunch favorites and a few island favorites like, fried rice, banana, coconut, macadamia nut, or berry pancakes. Yummy French toast, Loco Moco, omelets and more.
The cashier on hand worked deftly, efficiently, ringing through each patron in line. He was smiling the entire time and with an incredible amount of friendly cheer. He made standing in line a treat as we waited our turn. Beside the fact we needed the time in line to make a decision. I opted for the special that was on notebook paper on the wall, banana bread pancakes, with crushed macadamia nuts and coconut syrup. Super yum. Matt had the pork friend rice. We found a table outside and waited with anticipation for our brunch to arrive.
While waiting I noticed across the street was Kalma Beach Park. Off to the right was the biggest wooden skate park that I have seen in years. Complete with a wooden half pipe. We went over and checked it out after brunch. It was truly fabulous and we had a great time watching the skaters on the ramps and pipes.
Day 7
A Little History Lesson
Our last day on Maui we headed over to the Alexander Baldwin Sugar Museum to learn about the sugar industry on Maui.
Sugar was introduced to Hawaii over a 1000's years ago by Polynesian settlers. In 1853, the first sugar plantation was established and sugar became the industry of Hawaii. In Maui, private plantation owners developed an extensive irrigation system bringing water to the sugar crops. This irrigation is still in use today supplying a significant amount of Maui's water supply.
The sugar industry was booming until the 1960's when tourism overtook sugar as the top industry for Hawaii. Today, there is one last sugar mill that is operated by the Hawaiian Commercial & Sugar in Puunene, Maui, across the way from the Alexander & Baldwin Sugar Museum.
The museum contained a large collection of exhibit items, photos and history on the heritage of Maui's sugar industry. I was interested to discover that the sugar industry labor force originally consisted of contract laborers that came from all over the world. They came from as far as China, Japan, Puerto Rico, Korea, the Philippines, Portugal, Russia, Germany and Scandinavia to work on the plantations. Along with the work force came the diverse culture and their foods that make up the rich flavors of Hawaii's food today.
We headed in-land from the museum back into "upcountry' to find the Hali'imaile General Store in Makawao. This restaurant is located in the pineapple fields on the lower slope of Haleakala. We decided to have our lunch their and enjoy the great food of this Beverly Gannon restaurant. The Hali'imaile store originally served as a pineapple plantation store since 1925. The Gannon's leased the building in 1987 and moved their gourmet take-out deli, catering headquarters and General store. It quickly grew to a full restaurant where you can sit in the historic building and enjoy the vast ceilings and tall windows of the plantation style architecture in this internationally recognized as dining destination. IF you are in Maui, make plans to visit the Hali'imaile General Store. For dinner plan ahead and make reservations, or try to slip in at lunch time as we did.
If you are planning your next vacation to Maui, and are trying to plan out your trip, I hope that you find the article helpful to you for trying local food, and discovering the treasures on and off the beaches of Maui.
Sources:
http://www.paiafishmarket.com/pages/about-us
http://www.hawaii-seafood.org/wild-hawaii-fish/other-ocean-species/wahoo-ono/
http://seagrant.soest.hawaii.edu/public-access-rights
http://www.mauiinformationguide.com/makena.php
http://halfwaytohanamaui.com/about.html
http://coconutglens.com/About-Us.html
http://www.gohawaii.com/en/maui/regions-neighborhoods/upcountry-maui/makawao/#customOrder:random^newCustomSearch:false
http://www.mamasfishhouse.com/menus/
http://visitlahaina.com/
http://mauisugarshop.com/
http://www.alohamixedplate.com/
http://www.specialtyproduce.com/produce/Apple_Bananas_2050.php#sthash.nhXWU9lj.dpuf
http://www.to-hawaii.com/agriculture.php
http://www.hawaiifreepress.com/ArticlesMain/tabid/56/ID/4473/June-14-1900-The-Abolition-of-Slavery-in-Hawaii.aspx
http://www.sugarmuseum.com/sugar.html/frameset.exhibits.html
http://kiheicaffe.com/
Comments and Reviews