This wonderful Grits and Greens recipe is courtesy of Virginia Willis.  Check out Virginia's website, Virginia Willis Culinary Productions.
Virginia says, "Southerners have always eaten a lot of corn – fresh corn in season, dried corn in the winter, and cornmeal all year around in the form of grits.  Grits benefit from cooking with milk or cream.  But grits have traditionally been food for the poor, and of course the poor would use water instead of milk.  This Grits and Greens recipe marries two Southern favorites in an unbelievable combination of color and flavor."
What are grits?  Grits are small broken grains of white corn that were first produced by Native Americans centuries ago.  Gits are similar to polenta as they are both made from stone-ground dried corn.  In some places in Southern America, eating grits for breakfast is practically a religion.  A true grit lover would never consider using instant or quick-cooking grits.  Learn more about the History of Grits.
What are greens?  In the Southern states, greens are known as Collard Greens.  Collard greens are vegetables that are members of the cabbage family, but are also close relatives to kale.  Although they are available year-round, they are at their best from January through April.  Learn more about the History of Collard Greens.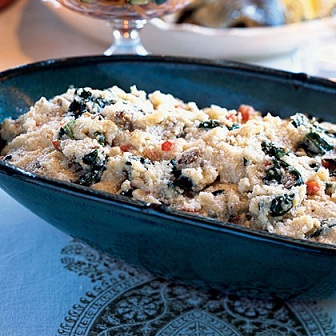 Grits and Greens Recipe:
Keyword:
Grits and Greens Recipe
Servings
:
4
to 6 servings
Ingredients
2

tablespoons

corn oil,

divided

1

sweet onion,

grated

1/2

cup fresh

corn kernels

(about 1 ear)

1

cup

milk

3

cups

water

1

cup

grits,

coarsely ground

2

tablespoons

unsalted butter

Coarse salt

and freshly-ground black pepper

1

clove

garlic,

finely chopped

4

cups

baby greens

(such as Kale, collard greens), trimmed, stemmed, and very finely sliced in chiffonade
Instructions
Using a medium saucepan over medium heat, add 1 tablespoon of the corn oil. Saute the onions until transparent, about 2 minutes. Add the corn and cook, stirring occasionally, until tender, about 5 minutes.

Increase heat to medium high, add the milk and water, and bring to a boil. Whisk in grits, reduce heat to low and simmer, stirring constantly, until thick, about 30 minutes. Add the 2 tablespoons butter, season generously with salt and pepper, set aside and keep warm.

Using a large saute pan over medium high heat, add the remaining 1 tablespoon corn oil. Add the garlic and cook until fragrant, stirring constantly, 45 to 60 seconds. Add the greens, reduce heat to low, cook until just wilted, 2 to 3 minutes.

Pour the grits over the greens and stir to combine. Taste and adjust for seasoning with salt and pepper. Serve immediately.
Sources:  Grits and Greens photo by Becky Luigart-Stayner – Styling by Melanie J. Clarke and Jan Gautro. Photo appeared in Cooking Light magazine, March 2007.
Comments and Reviews