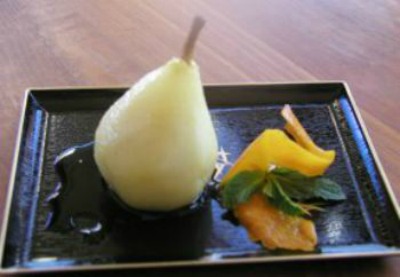 Caramel-Pear Tart with Graham Shortbread Crust
The combination of the graham flour in the crust and the creamy texture of the pears and caramel is sublime.
Cheese Toast with Pears
Here is a filling, quick breakfast that will knock your socks off.  So yummy, and the pear is very refreshing with the savory cheese.
Chilled Pear Soup with Port
This wonderful recipe and photo has been provided by Diana Baker Woodall from Diana's Desserts website and it is reprinted here with her permission.
Ginger Tea Poached Pears
If you like poached pears as I do, you will definitely love this recipe.
Pear Clafouti – Pear Pudding Cake
Clafouti (kla-foo-TEE) is a traditional dessert from the Limousin region of France and is often served as a breakfast dish.  This is an easy-to-make dessert using pear suspended in a batter similar to that used for crepes.
Mixed Greens with Carmelized Pears and Walnuts
A fantastic, refreshing salad!
Pear and Parmesan Salad with Poppy Seed Dressing
A very interesting and refreshing salad.
Pear Ginger Sorbet
This sorbet is so simple to make!  You'll get rave reviews on this sorbet.
Pears En Croute with Chocolate Glaze & Hot Caramel Sauce
I adapted this recipe from the Junior League of Charlotte, North Carolina's cookbook called Dining By Fireflies – Unexpected Pleasures of the New South.
Perada (Pear Cheese or Pear Jelly)
This fantastic appetizer recipe and photo are by Chef Mark Tafoya, chef/owner of ReMARKable Palate Personal Chef Service.  Long considered a delicacy in Iberian and Latin cultures, Perada is nicely paired with cheeses such as Manchego.  Perada is great served on a cheese platter.
Poached Pears in Wine with Ginger and Peppercorns
A wonderful light dessert after a satisfying meal!
Risotto with Poached Pears
I am a big fan of risotto, and this recipe with pear is exceptional.
Spiced Pear Halves
Another simple and easy-to-make pear recipe that your family will love.
Spiced Poached Pears
A wonderful light dessert after a satisfying meal!
Comments and Reviews