Pork Crown Roast is truly one of the most magnificent of all holiday entrees!  Impress your guest with this attractive Roasted Crown Loin of Pork.  It is a real show stopper!  This pork roast makes for a handsome display for any dinner party.
A crown roast is usually done with lamb, veal, or pork.  It is called a crown roast because it is two rib racks (usually 12 ribs from one pork loin) that are bent into a circle and then tied together with kitchen twine.  The meatiest portion of the ribs forms the bottom of the crown and face inward.  A crown roast comes from the rib portion of the loin – perhaps the tastiest of all cuts.  A crown roast of pork is nothing more than a bunch of pork rib chops nicely formed into a circle and tied up by your butcher.  When purchasing a crown roast, you usually have to ask your butcher to form it for you.
The rib chops are "frenched," then they are slightly cut and cracked at the bone so that they can be bent into a crown shape.  Before roasting, the center is filled with an interesting stuffing.  Before serving, frills are often added to the top of the bones to dress up the crown and to make for easier eating.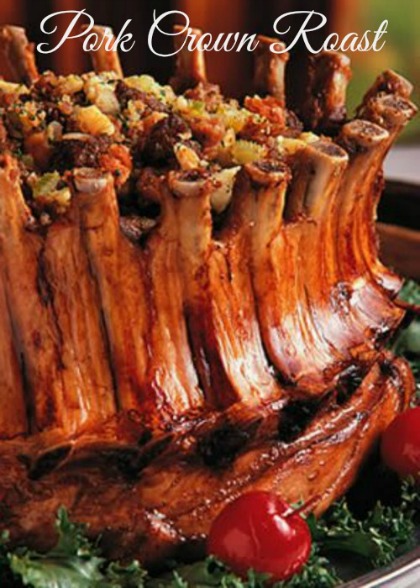 Roast Crown Loin of Pork - Pork Crown Roast Recipe:
Keyword:
Pork Crown Roast Recipe, Roasted Crown Loin of Pork Recipe
Servings
:
10
to 12 servings
Instructions
Pork Crown Roast Instructions:
Preheat oven to 450 degrees F. Position oven rack in the bottom third of the oven.

Prepare Fruit Stuffing (see below); set aside until ready to use.

In a small bowl, combine flour, salt, and pepper; rub the mixture over the outer fat of the crown loin of pork.

In a medium frying pan over medium-high heat, cook bacon until well done; remove from back from the pan and crumble into small pieces. Place the crumbled bacon pieces back into the frying pan with the bacon fat and mix together. Brush the outside bone of the pork with the crumbled bacon and bacon fat mixture.

Place roast, bone tips up, on rack in a shallow roasting pan. Fill the center of the crown (cavity) with the prepared Fruit Stuffing. Place aluminum foil over the Fruit Stuffing to hold moisture in and keep the fruit from drying out. Also place a small piece of aluminum foil over each of the bone tips so that they will not burn.

Bake 10 minutes, uncovered, at 450 degrees F. Reduce oven temperature to 325 degrees F. and continue to roast until the internal temperature reaches the desired temperature of 140 to 145 degrees F. on a meat thermometer, approximately 2 1/2 hours. Allow about 20 to 25 minutes per pound for roasting. Rotate roasting pan halfway through cooking time. During the last 15 minutes of cooking time, remove the aluminum foil from the Fruit Stuffing and bone tips to allow them to brown.

When roast is done cooking, carefully transfer roast to a warm serving platter. It is advised to have someone to assist with this - place a spatula under the middle of the roast to help hold the stuffing in. Tent with aluminum foil and let roast stand 15 minutes before serving and carving (meat temperature will rise 5 to 10 degrees after it is removed from the oven). Before serving, pour off the fat juices from the pan

As the whole Crown of Roast makes a beautiful presentation, present your Crown of Roast to your guests before cutting.

Carving the roast: Remove the Fruit Stuffing to a serving bowl before cutting the pork. Using a long, sharp knife, cut the roast into 1-rib servings. Each serving will yield a bone with a nice wedge of meat attached to it, and a "filet" from each rib. Allow about 3/4 pound to 1 pound per person, or approximately one bone per person. You may notice that the slices look like pork rib chops. Guess what - That's precisely what they are - only better!

Serve with a spoonful of the Fruit Stuffing.
Fruit Stuffing Instructions:
In a large pan over medium heat, melt the butter. When it is bubbling, add onions and allow to cook until they are soft, but not brown. Add bread cubes; stirring until mixed. Remove from heat and set aside.

In a large saucepan over medium heat, parboil apricots and prunes in water for about 4 minutes. Remove from heat and drain; cut into small pieces. Add these to the prepared bread mixture. Add apples, stirring to mix thoroughly . Add salt, nutmeg, cinnamon, and cloves. (If the mixture feels dry and has not melded well, add a little water, wine, or bouillon.)
Recipe Notes
* It is easier to purchase 2 pork pork racks and trim them into a circular crown.  Either French it yourself or have the butcher do it (see below)
Where To Buy A Crown Pork Roast?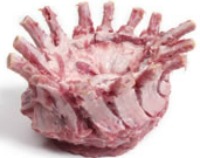 Generally a pork crown is ordered ahead of time from a local butcher shop or gourmet market.  It is rarely found in your supermarket meat counter.  Either "french" the bones yourself or have your butcher do it for you.  This means to trim away at least one inch of meat from the top of the bone.  Usually the supplier can provide the paper frills along with the roast (if not use aluminum foil).
To make a crown roast of pork, purchase two pork racks and tie them into a circular crown.  Your roast will be moister if the butcher does not trim the big slab of fat that usually comes with this cut - cut the fat off after the roast is cooked.  The easiest way is to have your butcher trim the loin and form it into a crown and tie it with a string.  Also ask him to cut away the meat from the top bones so that the roast really resembles a crown.
How Many Servings?  It is generally suggest that you plan 3/4 to 1 pound per person which is approximately one (1) rib bone per person.  The average Crown Roast will serve about 8 to 10 people.  If you are serving fewer people, ask you butcher to tie a smaller roasts for you.

I get many readers asking what cooking/meat thermometer that I prefer and use in my cooking and baking. I, personally, use the Thermapen Thermometer. Originally designed for professional use, the Super-Fast Thermapen Thermometer is used by chefs all over the world.  I only endorse a few products, on my web site, that I like and use regularly.
You can learn more or buy yours at: Super-Fast Thermapen Thermometer.
Sponsored Content
Source:  Photos from Tony's Meat and Specialty Foods.
Comments and Reviews