My youngest daughter brought this slow cooker pulled pork breakfast casserole to a family Sunday brunch gathering and it was a hit with the crowd.
Per Brenda "I wanted to make something different from your typical breakfast casserole. I thought about one of our favorite breakfast restaurants makes a wonderful breakfast scramble adding their smoked pulled pork. The smoked pork adds a really nice flavor addition, so I decided to add with bacon to a breakfast casserole. If you like to make Smoked Pulled Pork, this recipe is a great use for the leftover meat; otherwise you can easily buy smoked pulled pork at your local grocery store. I also tossed the pulled pork in a little barbecue sauce before layering in the casserole. I brought along some tortillas, shredded cheese, sour cream, and salsa so everyone could build their own breakfast burritos. I was wondering how this would go over with the family, since it was not your typical breakfast casserole. At first I saw people taking small polite portions, but then I was very pleased to see everyone coming back for second helpings and piling more on their plates. I would call this recipe a success! There were no leftovers to take home."
Find more breakfast and brunch recipes.
Slow Cooker Pulled Pork Breakfast Casserole Recipe:
8 hours on low heat - 4-5 hours on high heat
Keyword:
Slow Cooker Pulled Pork Breakfast Casserole Recipe
Ingredients
1

pound

bacon,

chopped into strips

1/2

red onion,

finely chopped

1

pound

smoked pulled pork

(see Pulled Pork Recipe)*

1/2

cup

barbecue sauce

1

(30-ounce) bags of frozen

hash browns,

divided**

2

pounds

cheddar cheese,

shredded and divided

18

eggs

3/4

cup

milk

1/2

teaspoon

salt

1

teaspoon

white pepper

1/4

cup

green onion,

chopped
Instructions
Start assembling ingredients the night before serving.

Spray a 6-quart slow cooker with non-stick cooking spray. Preheat Slow Cooker.

Measure out 1/4 cup of shredded cheese and 1/4 cup of red bell pepper. Set these aside for garnishment later.

In large pan over medium-high heat, cook chopped bacon for a few minutes until partially cooked. Add chopped red onions to bacon and continue to cook until bacon has browned. Drain off the fat and discard. Set aside the cooked bacon mixture on a plate, lined with a paper towel, to allow remaining fat to drain off. Reserve 1/4 cup of cooked bacon for garnishment.

In a medium sized bowl, mix together the smoked pulled pork with the barbecue sauce; set aside. You want the pork to be moistened with the sauce and not drowning in it.

Cover the bottom layer of the slow cooker with 1/2 of the hash browns (one 30-ounce bag). Next, layer with 1/2 of the cooked bacon mixture and then the pulled pork mixture. Sprinkle with 1/2 of remaining chopped red bell pepper and 1/2 of shredded cheddar cheese. Repeat steps of second layering in the following order: hash browns, bacon mixture, pulled pork, red bell pepper, and ending with remaining shredded cheddar cheese on top; set aside.

In medium-sized bowl, add the eggs, milk, salt, and white pepper. Whisk together until all the egg yolks are broken up and everything is blended together. Pour the egg mixture evenly over the entire top of the casserole layers.

Cover the slow cooker with a lid and cook for 4 to 5 hours on high heat or 8 hours over low heat.

When ready to serve, garnish the top with shredded cheddar cheese, bacon, bell pepper, and green onions.

You can also offer your guests sour cream, salsa, shredded cheese for topping options. Offer tortillas on the side if you would like your guests to prepare as a breakfast burrito.

Serve immediately and enjoy.
Recipe Notes
* If unable to smoke your own pulled pork, you can purchase smoked pulled pork at the grocery store.
** Can substitute frozen tator tots.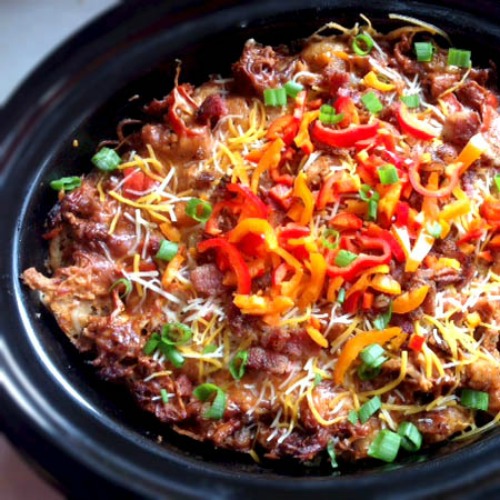 Comments and Reviews