Chicken wings can be time consuming to make. This is where the handy crock pot comes in! Crock Pots are also known as Slow Cookers. Serve these delicious slow cooker honey chicken wings to your guests. They have a wonderful tangy, sweet flavor that will keep everyone coming back for more. These are also a hit with young kids. Keep the chicken wings in the crock pot where they will stay hot and tasty throughout your party.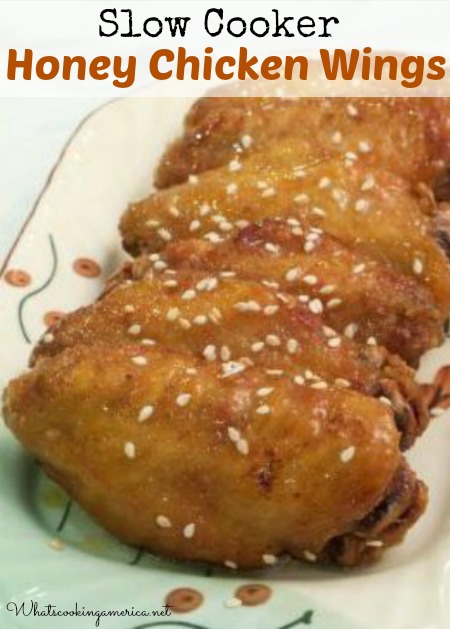 Check out more great Poultry Recipes including Buffalo Chicken Wings and Grilled Hot Chile Wings.
Slow Cooker Honey Chicken Wings Recipe:
Keyword:
Slow Cooker Honey Chicken Wings Recipe
Servings
:
4
to 6 servings
Ingredients
3

pounds fresh

jumbo chicken wings

Salt

and freshly-ground black pepper to taste

1

cup

soy sauce

(reduced-sodium)

2

cups

honey

1/2

cup

ketchup

1

clove

garlic,

minced

1/4

cup

vegetable oil

Sesame seeds

(optional)
Instructions
Preheat crock pot/slow cooker on high for 1 hour. For food safety, it is a good idea to cook on HIGH for the first hour to quickly bring the temperature up to 140 degrees. Then turn the dial to LOW to cook the chicken wings. The LOW setting is equal to about 200 degrees F. in the oven.

Cut off the tip of each chicken wing and discard it. Cut the wing in half (cutting at the joint) to make two pieces. Wash and dry the chicken wings (they need to be very dry); spread chicken wings evenly on a broiler pan. Sprinkle wing parts with salt and pepper.

Broil chicken wings 4 to 5 inches from heat source for approximately 10 minutes. Using tongs, turn wings over and broil another 10 minutes or until chicken wings are just a golden brown (browning adds color and helps in flavor development). Transfer the browned chicken wings to your preheated chock pot. Make sure you have turned the heat down to LOW on the crock pot.

In a bowl, combine reduced-sodium soy sauce, honey, ketchup, garlic, and vegetable oil. Pour sauce over the chicken wings in the crock pot.

Cover and cook on low heat for approximately 4 to 5 hours. Do not lift the lid to stir, as each time you lift the lid, enough heat will escape that the cooking time should be extended by 20 minutes to half an hour. To check progress without lifting the lid, spin the cover until the condensation falls off. Then it is easy to see inside.

To serve, garnish with sesame seeds if desired.
Source:
Recipe and photo are courtesy of the website Wild for Wings, a web site devoted to just chicken wings. I slightly adapted the recipe wording for easier reading and following.
Comments and Reviews