How To Make Turkey Stuffing
Whether you call it "stuffing" or "dressing," what's not to love about turkey? Everyone knows that the turkey stuffing is the best part of a turkey dinner and is one of my favorite dishes for Thanksgiving dinner. Do not be afraid of making turkey stuffing or dressing (whatever your region of the county calls it). It is so easy to prepare. Also be creative – add your family's favorite ingredients.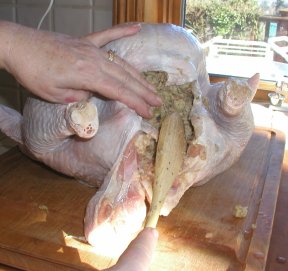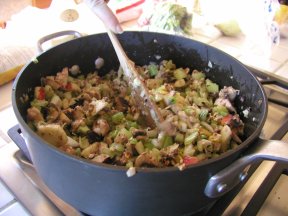 Turkey Stuffing Recipe - Turkey Dressing Recipe:
The below recipe is a only a guideline for making your turkey stuffing.  Depending on your family's taste, add or delete ingredients (onions, celery, mushrooms, and or nuts) to make to your liking.  Be creative!
Keyword:
Turkey Dressing Recipe, Turkey Stuffing Recipe
Ingredients
1/4

cup

butter 

or margarine

1

large

onion,

chopped

2

cups

celery,

chopped

1

pound

mushrooms,

fresh and sliced

1

loaf

day-old bread,

toasted and cut into 3/4-inch cubes (about 10 to 12 cups)

1

egg,

beaten

1 to 2

cups

chicken stock

or stock from the turkey giblets

1

cup

walnuts

or pecans, chopped

Salt

and freshly-ground pepper to taste

Sage,

dried and crushed, to taste

Thyme,

dried and crushed, to taste
Instructions
Making Giblet Stock: To make turkey giblet stock, place the turkey giblets (giblets and neck), water, and salt in a small saucepan over low heat; bring to a simmer and simmer for about 1 hour, uncovered. Remove from heat and strain the stock into a container for use with the stuffing. Alternatively, you can use chicken stock or just plain water with this recipe.

What are giblets? A whole raw turkey is usually packaged with the giblets (sometimes sealed in a bag in the body cavity). The giblet bag in the turkey you buy usually includes the heart, liver, gizzard (a part of the turkey's stomach), and neck. Giblets are those extra parts of the turkey you do not roast on Thanksgiving, but cook separately and use in your stock or gravy preparation. Check out how to make Perfect Turkey Giblet Gravy.

Important – whether you are using the giblets or not, remember to take them out of your raw turkey.

Making Turkey Stuffing: In a large pot (large enough to hold all the prepared stuffing) over medium-high heat, melt butter or margarine. Add onion, celery and mushrooms; saute until soft.

Mix in bread cubes and egg with enough chicken broth to moisten. Add nuts, salt, pepper, sage, and thyme; stir until well blended. The stuffing should be moist, not dry, because heat destroys bacteria more rapidly in a moist environment.

Proceed to stuff turkey in your usual way. NOTE: Do not cool the stuffing. Spoon it directly into the turkey cavity right after preparation. Stuff the turkey loosely - about 3/4 cup of stuffing per pound.

Immediately place the stuffed, raw turkey in an oven set no lower than 325 degrees F.

The USDA has come up with a one-temperature-suits-all for poultry safety: 165 degrees F. For safety and doneness, the internal temperature should be checked with a meat thermometer

Makes enough to stuff a 20-pound turkey
Variation Ideas:
Grandma's Oyster Dressing
This oyster dressing must be served as a side dish and not as a turkey stuffing in the turkey.
Sweet Onion Cornbread Stuffing
This wonderful cornbread stuffing will delight your family and friends. It is easy-to-make and so delicious! Use it as a great stuffing alongside of your poultry dishes.
Different Types of Cooking Styles:
Barbecued Turkey
Outdoor barbecuing or grilling is a very easy and efficient way to cook your Thanksgiving turkey. No mess in your oven or the kitchen. Your turkey will be crisp outside and juicy inside.
Cajun Fried Turkey
This way of cooking your turkey is anything but greasy as the deep-frying process seals the outside and the turkey remains incredibly juicy, while the skin gets wonderfully crispy.
Outdoor Turkey Pit Cooking Recipe – Turkey In the Hole Recipe
This style of pit cooking is also know as "Bean Hold Cooking." If you have the time and place to cook your holiday turkey in an outdoor pit, wouldn't this make a great Thanksgiving or Christmas turkey dinner.
Oven Roasted Turkey
It is hard to beat the classic roast turkey with the wonderful aromas that waft from the oven kicking off the anticipation for the holiday meal. Roasting a large turkey is one of easiest ways to accommodate a large crowd of family and friends.
Smoked Turkey
Smoking a turkey is no different from barbecuing in your back yard. You follow all these rules without even noticing them in most cases so go ahead, give it a try, you will not be dissatisfied when you try a smoked turkey.
Turducken
What the heck is that? Well it is a de-boned turkey (except for wing bones and drumsticks), a fully hand deboned duck, and a fully hand deboned chicken, all rolled into one.
Tofurky/Tofurkey Recipe with Vegan Gravy
I am not a vegetarian or a vegan, but I have several family members who are. For them and my many readers who are also vegetarians or vegans, I created this page on how to cook Tofurky.
Turkey Dinner Information:
Turkey Basics
How to purchase, stuff, and roast a turkey – Choosing a fresh or frozen turkey – How to thaw a frozen turkey – How to prepare turkey for stuffing.
Perfect Turkey Gravy
Homemade gravy, made using the turkey giblet stock, pan drippings, and meat juices from the roast turkey, is an essential part of a traditional Thanksgiving dinner.
Guidelines for Brining Poultry
This is the secret that chefs never tell you about. It's very easy and economical, and requires no special cookware. Brining is like a marinade, as it keeps food moist and tender.
Let's Make Turkey Stock
Don't throw out those leftover turkey bones! My favorite thing to do the morning after Thanksgiving is to make homemade turkey stock from the turkey carcass. It is so easy to do and so delicious!
Make Ahead Mashed Potatoes
Save your valuable kitchen time on Thanksgiving day by using this easy-to-make mashed potato dish for your next Thanksgiving dinner. This is the recipe I use every year for Thanksgiving Dinner.
Using a Cooking or Meat Thermometer
Have you ever cut into a turkey to see if it has finished cooking? You DEFINITELY need to use a cooking thermometer! A cooking thermometer or meat thermometer should not be a "sometime thing." Use it every time you prepare foods like poultry, roasts, hams, casseroles, meat loaves and egg dishes.
Internal Temperature Cooking Charts
Cooking thermometers take the guesswork out of cooking, as they measure the internal temperatures of your cooked meat, poultry, seafood, baked goods, and/or casseroles, to assure that a safe temperature has been reached, harmful bacteria have been destroyed, and your food is cooked perfectly. Always follow internal cooking temperatures to be safe!
Advice on Handling Leftovers Safely
Leftover" foods are cooked foods that you or your family do not eat within 2 hours after they are cooked. The chance of food poisoning increases the longer you store a food after it is cooked. Improper handling or storing cooked food is one of the most common causes of food poisoning in the home.
Comments and Reviews