Questions and Answers – New York Strip Loin Steak Names
Question:
What other name is "New York Strip loin" known? – Robi
Answer: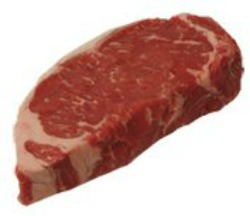 The New York Strip Loin Steak is a cut of beef steaks from the top of the cow's short loin.  This steak consists of a muscle in the cow that does little work, thus making this meat tender, thought not as tender as a rib eye or tenderloin.
Other menu names for the strip loin:
New York Strip Steak
Delmonico Steak
Kansas City Steak
Shell Steak
Club Steak
Ambassador Steak
Hotel Cut Steak
Beef Loin
Top Loin Steak
Comments and Reviews