Pickling Spice Recipes – What Are Pickling Spices
Questions:
(1)  I keep seeing "Pickling Spices" as an ingredient in many canning recipes.  What are canning recipes?
(2)  What is found in the pickling spices (all the recipes call for them but we can't seem to find out what is in the cheesecloth bag)?  Can you help us?
I've searched the internet but have not been able to come up with anything.  I would appreciate some feedback.
Answers: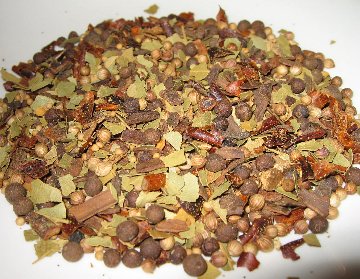 (1) Canning recipes that use pickling spices are usually referring to preparing and canning (foods preserved in bottles) anything that is pickled, like dill pickles, sour pickles, and sweet pickles.  Some vegetable are also pickled and placed in jars for storing.  Check out our fantastic Pickle Recipes.
(2)  Pickling spice is most often used for canning pickles, but in some other dishes as well.  The main ingredients are: cinnamon, mustard seed, bay leaves, allspice, dill seed, cloves, ginger, peppercorns, coriander, juniper berries, mace, and cardamom.  For a hotter mix, add some crushed hot peppers.  Below are a couple of pickling spice recipes:
Pickling Spice Recipes:
Keyword:
Pickling Spice Recipes
Ingredients
4

cinnamon sticks

(each about 3 inches long)

1

pice

gingerroot,

dried (1 inch long)

2

tablespoons

mustard seeds

2

teaspoon whole

allspice

berries

2

tablespoons whole

black peppercorns

2

teaspoons whole

cloves

2

teaspoons

dill seeds

2

teaspoons

coriander

seeds

2

teaspoons whole

mace,

crumbled medium fine

8

bay leaves,

dried and crumbled medium fine

1

small hot

red pepper

(1 1/2 inches long), chopped or crumbled medium fine, seeds and all
Instructions
Wrap the cinnamon and gingerroot loosely in a piece of cloth and bash them with a hammer until well crumbled.  Discard any stringy parts of the ginger, then mix with other ingredients.

Store in a small, airtight jar up to 2 months.

Variation: Chop or crumble a small dried hot red pepper (seeds and all) and add to the mixture for an extra kick of spice.
Comments and Reviews