This blue cheese dressing is so good – my husband loves it!  Use this Blue Cheese Dressing recipe on your salads, use it as a dip, and/or served on your favorite steaks.  Blue cheese dressing is so smooth and creamy, and no matter how you serve it, it is absolutely delicious!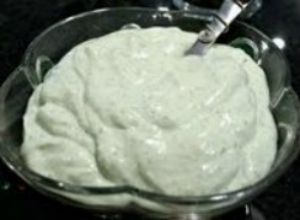 Check out Linda's Salad and Salad Dressing Recipes.
Blue Cheese Dressing Recipe:
Keyword:
Blue Cheese Dressing Recipe
Instructions
In a large bowl, blend buttermilk, sour cream, mayonnaise, and lemon juice.

By hand, crumble blue cheese into the mixture. Blend at low speed no more than 4 minutes.

Refrigerate 24 hours before serving.

Dressing can be refrigerated in an airtight container for up to 1 week.

Yields approximately 2 cups.

DO NOT OVERDRESS YOUR SALADS - Too much salad dressing will weight down the salad ingredients and mask their flavors. The dressing's role is to highlight not to overpower the salad ingredients. A general rule is 1/4 cup of dressing for 6 cups of greens. As soon as your salad is mixed, taste a leaf to see if there is sufficient dressing. If not, drizzle some more over the salad, a tablespoon at a time; toss and taste again.
Recipe Notes

* You could use whole milk in place of the buttermilk, but the dressing will be milder in flavor.
** Learn how easy it is to make your own Homemade Mayonnaise.
*** Use the best quality blue cheese you can find for this dressing. The flavors of blue cheese vary widely in strength and saltiness.  Experiment with different kinds to find your favorites.  I like to reserve some of the blue cheese crumbles to add just before serving.
Comments and Reviews