Fresh Fruit Salad is my very favorite fresh fruit salad.  This fruit salad is so very refreshing and also low in calories.  When making this Fresh Fruit Salad, I use whatever fresh fruit is in season.  The easy-to-make banana dressing is very light and compliments the fruits.  You will never want to make a "yucky" canned fruit salad again!
My mother-in-law, Gertrude Zemp, taught me to make this delightful Fresh Fruit Salad when I was a young bride – that was a few years ago!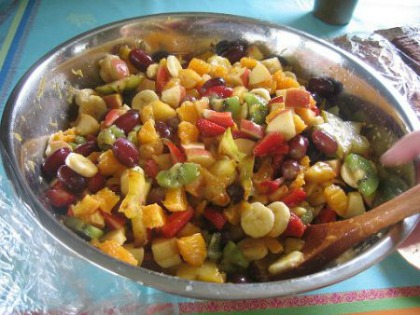 Check out Linda's wonderful Salad and Salad Dressing Recipes.
Fresh Fruit Salad Recipe:
Keyword:
Fresh Fruit Salad Recipe
Ingredients
Fresh Fruit Salad:
5 to 6 cups of a variety of fresh fruits of your choice (be creative):
Bananas,

peeled and sliced

Green or red

grapes,

halved

Kiwi

fruit, peeled and sliced

Pears,

peeled and sliced

Peaches,

peeled and sliced

Raspberries

Strawberries,

hulled and sliced

Mangoes,

skinned, cored and sliced

Pineapple,

cored, peeled and sliced

Watermelon,

flesh removed and cut into bite-size pieces

Cantaloupe,

flesh removed and cut into bite-size pieces
Instructions
Fresh Fruit Salad Instructions:
Prepare banana dressing; set aside until ready to use.

In a large bowl or container, combine all the prepared fruits.

Pour prepared Banana Dressing over the cut-up fruits; gently toss to coat all the fruit.

Cover and refrigerate for several hours before serving.

Serve family style or for a gourmet look, serve in chilled cocktail glasses.
Banana Dressing Instructions:
In a small bowl, mash banana with a fork.  Add just enough lemon juice to make it the consistency that you want.

Sweetened to taste with sugar or honey.  Be cautious with the sugar as you do not want the dressing to be too sweet.
Comments and Reviews