This is a very interesting and delicious Juniper Berry Vinaigrette Recipe.  The vinaigrette is so aromatic!  Since I live in central Oregon and have 20 acres of wild Juniper Berry Trees, this is the perfect recipe to use some of the berries once dried.
Recipe by chef Bruce Naftaly of Le Gourmand Restaurant in Seattle, WA.  Recipe appeared in Northwest Palate magazine, May/June 2003.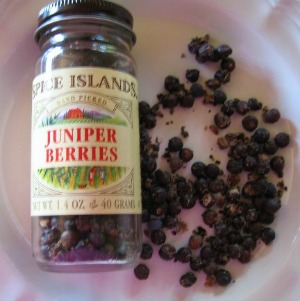 Did you know – Juniper berries are not real berries. They are cones with scales so miniature and packed down that you canno't even see the scales – instead they appear as round berries.  Only the female tree makes the berries, while the male just has little brown cones.  After picking your juniper berries, allow them to dry for several weeks to preserve them.
Check out Linda's Salad and Salad Dressing Recipes.
Juniper Berry Vinaigrette Recipe:
Keyword:
Juniper Berry Vinaigrette Recipe
Ingredients
1/4

cup

dry yellow mustard seeds

2

cups

cold water

1

shallot

1

large

garlic

clove

1/2

bunch Italian

parsley

1/4

teaspoon black

peppercorns,

whole

1/2

teaspoon

juniper berries,

dried and crushed using a mortar and pastle or the side of a knife*

1/2

ounce fresh

marjoram

1/4

ounce fresh

tarragon

1

cup

olive oil,

extra-virgin

1/4

cup aged

Balsamic Vinegar

(good quality)

Salt

to taste
Instructions
In a heavy non-aluminum pan, bring the mustard seeds to a boil in the cold water. Simmer for 5 minutes to remove bitterness; then strain, discarding water. Lightly rinse the mustard seeds with cold water.

Put the strained and rinsed mustard seeds in a food processor. Add shallot, garlic, parsley, peppercorns, dried juniper berries, marjoram, tarragon, olive oil, and balsamic vinegar; puree until smooth. If the mixture is too thick, add additional olive oil. Season to taste with salt.

Serve at room temperature.

Yields approximately 3 cups.
Recipe Notes
* The dried berries should be crushed well just before using as the flavor will decline rapidly once exposed to the air.  You wil not need many juniper berries, three or four of the berries will flavor most dishes without overpowering the main ingredient or other seasonings.  Learn more about using Juniper Berries in your cooking.  
Comments and Reviews