Orange Balsamic Vinaigrette is a refreshing easy-to-make dressing that you will love!   Enjoy this refreshing and zesty Orange Balsamic Vinaigrette dressing on your favorite green salad!   A perfect salad dressing for spring and summer.  You will definitely enjoy Orange Balsamic Vinaigrette on all your favorite salads.
This recipe is a vegan, gluten-free dressing that tastes fantastic when you use fresh squeezed juice.  In a pinch you can always use frozen concentrate or bottled juice and you will still be happy with the flavor.  This salad vinaigrette has just the right blend of sweetness from the orange juice and honey,  but also a slight tang from the balsamic vinegar.
Check out Linda's Salad and Salad Dressing Recipes.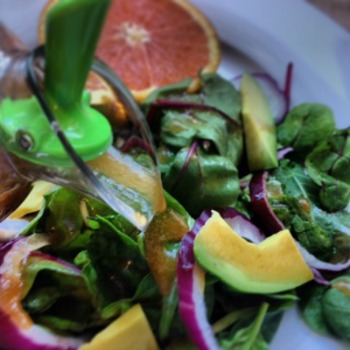 Orange Balsamic Vinaigrette Recipe:
Keyword:
Orange Balsamic Vinaigrette Recipe
Instructions
In a medium bowl or food processor, whisk together balsamic vinegar, orange juice, sugar, and pepper.

Add olive oil in a thin stream, whisking until emulsified. By gradually whisking or blending the oil into the vinegar, you create an emulsion (a mixture of two liquids that usually do not combine smoothly).

Makes approximately 2 1/2 cups.
DO NOT OVERDRESS YOUR SALADS - Too much salad dressing will weight down the salad ingredients and mask their flavors. The dressing's role is to highlight not to overpower the salad ingredients. A general rule is 1/4 cup of dressing for 6 cups of greens. As soon as your salad is mixed, taste a leaf to see if there is sufficient dressing. If not, drizzle some more over the salad, a tablespoon at a time; toss and taste again.
Recipe Notes
* I prefer using fresh-squeezed orange juice, but the bottled orange juice will also work.
Comments and Reviews