The classic Egg Salad Sandwich has always been one of my very favorite sandwiches!  I loved it as a child, and I still do as a grandma.  So very easy-to-make and so delicious.  The egg salad sandwich is one the easiest sandwiches to make.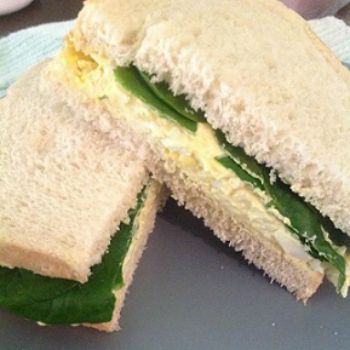 Egg Salad Sandwich Recipe:
Keyword:
Egg Salad Sandwich Recipe
Ingredients
8

large

eggs,

hard-cooked (can use 2 whole eggs and 6 egg whites to cut fat)

1/2

cup

celery,

chopped

1/3

cup

green onions,

chopped

1/3

cup

red bell pepper,

chopped (optional)

2

tablespoons

light mayonnaise*

2

tablespoons

sour cream

(non-fat)

1

teaspoon

Dijon-style mustard

Salt

and pepper to taste

12

slices

bread

of your choice, either toasted or untested (your choice)

Lettuce

leaves
Instructions
To cook the eggs, place them in a single layer in a pan with enough cold water to cover them completely. Bring the water to a boil, remove from heat, cover tightly with a lid, and allow to remain in the water approximately 15 to 20 minutes. Then place under running, cold water to cool quickly. This way of cooking is alsoknown as "coddling." It does not toughen the whites as boiling does.

Peel eggs. (discard 4 egg yolks if making low fat as you will be using 2 whole eggs and 6 egg whites).

In a medium-size bowl, chop the eggs up. Add celery, green onions, bell pepper, mayonnaise, sour cream, Dijon mustard, salt, and pepper; stir until well mixed.

To assemble sandwich: Spread an equal amount of the prepared Egg Salad on top of six (6) bread slices. Add some lettuce, if desired. Top with remaining bread slices to make sandwiches.
Recipe Notes
* The amount of mayonnaise used is a matter of your choice.  Some people like more mayonnaise than others.
Comments and Reviews