Low Fat and Low Calorie Recipe
Veggie Hummus Wrap Recipe is a very simple and easy homemade lunch wrap to prepare for your family.  As I always have chickpeas, garlic, fresh lemons, and olive oil in my pantry, this is a perfect last-minute sandwich.  This hummus recipe has fewer calories and less fat and salt than store-bought varieties.  Hummus, a protein-packed bean spread, is as delicious as it is healthy!  Never feel guilty about enjoying hummus.
I adapted this veggie hummus wrap recipe from Weight Watchers 20 Minute Recipes magazine.  According to the Weight Watchers' magazine, there are 5 points per wrap.
For more great Low Fat Recipes, Low Calorie Recipes, Low Carbohydrate recipes, and Diabetic Recipes, check out my Diet Recipe Index.  Also check out my Nutritional Chart for fat grams, fiber grams, and calories for all your favorite foods.
Check out Linda's Sandwich Recipes and Hummus Recipes for more great ideas.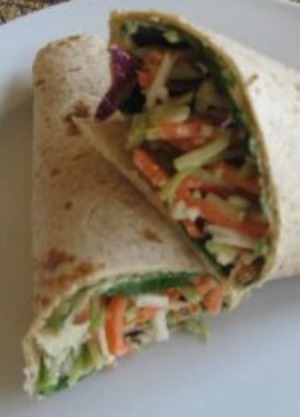 Veggie Hummus Wrap Recipe:
Keyword:
Veggie Hummus Wrap Recipe
Ingredients
1

(14-ounce) can

garbanzo beans

(chick peas), rinsed and drained*

2

garlic

cloves

3

tablespoons

lemon juice,

fresh-squeezed

2

tablespoons

water

1/4

teaspoon

ground cumin

1/4

teaspoon

salt

1

cup

lettuce,

shredded

1/4

cup

carrots,

matchstick-cut

1/4

cup

bell peppers,

matchstick-cut

1/4

cup

cherry tomatoes,

coarsely-chopped

1/4

cup

Kalamata olives,

pitted and coarsely-chopped

1

tablespoon

feta cheese

(reduced-fat), crumbled

2

(8-inch)

flour tortillas,

warmed
Instructions
Place garbanzo beans, garlic, lemon juice, water, cumin, and salt in a blender or food processor.

Process until smooth, scraping sides of bowl once; set aside.

If the consistency is too thick, add some additional water.

Prepare Wrap Ingredients:

Prepare lettuce, carrots, bell peppers, tomatoes, Kalamata olives, and feta cheese; set aside.

Warm the tortillas by wrapping tortillas loosely in waxed paper or a plastic bag and microwave on HIGH (15 seconds for two tortillas, 30 seconds for four tortillas, and 1 minute for eight).

Another way is to place a tortilla on a plate, covered with a damp paper towel. Alternate tortillas with paper towels. Microwave for 30 seconds to one minute, depending on how many tortillas you need.

How To Make The Veggie Wrap:

Spread 1/4 cup prepared hummus over the top of each tortilla. Divide prepared lettuce, carrots, bell peppers, tomatoes, olives, and feta cheese evenly over the tortillas.

Fold top and bottom of each tortilla toward center, roll up burrito-style.

Makes 2 servings (1 wrap per serving).

Hummus recipe makes approximately 1 1/2 cups or 6 servings.
Recipe Notes
* For an interesting variation, substitute black beans or cannellini beans (Northern beans).
Nutrition Facts
Veggie Hummus Wrap Recipe:
Amount Per Serving
Calories 192
Calories from Fat 104
% Daily Value*
Fat 11.5g18%
Carbohydrates 58g19%
* Percent Daily Values are based on a 2000 calorie diet.
Comments and Reviews