Crema Agria is Mexico's version of American sour cream French creme fraiche.  The flavor is more sour and a bit saltier than American sour cream.  I have heard that it also serves as a neutralizer for the heat of chile peppers.  This is a great topping on tacos or enchiladas.
It can be found in some supermarkets in the dairy section.  If you cannot find crema agria in your local store and do not want to simply substitute American sour cream, you can make this simple version easily at home.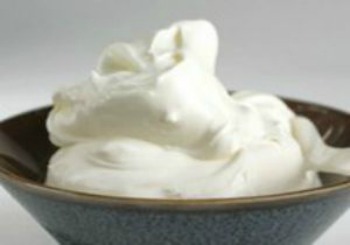 Check out Linda's Butters, Condiments, Sauces, Relish and Jelly Recipes for more great ideas.
Crema Agria Recipe - Mexican Sour Cream:
Keyword:
Crema Agria Recipe, Mexican Sour Cream Recipe
Instructions
In a small saucepan over low heat, heat sour cream just enough to warm through; remove from heat and allow to cool.

In a small jar, place the warm sour cream and the buttermilk; mix thoroughly with a whisk.

Cover the jar loosely and let the mixture stand at room temperature for 12 to 24 hours or until the mixture is thick and tart.

Refrigerate for longer storage.
Comments and Reviews