Since my son-in-law and his friends just love Fireball Cinnamon Flavored Whisky, my daughter thought a Fireball Whisky Barbecue Sauce would taste amazing on ribs.  She experimented and came up with this outstanding sauce recipe.  This barbecue sauce was so good that everyone was licking their fingers!  This is a definite "10+" recipe.  
This sauce is excellent on both pork and chicken.  Slather on your meat before and after grilling for best flavor experience.  If you prefer a spicier flavor to your sauce, you can also add some chile peppers while the sauce is cooking to kick up the heat!
Check out this wonderful Fireball Whiskey Glazed Baby Back Ribs which uses this sauce recipe.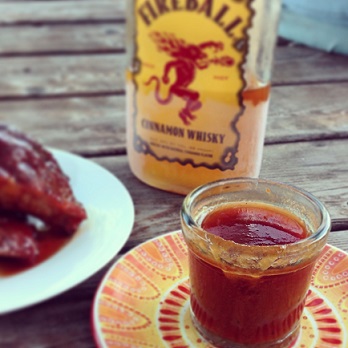 Check out Linda's Butters, Condiments, Sauces, Relish and Jelly Recipes for more great sauce ideas.
Fireball Whiskey Barbecue Sauce Recipe:
Keyword:
Fireball Whiskey Barbecue Sauce Recipe
Ingredients
1

teaspoon

olive oil,

extra-virgin

1/2

onion,

diced

4

cloves of

garlic,

minced

3/4

cup

Fireball Cinnamon Whiskey*

2

cups

Ketchup

1/3

cup

apple cider vinegar

1/4

cup

Worcestershire sauce

1/2

cup

brown sugar

1

teaspoon

salt

1

teaspoon

black pepper

1

teaspoon

cayenne pepper flakes

1

teaspoon

Frank's Red Hot Sauce

(optional)**
Instructions
In a medium saucepan over medium-high heat, add olive oil and tilt sauce pan until bottom is coated with oil. Add onion and garlic and sautfor a couple minutes until onions are translucent. Pour in the Fireball Whiskey and stir together to combine. Bring to a boil and reduce heat to medium-low and let simmer for about 10 minutes (the onions should become soft).

While the onions, garlic, and whiskey are simmering, in a medium bowl combine the ketchup, vinegar, Worcestershire sauce, brown sugar, salt, pepper, cayenne pepper, and hot sauce. Stir to combine.

When the onions have finished cooking in the whiskey, add the sauce mixture and stir together. Turn the heat back up to medium high and bring back to a boil. Once the barbecue sauce is boiling again, turn the heat back down to medium-low and let simmer for 20 to 30 minutes. Taste the sauce and salt and pepper to taste. If you would like the sauce a little sweeter, then add 1 tablespoon at a time of brown sugar. If you prefer a spicier heat, then add 1 teaspoon of hot sauce at a time.

Store any unused barbecue sauce in airtight container and refrigerate for up to 2 weeks.
Recipe Notes
* Can substitute another brand of cinnamon whiskey.
** Hot sauce will give more of a sweet and spicy flavor to sauce. If you want to increase the spicy heat add 1 teaspoon at a time to taste
Comments and Reviews