Many New Orleans (Acadian, Creole, and Cajun) recipes start with "First you make a roux."
A Roux (pronounced "roo") is browned in a mixture of white wheat flour and a cooking fat (oil or animal fat) that is used to thicken sauces, stews, and gravies.  Roux serves as the base for most gumbo recipes where a rich, deep, hearty flavor, and texture is desired.  Experienced gumbo cooks will use it as the main thickener and will endeavor to make it as dark as possible.  The richness of dark colored roux adds both flavor and color to the finished Cajun Seafood Gumbo recipe.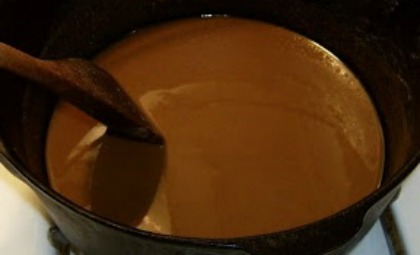 Louisiana-Style Roux Recipe:
Keyword:
Louisiana-Style Roux Recipe
Ingredients
Always use equal amounts of oil and flour when making roux. Remember this simple rule when increasing the amount of roux made.
Instructions
Storage of Prepared Roux:  Roux can be cooled, then stored for 1 month in an airtight container in the refrigerator.  When it cools, the roux will separate.  Before using, stir to blend and bring the roux to room temperature.  Roux also freezes well.  For easy of convenience, freeze in ice cube trays.
Traditional Stove Top Roux Instructions:
This is the traditional old-fashioned method for making roux.

In a heavy skillet (I like to use my Cast-Iron Skillet) over medium heat, heat vegetable shortening or oil (or fat of your choice) until hot.

Add flour gradually, stirring or whisking to combine with the shortening or oil.

After adding all the flour, reduce heat to low and cook, stirring frequently, about 45 to 60 minutes or until roux ranges from a peanut butter color to a dark brown (red brown or color of milk chocolate) and has a nut-like odor (it will be very thick and pasty).

This process takes some time, depending on how high the heat on your stove is.  The slower, the better, but be ready to remove skillet from the heat and stir more rapidly if the roux appears to be getting too hot.

If you stop stirring – the flour will burn.  Never walk away from your roux.  If you see black specks in the roux, you have ruined it.  Dump it out and start over. The secret to getting perfect roux is to take your time and stir constantly.

When done to your liking, immediately remove from heat and set aside.

Carefully transfer it into your stockpot and start making gumbo.

Approximate Time Table for Cooking Traditional Roux:

There are five (5) different stages of cooking a roux.  Cooking times can vary, depending on the type and amount of roux you're trying to make.  Different roux are dictated by the amount of time they spend in the pan and categorized by their color.  As your roux gets darker, it gains flavor and color but loses some of its thickening power.  The different stages of roux are as follows:

White (Light) Roux:  Usually takes 10 to 15 minutes to develop.  This roux is useful for thickening sauces, soups and other dishes.  Also, it is an ingredient in some pastries and entrees.

Light Brown (Peanut Butter) Roux:  This roux can take up to 40 minutes to fully develop and has the color of peanut butter.

Medium Brown Roux:  If you cook the roux for 50 to 60 minutes, you will get a medium brown roux that should be the color of a copper pot.

Dark Brown (Chocolate) Roux:  When you cook the roux for 70 to 80 minutes, you will end up with a dark brown roux the color of dark chocolate.

Brick Roux:  This roux is the final stage of cooking your roux before roux failure.  It is reddish in color and nutty to the nose.  This roux has almost no thickening properties and is used strictly for flavor or as the base of a dish.
Microwave Roux Instructions:
A quick and easy method for making roux.

Use a large micowave safe glass bowl because as it cooks, the roux expands. Note: Microwave safe glass bowls like Pyrex is recommended over plastic bowls when cooking with hot oil.

Cook the oil on high for 10 minutes.

Stir in the flour until no lumps remain and the mixture is smooth.  Continue to microwave at a medium setting, in 3-minute increments, stirring each time, until the roux is dark brown (the color of peanut butter).  Cook until the desired color is reached. It takes approximately 20 minutes to make the medium (or peanut butter colored) roux in the microwave.  NOTE: Each microwave is different so you will have to determine if you need to cook your roux for another minute or two.

Carefully transfer prepared roux into your stockpot and start making gumbo.
Oven Roux Instructions:
This is not how the traditional southern roux is made, but it is a easy version that takes less attention.

Preheat the oven to 350 to 375 degrees F.

Start the roux on the stove top to get it going, preferably in a cast iron pot, by heating the oil to medium high.  Then reduce heat to medium and gradually whisk in the flour, a little at a time, until fully incorporated.

Carefully transfer the pot into the hot oven and cook for 1-1/2 to 2 hours, stirring about every 20 minutes (just set your timer and stir every time it goes off), until the roux turns a deep, dark, chocolate brown.
Recipe Notes
* The oil used should be a vegetable oil like Crisco or corn oil (except when using butter in a light colored version).  Animal fats like lard or bacon grease will also work fine.
Comments and Reviews