Smoked Salmon gets raves every time I make it!   Learn how easy it is to smoke your own salmon with a home smoker.  The hard part is catching the fish!   
For best results you will need a proper smoker/cooker that has a water tray for moisture.  The smoking method I use is called "hot smoking."  I vary the ingredients used every time I smoke my salmon.  I like to use whatever herbs I have available.  Fresh from the garden are always the most favorable, but sometime I do not have any herbs available.  Lemon is a popular citrus to use, but sometimes I will substitute with limes.  In other words, I use whatever I have available at the time I am ready to do the smoking.  Be creative and enjoy your own smoked salmon!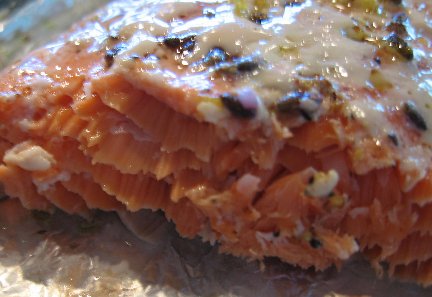 Smoked Salmon Recipe - How To Smoke Salmon:
Keyword:
How To Smoke Salmon, Smoked Salmon Recipe
Servings
:
4
to 6 servings (depending on size of salmon filet).
Ingredients
Brine:
2 1/2

tablespoons

salt

(without iodine) for every 1 quart (4 cups) water

5

quarts

water

(approximately)
Instructions
Dissolving the Salt: Using approximately 1 quart of water; heat water to just lukewarm. Add 3/4 cup salt (according to formula above) to the lukewarm water; stir until dissolved.

Making the Brine: Add the warm salt water to approximately 4 quarts of additional cold water (I use my sink as a bowl for this step).

Rinse the salmon steaks in cold water. Place salmon, skin side down, in brine at for 20 minutes (make sure the fish is entirely covered by the brine).

After 20 minutes, gently remove salmon from brine and lightly rinse both sides with cold water to remove all traces of salt. Gently pat dry with paper towels.

Let salmon air dry on wire racks for at least 2 hours (this causes a "pellicle" - a tacky glaze on the fish to form. This indicates that it is ready for the smoking process).

Prepare your smoker according to manufacturer's directions:

I have an Electric Smoker, and I like to use either alder or cherry wood (but any hard wood will work just fine). Smoking temperature of your smoker should be between 200 to 225 degrees F. (no higher).


The easiest way to help keep the temperature low, is to almost close down the vents. Keep the top vents wide open, and use the bottom vents to adjust the temperature.

If you have a smoker that does not have any vents, cock the lid of the smoker so there will be a small gap (keep the gap small enough to maintain the correct smoker temperature, while large enough to allow adequate airflow).

Do not open or raise the lid of the smoker any more than you absolutely need to (it reduces the temperature inside every time you do). Monitor your temperature of your smoker during the smoke time.

Place salmon fillets (skin side down) on sheets of aluminum foil and cut the foil around the fillets approximately 1/4-inch bigger (this keeps the fillets from sticking to the racks in the smoker). I also spray the racks with vegetable oil spray (makes for easier cleaning).

Grate the zest from the limes then squeeze the juice. In a small bowl, combine lime zest, lime juice, thyme (or other herbs), pepper, salt and olive oil; stir to mix. Rub the seasoning mix on the salmon fillets; coating them well.

Place salmon fillets (with the aluminum foil) on the oiled smoker rack. Smoke until a meat thermometer registers an internal temperature of 140 degrees F. in thickest part of salmon (salmon will be slightly opaque in thickest part).

Avoid Over Cooking Smoked Salmon! Remember the salmon continues to cook after it is removed from the smoker (You don't want an overcooked and dried out salmon. I prefer a moist salmon and not dried out.)

The biggest mistake most people make in cooking salmon is to over cook it. Resist the temptation to over cook your salmon until it "flakes." Flaking indicates the salmon is becoming dry and overcooked. If you do not have a good cooking or meat thermometer, please purchase one and use it for cooking all your meats and fish! You will not be sorry!

Remove salmon fillets from smoker.

Cut extra limes in half and squeeze the juice over the cooked salmon fillets. Sprinkle lightly with more coarse salt. Serve salmon either warm, cool, or chilled (refrigerate until ready to serve). If making ahead, cover airtight and refrigerate up to 3 days. I also freeze the smoked salmon fillets. Just freeze in air-tight bags.

I get many readers asking what cooking/meat thermometer that I prefer and use in my cooking and baking. I, personally, use the Thermapen Thermometer. Originally designed for professional use, the Super-Fast Thermapen Thermometer is used by chefs all over the world.  I only endorse a few products, on my web site, that I like and use regularly.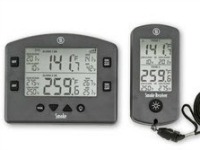 When it comes to smoking meat,It is important to use a meat thermometer with a cable attached to the meat probe tip.  This will allow for the meat probe tip to stay in the Prime Rib during the entire cooking process while the barbecue lid is closed, giving you a continuous temperature reading of the meat to ensure it does not overcook.  I recommend using the Thermoworks Smoke Pro Series 2 Channel High Temp Cooking Probe for continuous monitoring of the meat's internal temperature in addition to monitoring the smoker's internal temperature during the smoking and cooking process. Includes wireless receiver to remotely monitor the temperatures from up to 300 feet away.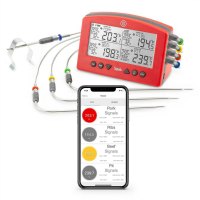 New! Thermoworks Signals™ 4-Channel Wi-Fi/Bluetooth BBQ Alarm Thermometer with built-in Wi-Fi and Bluetooth that can seamlessly switch between the two. Signals boasts 4 channels of continuous temperature monitoring and real-time alerts whether your nearby or across town.  Works with both your smart device AND as a stand-alone unit with physical buttons.  
Sponsored Content
sponsored content
Comments From Readers:
Just used your smoked salmon recipe on my new smoker for first time.  Never smoked anything before – Outstanding!   My friends and family think my newly acquired smoker skills are the best ever!  Thanks to you and your great directions of course – thanks a bunch!   Salmon is excellent. – Michael Brady (1/8/16)
Comments and Reviews