Marshmallow Squisharoo are a fun marshmallow treat that is easy to make with your children.
This recipe comes from the Magic of JELL-O Cookbook. So easy to make – just place some JELL-O mix in a plastic baggie, add the marshmallows, and shake away! The flavors remind me of eating a marshmallow peep. We made these Marshmallow Squisharoos with my 5-year old grandson and it was easy for him to assemble.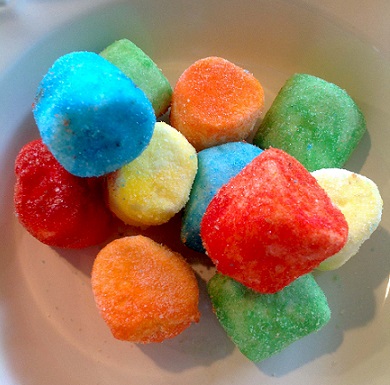 Check out our video with my grandson making this marshmallow treat.
Stop here and learn about the interesting history Gelatin, Gelatine, and JELL-O and how to use Gelatin in your cooking. Did you know you can learn how to make Homemade Marshmallows and Homemade Marshmallow Fluff/Cream?
Marshmallow Squisharoos Recipe:
Keyword:
Marshmallow Squisharoos Recipe
Ingredients
1

cup

cold water

5

(3-ounce) packages

flavored JELL-O

(different flavor varieties such as lemon, lime, cherry, orange, blueberry, etc.)

1

(16-ounce) bag large

marshmallows

5

(1-quart size)

re-sealable plastic bags
Instructions
Pour the cold water into a bowl and set aside.

Pour 1/4 cup flavored dry JELL-O into a re-sealable plastic bag and close the seal. Repeat for each JELL-O flavor until each flavor is placed into a separate plastic bags and sealed.



Dip 2 to 3 marshmallows into the bowl of water, then place moisten marshmallows inside one of the plastic bags with the flavored JELL-O mixture. Seal the bag and shake several times until the marshmallows are coated with the flavored JELL-O. Remove colored marshmallows from the bag and place into a bowl or on a plate.

Repeat these steps with different flavored JELL-O until you have a large variety of colorful marshmallows to eat and enjoy.

TIP: If desired, cut marshmallows into fun shapes by flattening slightly and cutting with small cutters.
Comments and Reviews