This Champagne Grapefruit Sorbet is a wonderful not-too-sweet sorbet that derives its "kick" from the champagne and the tangy-sweet citrus flavor from the pink grapefruit.  The champagne and the grapefruit just naturally seem to complement each other.  This is a sorbet recipe that you will again over and over!
Light and refreshing to the palate, this Champagne Grapefruit Sorbet is the perfect delicious elegant finale to any meal.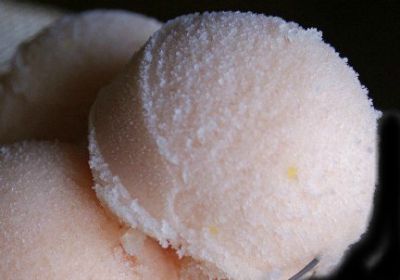 More great Ice Cream, Sorbet, Granita, and Gelato Recipes recipes.
Champagne Grapefruit Sorbet Recipe:
Keyword:
Champagne Grapefruit Sorbet Recipe
Servings
:
8
to 10 servings
Instructions
Pop cork from champagne bottle 1 to 2 hours before using. Slowly pour the champagne, allowing for foaming, into a 2-quart container; set aside.

In a medium saucepan over medium heat, combine sugar and water. Stir until mixture comes just to a boil; reduce heat to low and let simmer 5 minutes. Remove from heat, cover, and let stand approximately 10 minutes or until cool.

To the champagne, add sugar syrup, grapefruit juice, and lemon juice (do not strain pulp from juices); stir until thoroughly blended.

Ice Cream Maker - Transfer mixture to ice cream maker, process according to manufacturer's instructions.

Freezer Method - Pour into container, cover, and place mixture in the freezer. When it is semi-solid, mash it up with a fork and refreeze again. When frozen, place in a food processor or blender and process until smooth. Cover and refreeze until serving time.

Can be prepared 3 days in advance. Cover and keep frozen.
Source:  This recipe is from The Greenbrier Hotel in White Sulphur Springs, West Virginia.
Comments and Reviews