Carrot Vichyssoise Soup is so elegant and so delicious!  This is a classic potato vichyssoise soup that is elevated to new heights with fresh carrots.  The color is so gorgeous and the carrots give a lovely sweetness to the soup.  You could also serve this colorful pureed soup chilled in demitasse cups as a starter to your dinner.  I liked the thick, creamy consistency of this soup.
The original recipe calls for chicken or vegetable stock.   You can use either chicken or vegetable stock in this recipe.  I always use chicken, but vegetable stock would make it a vegetarian dish.
Carrot Vichyssoise Soup recipe from A Treasury of Great Recipes by Mary and Vincent Price.  This recipe originally was made at the Four Season's Restaurant in New York.  This outstanding cookbook features recipes collected by Vincent and Mary at restaurants around the world, including original menus from classic restaurants.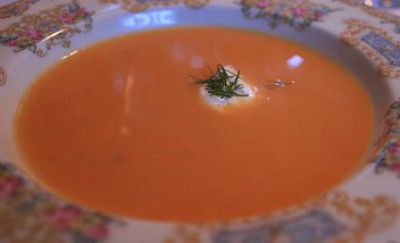 Carrot Vichyssoise Soup Recipe:
Keyword:
Carrot Vichyssoise Soup Recipe
Servings
:
4
to 6 servings
Instructions
Trim and clean leeks; thinly slice the white portion.

Cut and clean leeks - You need to thoroughly clean a leek because dirt can become trapped in its many layers. Trim the root portion right above the base (cutting too far up the stalk will remove the part that holds the layers together). Slice off the fibrous green tops, leaving only the white-to-light green stalk. Discard greens. Cut the leek in half lengthwise, then cut according to your recipe (slice, chop or dice).

In a large soup pot over medium heat, add potatoes, leek, carrots, and vegetable or chicken broth. Increase heat and bring just to a boil. Reduce heat, cover, and simmer for 25 to 30 minutes or until vegetables are tender. Remove from heat and let cool 10 to 15 minutes.

In a food processor or blender, puree mixture until smooth. NOTE: The soup can be made 1 to 2 days in advance up until this stage. Refrigerate until ready to finish.

To serve, stir in white pepper, salt, and cream. Serve in chilled bowls with a topping of shredded raw carrot.

Note: This soup could be served hot or cold, depending on the weather.
Comments and Reviews