Chili Cheese Rice recipe and photos are by Gary Prentice of Humble, TX.  Gary says, "This Chili Cheese Rice is one of my son's favorite dish.  It is very easy-to-make and also so rich and so satisfying delicious!"
This is a Mexican-influenced comfort food rice and bean dish with ground beef and pork.  It is not very fancy, but very hearty, satisfying, and easy to make.
Learn about the history and legends of Chili, Chili Con Carne.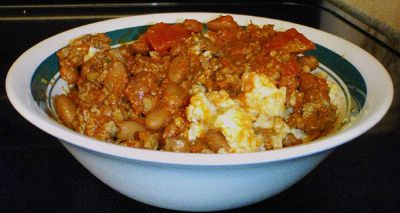 Chili Cheese Rice Recipe:
Keyword:
Chili Cheese Rice Recipe
Ingredients
2

pounds lean

ground beef

(hamburger)

2

pounds

breakfast sausage*

4

cans of

chili beans**

2

cans

diced tomatoes***

2

large jars

spaghetti sauce****

40

slices

Kraft cheese

1

(28-ounce) box instant

rice,

uncooked

8

cups

water

Parmesan cheese,

grated (for garnish)
Instructions
In a large soup pot over medium-high heat, sautthe ground beef and breakfast sausage until the meat starts to brown. Remove from heat and strain off excess fat and liquid; discard.

Add the chili beans, diced tomatoes, and spaghetti sauce to the browned meat and mix the ingredients together. Let simmer over medium-low heat until the rice is cooked and is ready to serve.

Unwrap the cheese slices and place in a pile; set aside until ready to use.

In another large pan over medium-high heat, add the 8 cups of water and bring just to a boil. Once the water starts to boil, add the cheese slices, one slice at a time, while continuously stirring with a large spoon, Once all the cheese slices (40 slices) have been added and stirred in, bring the mixture back to a boil. When the mixture comes back to a boil, stir in the instant rice, cover with a lid, and remove from heat. Let set for 5 minutes. After 5 minutes, remove the lid and stir (leave the lid off). After approximately 5 minutes the rice will be ready to serve.

Either serve the rice on the side with the chili or serve the chili over the cheese rice (my preference). Garnish with some grated paramesan cheese.
Recipe Notes
* I use Jimmy Deans (regular or hot depending on how you like your chili).
** These beans are already cooked with some chili sauce in the can.
*** I don't usually use the plain canned tomatoes. I use the ones with garlic and onion or just onion.
**** I use Ragu sauce with green peppers and mushrooms or Prego sauce with Italian sausage and garlic.
Comments and Reviews