This Oyster and Brie Champagne Soup is an oyster lover's dream soup!  It is a creamy soup, sort of like an bisque with delicious oysters.  Since oysters are considered an aphrodisiac, this delightful oyster soup recipe is considered a "Lover's Delight."  How about serving this soup for a romantic dinner with your love one?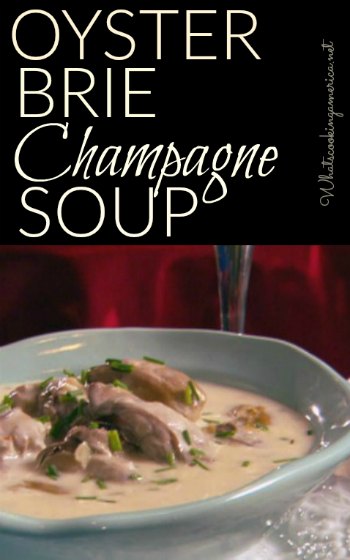 Oyster and Brie Champagne Soup Recipe:
Keyword:
Oyster and Brie Champagne Soup Recipe
Ingredients
1

cup

butter,

unsalted

1/2

cup

flour

(all-purpose)

2

quarts

oyster liquid,

bottled clam juice, or fish broth

5

cups

heavy cream

1 1/2

teaspoons

cayenne pepper

1 1/2

pounds

brie cheese,

rind removed and cut into small pieces

2

cups

dry Champagne*

3

dozen small to medium-sized

oysters,

fresh and shucked**

1

cup

green onion

stems, finely minced

Salt

to taste
Instructions
In a large soup pot over low heat, melt butter. Add flour and cook 3 minutes, stirring constantly. Add oyster liquid, clam juice, or fish broth and cook another 3 to 4 minutes or until flour is absorbed. Increase heat to medium and bring just to a boil; reduce heat to low and simmer an additional 10 minutes, stirring occasionally.

Add heavy cream; simmer 5 minutes longer, stirring constantly. Add cayenne pepper and brie cheese, stirring until cheese is melted completely.

Stir in champagne, oysters, and green onion stems. Remove from heat, cover and let stand 10 minutes. Season with salt. Serve in soup bowls.
Purchasing Oysters:  When choosing oysters at the market, make sure that they be fresh. If one is open (which it shouldn't be) it should snap shut emphatically once tapped. If an oyster does not close immediately, do not buy or use it.  Oysters should feel heavy and full in your hand.  Oysters lose moisture once they are removed from the sea.  The heaviness suggests that they are freshly harvested.
Storing Fresh Oysters:  Keep the unopened oysters cold but do not store in water!  Remember, oysters are alive and need to breathe, so never seal them tightly in a plastic bag.  Never immerse live oysters in fresh water or melted ice – it will kill them.
Comments and Reviews