Ratatouille (pronounced rat-uh-TOO-ee) is a very healthy and low fat summer vegetable stew.  It is a great way to use up the abundant roundup of fresh summer vegetables from the garden.  The perfection of ratatouille lies in the simplicity of the wholesome and fresh ingredients.  It can be enjoyed as a main dish served over rice with some good crusty bread or you can enjoy as a side dish with a meat or fish entree.  The most common ingredients for this stew are onions, garlic, zucchini, eggplant, bell peppers, and tomatoes.  You could also add in additional vegetables from your garden to enjoy in this stew.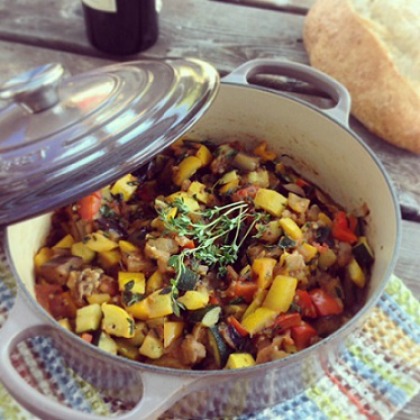 In this recipe, my youngest daughter used a layered cooking technique shared with her by Sara Bell Campbell of Lavelette, West Virginia.  Using the layering technique for sauteing the vegetables made for an easy-to-cook one pot meal.  Most of the work involved consisted of chopping up all the vegetables and herbs. The end result was delicious, especially when you garnish with fresh basil and parley just before serving!
My daughter enjoyed scooping up the ratatouille onto a slice of bread and could not stop herself from snacking on the stew later in the evening.  Her husband who detests eggplant cooked in all forms, admitted that he also enjoyed this stew!

History of Ratatouille:
Ratatouille is a classic Provencal French vegetable stew recipe. The word ratatouille is derived from the Occitan term "ratatolha" and the French words "rata" meaning chunky stew and "touiller" which means to toss food or stir up.  Originating in the 18th Century in the Provencal region of Nice, it is known as a peasants stew created by poor farmers that needed to use up the harvest of the fresh summer vegetables that had ripened all at once and were ready to eat from the garden.
This dish is commonly served alongside meat and fish entrees or it can be served as a main dish over rice.  This stew can also be enjoyed hot or at room temperature.  The flavor is known to improve the next day.
You will find many different versions of ratatouille using these key ingredients and there is also different schools of thought for proper cooking of ratatouille:  
One method is to saute all the vegetables together at once until they are cooked down.
A second option is to cook the zucchini and eggplant separately then combine them together at the end with the onions, tomatoes, and bell peppers for the final stewing.  Then finish by baking in a casserole dish.
Another method is to cook the vegetables in a layered method, starting with caramelizing the onions and garlic, then adding the eggplant to cook down and then finally adding the zucchini, tomatoes, bell peppers, and fresh herbs to stew everything together.
A more contemporary version is to slice the eggplant, squash and bell peppers thinly and layer in a casserole dish for baking.
1877 – Cassell's Dictionary of Cookery introduced the word Ratatouille to the English language.
2007 –  Disney Pixer animated movie "Ratatouille" about a little French rat with cooking aspirations melted the heart of tough food critic by serving a layered ratatouille casserole.  This animated movie made the term ratatouille famous to American culture.
References:
Ratatouile, ifood.tv Home-Encyclopedia-French-Ratatouille.
Ratatouille, by Barbara Bowman, Gourmet Sleuth, The Gourmet Food and Cooking Resource.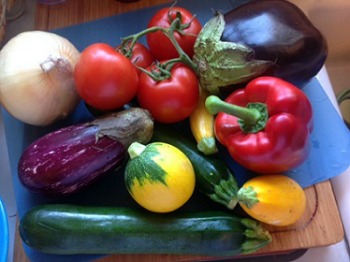 Ratatouille Recipe:
Keyword:
Ratatouille History, Ratatouille Recipe
Servings
:
5
to 6 servings as a side dish or 4 servings as a main meal
Instructions
In a large Dutch oven or pot over medium heat, pour in 1/4 cup of olive oil and heat oil until hot. Add the onions and garlic and saute approximately 7 minutes, stirring occasionally, or until the onions start to become caramelized. Add in the eggplant and fresh thyme and continue to cook for another 5 minutes or until the eggplant starts to cook down in size. If the vegetables start to stick to the bottom of the pan as you are cooking, drizzle in a little more olive oil and stir together until vegetables no longer stick to the bottom.

Add in the red and orange bell peppers, zucchini squash, and yellow squash. Cook for an additional 5 minutes until you see the vegetables cooking down in size. As the vegetables are cooking they shrink in size and start to mush together which means the flavors are melding.

Add the tomatoes, fresh basil and fresh parsley; stir together with the fresh vegetables. Salt and pepper to taste. Cook for another 5 minutes while stirring to blend all the ingredients and flavors together.

When ready to serve, garnish with the reserved 1 tablespoon of fresh basil and 1 tablespoon of fresh parsley.

Can serve over rice or pasta as main dish or as side dish to accompany meat or fish. Ratatouille can be served hot or at room temperature.

Recipe can be doubled for a larger batch and leftovers can be frozen in airtight container for up to 3 months and reheated when ready to eat.

Makes 5 to 6 servings as side dish or 4 servings as main meal.

Comments and Reviews